After finishing up a seven week tour, Lotus is back on the road to celebrate over a decade of music, what they have dubbed The Gilded Age Tour. Jesse Miller gave us some insight on the band's evolution, process, and latest material. The group has grown not only as musicians, but also as an impetus in the culture of 'mindful' music. A culture that encourages and believes in music itself, as a powerful, motivating force that keeps us going day in and day out. The feeling and belief, that, yes, if you see a Lotus show, your life more than likely will change. That is the vibe Lotus creates–they unconsciously shift your aura, uplifting it into a blissful experience.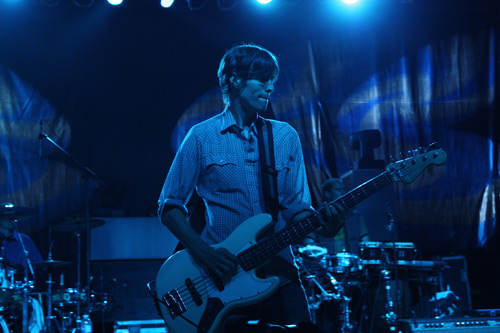 Lotus has solidified as a band, taking great dedication to keep making music. Each album seems to analyze the prior, taking and pulling it apart, reorganizing the sound into more electronic, or more rock, or more funk, and even collaborating with electronic DJ's to make an entire album of remixes (Copy Past Repeat – Lotus Remixed). Lotus continues to gain followers even though their sound shifts–confident in the creating end and unattached to how it is received–simply grateful. Many bands make a few albums, and either don't have the support to keep going, or fall apart out of some moment of dissent, ka-boom. This is not Lotus' shtick. With its latest release, Gilded Age, it marks over thirteen years of music-making for the group.
To understand the evolution, it's important to return to Lotus' initial sound, the seeding time, the mud before the Lotus flower took root.  Earlier albums like Vibes, Germination, and Nomad are based entirely of improvisational material, not full, thought out compositions. The songs build off of an idea, a riff, a strategy, and pair it with some kind of groove, to get the band moving and get the crowd moving at a live show. The first few albums were recorded translating that live sound into a studio, into something more solidified.
Drawing from the electronic producers at the time, Lotus used what little technology it had, using bass, drums, guitar in a way that electronic musicians were layering sounds, samples, textures and beats. For example, songs like "Umbilical Moonrise" off Germination and "Greet The Mind" off Nomad use liquid-layers of sound and repetition to create a musical build, with drums echoing an electronic drum-kit, and thick, sludgy bass reminiscent of artists like Daft Punk.

Nomad, now celebrating its tenth birthday, is a prime example of this type of concept. With a remastered release this year, the sound is re-envisioned for the studio, juxtaposed with a live Nomad set from the sold out show on June 8, 2014 at Mr. Smalls in Pittsburgh, PA, the same venue the album was mixed and recorded in 2004.
Jesse Miller comments, "It was interesting going back to Nomad, as it was our first studio album, and we had very little experience working in the studio. We had very little time as well, we had at least five or six days when we were recording it and at the time we didn't have any home recording gear, so we had ideas about what we were going to do about these songs going in. They were things we had played live, but we had to completely re-imagine them for the studio, but we had no good way to demo that and test it out before… I think that's partly what gives it that sense of like, flowing, in a lot of ways it's not very structured. It's this whole studio improvisation, just because of the way it came together."
Nomad is one of Lotus' essential albums. It's the origin of the group's hybrid sound, fusing cues from electronic music using rock instrumentation. Including the live concert from 2014 is a throw-back to its roots, yet placed in the here and now. This is much of what the theme of Lotus' latest album, Gilded Age, touches upon.
"For all of us, it's this idea of – looking back and seeing something…looking back and also trying to be aware of what's here right now," Miller states.
Gilded Age is the band's least electronic album to date. The entire album is recorded live to tape, using only bass, guitar, drums, piano, some strings on a few albums, and the presence of lyrics on three of the tracks. Because Lotus is drawing from their well-spring of electronic based material, this is a digression for the band. The idea behind the album was to have more live rock textures, focusing on richer guitar sounds, absent of any electronic keyboard enhancements.
Once the idea took force, the band recorded other songs around the compositions completed before, namely "Gilded Age," "Sunset Of The Giant Dipper," and "Let Me In" to fill in the gaps. Lyrically, the songs are despondent, reflective. "Out, of focus, lost within a dream…" alongside a pouring downbeat comments on a time that we are all living in–an imbalanced time.
In relation to the title, Miller explains, "The whole idea of something being gilded is it's being covered in something else. So yes, you have this veneer but there's this hidden thing of what's below it. So that initial idea was used as a term in the 20's to say "The Gilded Age."  This is an age where everything looks big, and there's all these people you can see that are very wealthy, but what's behind that. It's a large time of income inequality and we're seeing a return to those same numbers right now."
The way the music has evolved for Lotus makes sense. Growing from the purely wildflower times in a college setting to a serious career around music shows a dedication to the art itself and the community built around the intense love for their repertoire. Lotus has created for themselves a loving fan base–one that will travel, festival to festival, show to show, to experience the vibe-changing sets that they put on.
Miller explains the ethos, "We work really hard on this music. The hardest thing with music and art and general when we release it out into the world you don't know how it's going to be received, especially with something as abstract as music. All we can really do is make the art that is the most pure to us, and if that translates to other people then we are doing something right."
Lotus follows what makes sense to them, what feels right–and that genuine act of expression without calculation is what keeps fans coming back show after show. It ignites fans to come up and say, "We'll see you the next 4 weeks!" with a beaming smile and encouragement for them to keep on going, keep on creating. Buffalo holds down a strong pro-Lotus scene.
Miller says in regards to the upcoming show, "Buffalo in particular we always have a fun time there, the shows usually sell out, if people don't have tickets definitely jump on it. Hopefully it's not freezing cold when we roll through there, there's a good chance of it being pretty nice, and we're looking forward to coming to Buffalo."
The show will take place at The Town Ballroom on the April 9th. Tickets are $22 pre-sale, $25 at the door. Be there with your spirit in bloom and prepare for free-flowing prana activation.