It's Friday, September 12th, which means Keller Williams' show at the Tralf is exactly one week away. I sat down to call him on one of those typical, overcast Buffalo mornings of early fall. You know, where the chill makes it hard to get out of bed, and you realize how much you're still holding on to summer. It's his second day at the much warmer Utopiafest in south-central Texas, and he's getting ready to play a set with Grateful Grass, one of the many side projects in which he currently dabbles. They just released their second of two live albums in August—a fundraising initiative to benefit the REX Foundation, a non-profit started by the Grateful Dead. Appropriately, it's titled DOS.
buffaBLOG: Last time I saw you was at Summer Camp in May with More Than a Little. How's your summer been?
Keller Williams: It's been super fun. It kind of came and went really quickly, like it fuckin' always does. Summer's just been a really fun time for me this past decade; I've evolved my life around that whole summer festival mentality, and all year round I kind of adapt to that way of living. Leaving on Thursday and returning on Sunday kind of thing.
bB: You have any highlights, any favorite festivals?
KW: Well, Lockn' was last weekend, it's brightest in my mind since it's so close. I played three sets over the festival on a smaller stage in the woods. I did the Grateful Grass thing two mornings. That was a real joy, that whole scene.
bB: Do you ever have time to chill and catch music, or are you mostly business as usual at festivals?
KW: Well normally it's kind of like I'll fly in, and hopefully get there a couple hours before and then have to leave directly after the set. But occasionally I'm able to hang out, and any time I can see music I definitely try to get out. But I got to see Tom Petty last weekend. I also got to see Wilco, and the Revivalists, and this band called Tauk, which was a great new band to see. They sounded fantastic, really interesting.
bB: Tauk? What kind of music is that?
KW: Tauk is spelled T-A-U-K, it's all instrumental. It's kind of like a psychedelic indie rock jam type of thing that's happening with them. It's really cool, and I really dig the fact that it's instrumental. They have elements of rock, elements of electronica, elements of, you know, really smart instrumental music.
Oh and it was really special seeing one of the last Allman Brother's shows, too. It was great being outdoors, and that was very special to me, seeing Gregg Allman, Butch Trucks, Jaimoe, Derek Trucks, Warren Haynes…
bB: Oh man, sounds like an awesome weekend. 
KW: Yeah, it was.
bB: DOS is out just a little over a month ago, can you give us a brief overview of that?
KW: Sure. These are loose interpretations of Grateful Dead songs done in a bluegrass fashion. Sometimes the keys are changed. Sometimes the vocal is sung normal, but the music is double time. Sometimes it's with Jeff Austin (formerly of Yonder Mountain String Band) on mandolin and Keith Moseley (String Cheese Incident) on bass, that's the original lineup, and other times there's different folks that are nice enough to fill in for them when they are not available.
And sometimes those shows turn into really beautiful, beautiful experiences for sure.
I'm playing with them today actually, with Sam Grisman on bass—Dave Grisman's son. And Jeff Austin. Sam, he's a fantastic bass player, I'm really looking forward to hanging out with him. We're driving to the airport right now to pick him up.
bB: Woah, Sam Grisman. That's really cool.
KW: It's a super fun project. And possibly a bit of a novelty, but it is what it is, and I've really enjoyed my time with it. Digging into different material, and not just the 'low hanging fruit' as Bob Weir would put it. You know, trying not to do the easy songs all the time, trying to stretch out a little bit. It's been a super fun project, and people really, really seem to like it.
bB: I've been listening to it nonstop since you guys sent me the link, really been enjoying it.
KW: Thank you!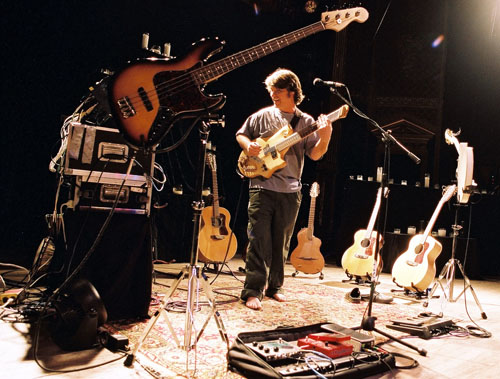 bB: In your bio, you mention that Jerry (Garcia) has had this incalculable impact on your music. And now you're talking about, you know, it's a loose interpretation. Keys are changed; times are altered. What's the hardest part in approaching the Dead? It's like they're so venerated. I mean, in a lot of ways it's—not on a pedestal, I don't want to say it's on a pedestal—but just so highly revered.
KW: You know it's tricky, because…I learned a long time ago that you can't please everybody all of the time. And if you try that, you are going to end up being frustrated. And, you're going to fail (laughs).
bB: Yeah.
And as soon as you learn that, the better. So the way I look at the Grateful Dead music is that they started out by taking other people's music and forming it into their own. If you look back at the originals, a lot of the songs that they recorded, a lot of them were traditional that they had reworked, and put their own a spin on it. So it's a very kind of musical conglomeration of all different kinds of things that had come before them.
And my loose interpretation of that is to take what I got from it, and present it in the way that I feel most comfortable with and that does the most for me. This music touched me so much, it's so fun and easy to play, and it's been such a soundtrack to my life for so many years, that it seems so…natural.
The fact that people want to hear it in its original form, in it's original key the way it's originally done, is a sacrament to how incredible that music is. And I highly do not recommend this project to those people.
bB: No?
This project is for music lovers, for people that have open minds. I love the people that love this music so much so that they want to hear it performed to a T. And there are bands out there that do it. But this is not the project for them.
It's a beautiful thing, and like I said a bit of a novelty. This is the third of these, of the Grateful Dead material that I've put out there. The first one is called Rex—it's the first Grateful Grass record. And then the second one is Keys, which was my excuse to put out a piano record—all Grateful Dead songs done with a piano. And those interpretations (on Keys) are even way looser, played with more of like a George Wesley take on the Grateful Dead. So, you know, me not knowing how to play piano, and just playing with my fingers in certain ways of getting some Jerry notes (laughs).
I actually one hundred percent respect those people that want to hear Grateful Dead done in its original fashion. And that's where I came from too. In a sense, a jazz musician is just taking their favorite songs and changing them up, you know, keep somewhat close as you can to the original piece. It's kind of like carrying on in the Grateful Dead tradition, them taking that music that they love, and making it their own. And I'm pretty proud of that.
bB: You've done a kids album, you play bluegrass, you play the Dead, you funk around, and you do things solo that they don't really even have names for. What's next, you have anything brewing? Maybe like a klezmer band or something ridiculous?
KW: No, I mean the next record I'm looking to put out—I actually go into the studio in a couple weeks, we have eight days booked coming up here this month—I'm going for like big, thick, programmed electronic beats. You know super funky, super moving electronica beats that are sonically sternum vibrating, underneath a big acoustic upright bass, lots of bowing…and then my acoustic guitar on top of that mixed in with different other acoustic instruments. Kind of like an acoustic dance music type of thing. But done with my slant on it, and my songs.
bB: I'd expect no less!
KW: Yeah it's not gonna be full blown electronica, it's not gonna be full blown acoustic. I haven't gotten started on it yet but this is kind of the direction I'm headed in. I'm very excited about putting some of these songs to bed that have been floating around for a couple years, waiting for this record to come around.
bB: Sounds cool. Going along that same vein, what can all the Buffalonians expect from you at the Tralf?
KW: Well you know, Michael Hedges played the Tralf. I don't know how old you are, but do you know Michael Hedges? (I didn't). He's one of my idols. He's not around any more, but any time I'm at the Tralf I always think about him and I try to take a little bit more of an artistic approach. When he played there it was all sit down, and I know the last couple time's I've been there it was kind of a dance party—that's kind of where my head is anyways—but I always remember Michael Hedges when I'm there. I think the Tralf can expect my solo looping dance party, but at the same time a little more attention to detail on the acoustic side of things.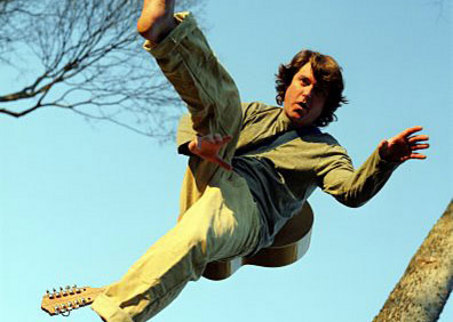 Attention to detail. If you've ever seen his live show, you know this is never really left out. He brings together layers of looped instrumentation, most of it improvised, to set up a platform for his own musical exploration. He sings, sometimes making up the words as he goes, and he has his own signature originals. But mostly, he is best known for being the man who plays—er, jams—with himself. Just as he said, it's a dance party, with acoustic underpinnings and a strong tendency towards charming inventiveness.
Here the conversation breaks down into a discussion of logistics surrounding his show— his manager was feeding him some of the details. Apparently, he'll be doing one long, two-hour set, to be followed by a midnight burlesque show on a different bill. Both of us talked in wondered excitement at this new strange development, and he wanted to make sure to let people know that his show would begin promptly, and that he wouldn't have time for his usual second sets.
Other than that, he was excited to be back at the Tralf, doing what he does best: tinkering around on stage, with a skill and originality that is unparalleled in the jam scene today.
Come check out the one-man band himself, this Friday the 19th at the Tralf Music Hall.
Doors at 7pm.
$20 Advance, $23 Day Of.