For our Best of 2015 coverage, we once again decided to reach out to some friends of the blog to get an idea of what made the year in music so great for them. For the latest installment in the guest series, singer/songwriter Alex Berkley submitted his year end list. 2015 saw Berkley release the latest installment in his annual Fun-A-Day series, 28 Days of Fun: Shuffled, and later this week, he will be opening up for Parade Chic at Mohawk Place on December 17th.
Make sure to follow all of the blog's year in review coverage throughout the month of December.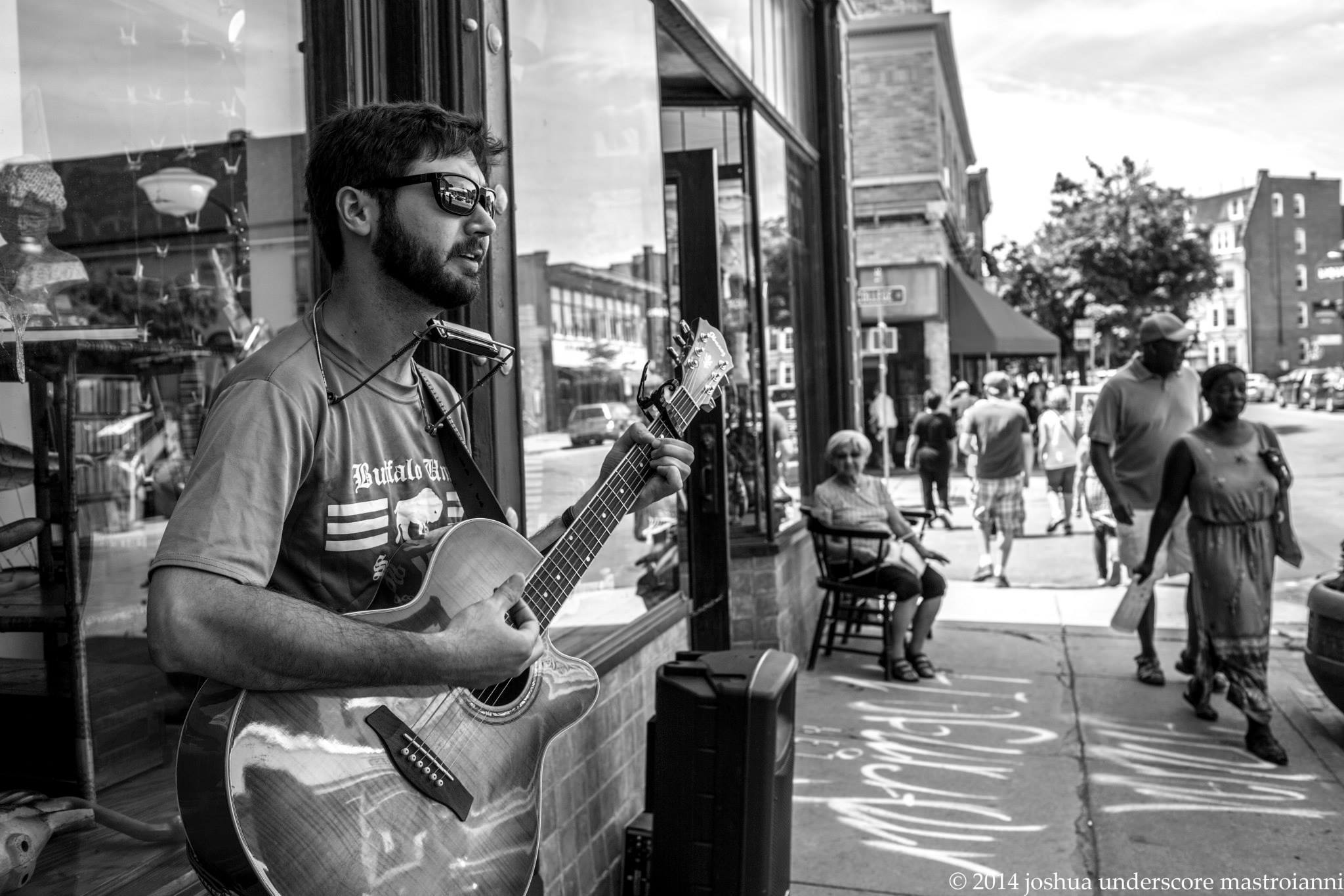 Hello buffaBLOGGERS! Boy, wasn't 2015 one heckuva year? I'll say! Great tunes, great buds, and other things! And the best is yet to come: a new non-Lucas Star Wars movie, a Lombardi trophy (you gotta Billieve), and a new President (congratulations in advance, Donald Trump, you fucking monster)! Look, I'm done talking about the future. Let's get talkin' about the 2,015th best year of all time!
5 Best Songs of 2015 (in no particular order)
"No Happy Birthday" by Hayden
My wife and I saw Hayden perform this song in Toronto at the end of February. He introduced the song by telling the audience that his daughter has autism and cannot speak. This song gives a completely heartbreaking perspective of a father trying to connect with his child. The second verse is particularly gut-wrenching. His daughter starts to talk and can't stop…but before long he realizes it's just a dream. And that's where I start to tear up pretty much every time I hear it.
"Don't Wanna Fight" by Alabama Shakes
I was sold on this track when I first heard singer Brittany Howard's screech leading into the first verse. It's a crazy talented band, but her vocals are definitely what grab my attention in this song. On another note, it makes me happy to hear The Shakes's song "Sound and Color" appear in a recent iPad Pro commercial. It's nice to at least have some good music during the breaks of another frustratingly mediocre Bills season.
"Pedestrian at Best" by Courtney Barnett
Barnett's lyrical capabilities are absurd. Every song seems to be written in a stream-of-conscious rant. However, the end result is a meaningful manifesto, featuring several surprising poetic connections. She compares complex emotions with overlooked daily simplicities, like in verse 2 when she sings, "I'm having an existential time crisis / What bliss, daylight savings won't fix this mess." I mean, she's very clever. And there's something new to latch onto with every listen.
"Pedestrian at Best" clocks in at just under 4 minutes, but it feels like you just read a Kurt Vonnegut novel. Also, despite my fear and loathing of clowns, the video to this song is just fantastic!
"Eddie's Wine" by Max Garcia Conover
Max has been writing a song every week this year. That's a lot of songs! "Eddie's Wine" grabbed my attention when I saw him perform it at the Great Blue Heron music festival. Max has really nailed everything he's great at in this song: a strong memorable melody, beautifully finger-picked guitars, and lyrics that make you sentimental about experiences you never had. He even has a full band playing with him! Of course, he also throws in a reference to the smell of grapes in Westfield, and you're always gonna nab my attention with a good old Western New York reference. Be sure to check out this local expat next time he plays at Sportsmen's or the Heron or wherever.
"I Love You, Honeybear" by Father John Misty
There's not much more to say about this song. Everybody beat me to the punch on this one. Even my Mom has probably written a favorable review of this song/album. Love in the face of the apocalypse with a cute nickname like "Honeybear," who couldn't love this guy?
5 Best Albums of 2015 (in some particular order)
Club Meds by Dan Mangan+ Blacksmith
I'm not quite sure why Canadian singer/songwriter Dan Mangan is not more successful in the U.S. Club Meds must be one of the most overlooked albums of the year. At least it snatched a spot on NPR's First Listen series. Despite being on Arts & Crafts, it still seems that Mangan is relatively anonymous outside of Canada. Well fellas, get your butts over to Record Theater or Spiral Scratch or the Internet and pick up a copy of the best album of the year!
Look, I don't expect you to blindly take my word for it. But actually, that is exactly what I'm expecting you to do. Mangan has come a long way from his sophomore album, Nice, Nice, Very Nice, which is a collection of his best individual songs. The two follow up records, Oh Fortune and Club Meds, are more seamlessly flowing albums. Nothing necessarily stands out as a single, but they are marvelous artistic achievements taken as a whole. Club Meds in particular features Mangan and his band Blacksmith at the top of their game, with dark, critical themes, summed up in lyrics such as, "Takes a village to raise a fool." It's not punk rock, and it isn't depressing. It's observational and satirical, but more importantly it just sounds good through and through. You'll like it!
No Cities to Love by Sleater Kinney
Many times when bands get back together after a long period of absence, they end up sounding like a stale cover band of themselves. That's certainly not the case with Sleater Kinney. The songs of No Cities to Love are tightly composed, yet filled with raw dynamic energy. What does that mean? I don't know, it's like on Reading Rainbow, you're gonna have to read it to find out. Or listen to it. Or just purchase the vinyl to hang on your wall, so when your friends come over you can all talk about how much you love Portlandia.
Beat the Champ by The Mountain Goats
Yeah, I'm a sucker for a good concept album, especially when the concept is something as ridiculous as pro-wrestling. I don't care about wrestling at all, but the passion, humor, and self-awareness with which John Darnielle wrote this collection of songs is enough to make me understand the people who do. You have your heroes growing up, and often those heroes are athletes. For me, it was Jim Kelly. Then Todd Collins. Then Alex Van Pelt. Then Doug Flutie. And from there I pretty much lost all hope in this cold, meaningless, futile existence. Darnielle had wrestlers like Chavo Guerrero, and that's pretty cool too.
Divers by Joanna Newsom
I remember waiting with eager anticipation for Newsom's follow-up to The Milk Eyed Mender, hoping for more softly played harp tunes with a squeaky pseudo-Bjork elf singer. Instead, she delivered something much bigger (the five-song Ys), and then the three-disc Have One on Me. That's all pretty cool, if not a little overwhelming. With Divers, it seems like Newsom is a little more relaxed with her writing and arranging. It's not stripped down like The Milk Eyed Mender, but it's not as soaring and epic as her previous two releases. It fits somewhere in the middle, a solid effort with great melody and thought provoking lyrics. Like singing a New Yorker review of a newly released edition of Beowulf translated by J.R.R. Tolkien. Yes, that's exactly what it's like, I've nailed it. Next!
I Love You, Honeybear by Father John Misty
Man, everybody was telling me I had to listen to this record for such a long time that I started imagining what it was going to sound like in my head, which was basically like Fleet Foxes. And I'll admit, upon the first listen when it didn't sound like Fleet Foxes, I was semi-disappointed. Then my wife and I kept listening, over and over again, until it was about as ingrained in our heads as Sgt. Pepper's, or every line in Ghostbusters and Beetlejuice. So again, there's not much more that needs to be said about this, except that it is nice. Super nice even.
Buffalo Bests of 2015 (lacking order entirely)
I moved to South Buffalo this year, which might as well be Antarctica, so I fell off the map a little with local music. But here are a few items that peaked my interest.
Flesh it Out by Sonny Baker
Sonny made a damn fine EP with his brand new full band. There are echoes of Nirvana and Sonic Youth, while maintaining a completely original style. If you have never seen Sonny play live, well, you probably a) don't live in Buffalo, b) don't like music, or c) are a jerk, like Donald Trump. Here's my advice: be more like Bernie Sanders, who I'm assuming has seen Sonny play several times.
A Kinder History EP by Tiny Rhymes
Man, what a beautiful record this is. Finger-picked acoustic guitars, cello, vocal harmonies, even a few bells. When I saw Tiny Rhymes live for the first time at Dreamland, I had my socks blown off. I highly recommend 'em!
Docking by Bethlehem Steel
I've loved pretty much everything Rebecca Ryskalczyk has ever done, and Docking is no exception. Despite being a Buffalo expat, I'll still count this as a local fave. In particular, check out "87s," which has been stuck in my head for a few weeks now.
Vulnicura by Rex Ryan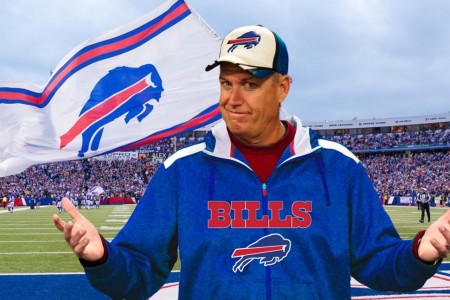 Well, Rex-mania hit Buffalo in January like an unpredictable snowstorm. We all knew he was going to bring a Super Bowl championship to our beloved city, but we had no clue that he was such a talented musician! Early February brought the release of Vulnicura on Rex's SoundCloud site, in which he covered Bjork's latest album in the style of Sufjan Stevens. This really could've topped several year-end lists, but Rex decided to pull it offline the next day when Sufjan appeared to him in a dream and told him to stick to overly complicated defensive schemes.
Will Rex ever re-release this masterpiece to the world? Maybe when his house in Orchard Park is overflowing with Lombardi Trophies, Rex will decide that it's time for Bills fans to feast their ears. Until then, we will wait patiently. We are all too used to lowering our expectations.
28 Days of Fun 3: Shuffled by Alex Berkley
Is it too tacky to list my own album here? Oh. Well, never mind then.