Saturday (6/27/15)
While many artists caused a stir going into Glastonbury, none inspired the kind of controversy that Kanye West did as the hip hop super star when tabbed as the festival's headliner, so much that the announcement drew a petition with over 130,000 signatures protesting the booking. Even death threats were aimed at Kanye West and festival owner Michael Eavis following the news. With Kanye's Saturday headlining slot loomed heavy over the entire weekend, people debated and argued. It seemed like even other artists were commenting on the discussion, with some covering him or others taking time out of their set to slag him off.
So what would happen when Kanye finally took the stage to a crowd of 90,000 people? Rumors swirled all weekend about whether he would show, who would join him, and if he was actually gonna drive in on a tank. But as the anticipation grew and the stage lights rose, there stands Kanye's lone figure — no tank, no guests, no rant, just the man himself and a low hanging tower of light to silhouette his frame.
Immediately, he tore into a series of his biggest and most defiant tracks, giving the fans and the critics everything they wanted. "Stronger," "Power, Niggas in Paris,""Black Skinhead," "All Day," were all performed back to back with barely a pause to breathe. Yeezy's message was clear: "I'm not here to win anybody over. Take your protest and shove it."Not even a comedian who decided to rush the stage halfway through to interrupt him could fuck with Kanye's precision or intensity.
From there, he proceeded to run deep into his catalog, as most of the gathered crowd shouted along to even his most obscure tracks. Kanye's performance reflected all sides of his cannon: new and old, emotional and political, unguarded and braggadocio. As the set neared it's end, Kanye couldn't resist embracing the moment and pissing off his critics one last time. Leading the crowd in a mass sing along of Queen's "Bohemain Rhapsody," Kanye got on the mic.
"Let me say this right now, cause I might not be able to in 20, 30, 40 years…. I AM THE GREATEST LIVING ROCKSTAR ON THE PLANET."
As a mix of cheers and boos followed, Kanye quickly silenced the naysayers, dropping the beat to "Touch the Sky." After about a minute through, Kanye stopped speaking and the lights went off again in a mix of confusion. The crowd began to get louder and louder, and as the lights returned, Kanye towered over the crowd from a crane 20 feet in the air and took the song to its most literal definition. At that point, there was little to even hear besides the roar of the crowd, and by the time Yeezy got to "Gold Digger" and "All Falls Down," it just felt like he's doing a victory lap. It's been said before that no artist is bigger than Glastonbury, but as the weekend continued towards Monday morning, negative or positive, all anyone could talk about is Kanye.
But Kanye wasn't the only artist making waves on Saturday. Just 10 hours earlier on the very same stage, Aussie singer-songwriter Courtney Barnett played her largest of three shows that weekend at Glastonbury. Coming off the release of her critically-acclaimed breakthrough album Sometimes I Sit and Think, Sometimes I Just Sit, Ms. Barnett ran through songs from both the new album and past EPs with all the same charisma that fills her songwriting. In a great moment of deadpan, Barnett turns to the audience and asks "Big night last night?," the crowd cheers before she replies, "Yeah, me neither."
One thing noticeable when witnessing Courtney Barnett live is just how surprisingly well she plays the proper rockstar, busting into extended guitar riffing, wildly whipping her hair around and sliding to her knees at the end of a guitar solo. With the weird duality of her self-effacing charm and genuine ability to play the star, it's as if indie rock has found it's Anna Kendrick.
Matching the raw intensity of Kanye West but nowhere near the reaction was Mercury Prize winners from Edinburgh, Young Fathers. The alt hip-hop trio performed on the Other Stage during a toasty afternoon with one of the most raw and physical performances of the weekend. The band's performance was utterly captivating, but was unfortunately lost on it's audience. In probably one of the poorest booking choices of the weekend, the band was scheduled on the massive Other Stage despite its dark and challenging sound. As a result, Young Fathers ended up playing to a mostly empty and lethargic field. It was one of the few disappointments of the weekend, to see a band give its all and get nothing back.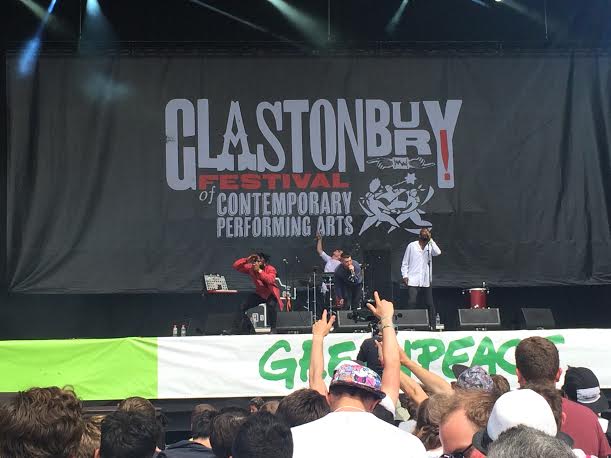 With a minor gap between bands and a brief spell of nasty weather, my girlfriend and I decided to dip into one of the dance tents to grab a drink. This ended up being one the most amazingly lucky decisions of the weekend, providing us with one of those uniquely "Only at Glastonbury" moments. As the DJs on stage finished their hip-hop karaoke set, they announced a guest DJ would be up next. Low and behold, after a few minutes passed with little pomp and circumstance, up stepped Pulp frontman and Britpop legend, Jarvis Cocker. If there is one thing anyone who has ever heard the man speak can verify, it's that his usual goofy wit and irreverence makes him just as much a joy to listen to speaking as singing. And kicking off Mr. Cocker's DJ set? A completely cheesy workout record from the 80s. Standing in front of a tent full of ravers, Mr Cocker demonstrated various workout warmups playing an aerobics instructor. It was one of the most flat-out fun and surreal moments of the weekend, and a real treat to see a true musical icon show up for no other reason than his affection for the festival.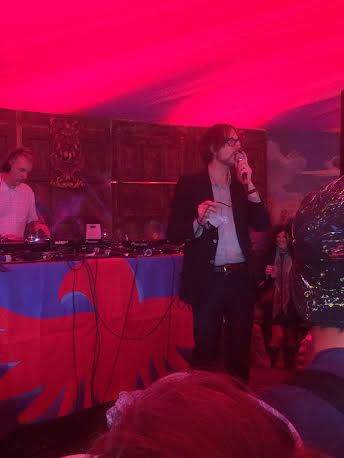 And I couldn't help but feel how fitting it is that Jarvis Cocker should end up proceeding our next act, cause the two constantly remind me of each other. I have no problem admitting I had my reservations about Father John Misty, and while I enjoy his music, the "too cool for school" attitude of his act often irked me. That was until I finally saw him perform live. Taking to the stage with an entire band that had looked and dressed exactly like him, Josh Tillman deadpanned to the nearby cameras, "Hello to everyone who came out today, and to those of you watching at home, who decided to just stay home and do mushrooms this year."
What I hadn't perhaps hadn't gotten until seeing Father John Misty live was the own self-acknowledged absurdity of his character and act. For someone who casts such an air of apathy around him, he puts a lot of effort into keeping his audience entertained. As Tillman repeatedly hopped into the crowd, slinked around the stage like a lounge lizard, and casually through off the best one-liners of the weekend, I couldn't help but reminded of Jarvis Cocker's performance on that same stage four years ago. After watching Jarvis bounce, gyrate, and bant his way through that set, I said that he might be the best frontman I've ever seen for a band, but after seeing Tillman, I'd say he might have finally found his match.
After seeing one crowd-pleaser put on a whirlwind of a show, we made our way over to see another one in the form of former N.E.R.D. member, Pharrell. I tend not to be a fan of most of Pharrell's solo output and while his hit single "Happy" stormed the charts last year, I mostly cringed when hearing it. That said, it's pointless to try to argue Pharrell's place in pop culture. Even if a few of his hits come off too calculated, he knows how to make a hit.
It's also oddly fitting description of Pharrell's performance. With his flirtations with girls in the crowd, pleas to singalong, and finally bringing children on stage to sing with him, there was a sense that he was trying too hard. But in spite of his over-calculated performance, it was hard not to be won over when in a crowd of 80,000 people singing along to everything from N.E.R.D's "Rockstar" to his collaborations like "Beautiful" and "Get Lucky."
Sunday (6/28/15)
There's always a wave of inevitable melancholy about Sundays at Glastonbury. With the final day of the festival here, people already start taking down tents and saying goodbyes early on as if the festival was already over. So it was perhaps a nice treat for the final day to also be packed with perhaps the best number of quality acts that weekend. In fact, if there was any downer about the final day of Glastonbury, it's the number of actually painful clashes in this year's line-up. Belle & Sebastian, Perfume Genius, and Charli XCX? Franz Ferdinand, Chemical Brothers, and Flying Lotus? How could I be asked to choose?
So kicking off the day we actually found ourselves at one of the festivals smallest stages to see Minneapolis-based hip-hop collective, Doomtree. The group played to a small crowd of maybe 80 people, but quickly bridged this gap (and gave security a nightmare) by leaving the stage all together and asking the audience to form a circle in the middle of the crowd for its remaining set. The group ran through each of its respective catalogs and collaborations, culminating in a blistering performance of POS's "Low Light, Low Life." Doomtre mentioned it was its first time ever playing Europe as a lack distribution over over seas made things difficult, and the sheer joy just to be asked to play the festival was notable. For a group playing as relative no ones to a small crowd, the good will it managed to garner was quite a feat and when the band finally left hugging and high fiving the crowd, it left with one of the most memorable sets of the weekend.
Following that was a performance from neighbors to the north Alvvays at the John Peel Tent. The band's pristine twee-pop sound translated incredibly well to the sizeable crowd and even album deep cuts seemed to resonate. If the set had any problem, though, it seems that for a band that sounds so good live, it still appears awkward on stage and lacks a certain degree of stage presence. This seemed to echo into a crowd that felt appreciative but not especially energized.
The same, however, could not be said for our next band, Future Islands. As one of my most anticipated sets for the weekend, I was not let down for a moment. From the moment Samuel T. Herring stepped out, even to simply soundcheck, the crowd were already cheering his every move. So by the time the Herring had reappeared, dad-dancing and bellowing his way through "A Dream of You and Me," the crowd has eaten it up. Even when the band seemed to reach further back in its catalogue well before the breakthrough album Singles, the crowd's energy never seemed to drop.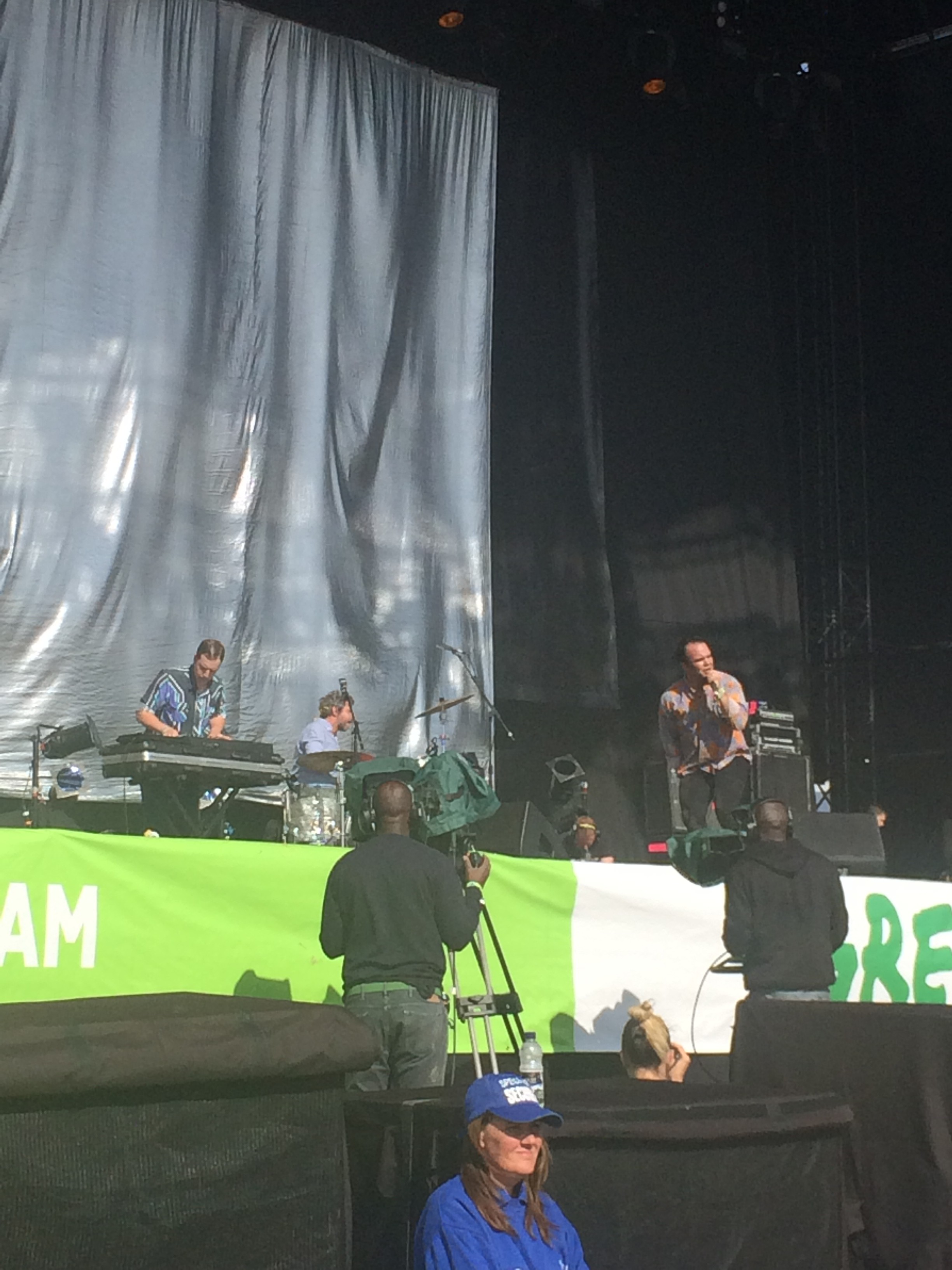 Stopping for one moment, Herring looked out in disbelief at the massive crowd who was crowd surfing to "Seasons (Waiting on You)" and announced his disbelief "Someone told me we were playing the biggest music festival in the world. My dad always said you couldn't succeed without time and hardwork and I always thought that was bullshit. But it's taken us 15 years, and it was worth it for this." The love felt between Herring and the crowd couldn't be stronger from there, and it made for one hell of a show.
From there, we made the difficult decision to stay and watch Belle & Sebastian. The Glaswegian indie-pop legends arrived to the stage not just joined by an orchestra but also a crew of backup dancers so twee they made Zooey Deschanel look like Joan Jett. Stuart Murdoch's charisma was untouchable, witty, playful, and boyish, and it was hard not to love him and his energy. Unfortunately, the band's insistence on playing a set dominated by new material was not as great a fit for the festival crowd. But before the crowd drifted too far away, Murdoch dipped back into the back catalogue like "Dear Catastrophe Waitress" and "I Didn't See It Coming," winning the crowd right back. To finally close out, Murdoch took a cue from the Smiths and welcomed a stage invasion as nearly 50 people joined them to dance on stage as B&P closed out with the classic, "The Boy with the Arab Strap."
Finally, last up at the Other Stage was Jamie T. Jamie T is one of those artists who always seems like he has the potential to be massive but just barely falls short. The young British singer-songwriter comes off like the bastard child of Alex Turner and Mike Skinner, and whether rapping or rocking, provides irresistible hooks. So his first Glastonbury appearance in half a decade did feel like a real breakthrough moment as he was greeted with one of the largest and loudest crowds of the weekend. Jamie also seemed completely unfazed by this and wore the attitude of a proper rockstar, bantering with the crowd between songs and bathing in the attention. Unfortunately, this young enthusiastic crowd wasn't without it's problems as the front area was filled with drunk and pilled out teenagers. I hate to sound like an old man, but when you spend half the show being pushed, getting cider spilled all over me, and being surrounded by teenagers flashing their tits, it gets pretty hard to enjoy the show. That said, Jamie T's moment did feel like the start of bigger things and if he can keep the momentum, it bodes well for his future.
Speaking of terrible crowds, I haven't been shy about expressing my opinions about Death Cab for Cutie's last show in Buffalo. Never has a show been so thoroughly ruined for me by a crowd as Death Cab played through their extensive catalog at Kleinhan's. I found myself surrounded by a mouse-quiet crowd who proceeded to yell at me for things such as singing or standing for songs. So what a relief it was then to get a chance to catch Death Cab at Glastonbury. While I'm not too big on the band's recent output, it was refreshing to see a show where everyone of Ben Gibbard's words were sung back to him by the crowd at the John Peel tent. Such was the volume of the crowd that at several points during the show, Ben would freeze and just let the crowd keep singing, encouraging them as they went along. Watching an entire tent of people embrace and couples kiss as the lyrics to "Transatlanticism" were repeated by the crowd was truly a magical festival moment, one that even made sitting through "You Are a Tourist" worth it.
Closing out the festival was Franz Ferdinand and Sparks. While there was plenty of options, the recently formed supergroup was the democratic option for my girlfriend and me. It also was an option that was richly rewarded. There were sets that weekend that were more intense, cathartic, or transcendent, but in terms of pure fun, FFS could not be beat. The audience for starters was wonderfully diverse mix of people of all ages, be it fans of Franz Ferdinand or of Sparks and all were eager to see their favored band. The supergroup put on a show theatrical enough to match Broadway, with everything from dueling front men, costume changes, and a dance interlude punctuating the set. Whether it was Russell Mael's joy at seeing a new generation of audiences enjoying his work or Alex Kapranos being able to share the stage with his idol, few bands looked happier the entire weekend. It also helped that the two band's amalgamation proves to be near seemless, with each collaboration being instantly infectious and energetic. And when the hits finally do come, whether it be from Sparks or Franz Ferdinand, the tent is an eruption of noise and movement. Goofy, thrilling, and entirely joyous, it was the perfect set to close a weekend of the same emotions.
As my girlfriend and I trugged back to our tents in the Glastonbury mud, finishing our last drinks, and parting our new friends a goodbye, it was clear another Glastonbury had come to a close. It was a festival of constant highs and hardly any lows. A temporary world we had entered that our hearts wanted to stay in forever, but our exhausted bodies wanted to desperately leave. The sun may have set on Glastonbury, but it had left us with enough memories for a lifetime.