While this blog has featured road trips from such places as Rochester and Toronto, Glastonbury might easily walk away as the easy winner of this blog's longest voyage. So, would the largest and most famous music festival in the world be worth the 4,000 mile trip?
In a word: Yes.
I should begin this article by being honest. This is not my first Glastonbury. While I have been to domestic festivals such as Bonnaroo and Coachella, there is something about Glastonbury that always brings me back. The billing, the size, the hype, they all surely play a part in the appeal, but more than anything, it's the otherwordliness of it all. Glastonbury feels less a festival than it does a remote temporary nation: one where everyone shares the same inspiring values, where people don't have to concern themselves with day jobs but instead rather to see Jamie xx or Run the Jewels, and one where religious dignitaries like Dali Lama  can share the same stage with religious dignitaries like Kayne West.
It also might perhaps just be the sheer vastness of Glastonbury that is easy to get lost in. While other festivals have a few attractions, none can compete with Glastonbury's sprawling three mile city filled with brick & mortar pubs, restaurants, cinemas, circuses, political debates, scenic vistas, and a nightlife area that resembles a demonic Disney World.
Thursday (6/25/15)
There is always a moment when you arrive that puts you in awe. Our bus looped through an English countryside for what felt like hours, we started to catch fleeting glimpses of what appeared to be Glastonbury. But after finally ascending atop a nearby hill in traffic, we could look down below and see a vast valley of tents and stages before us. A sea of color stretched out before is with one single towering pyramid that would serve as a headlining stage for the next five days.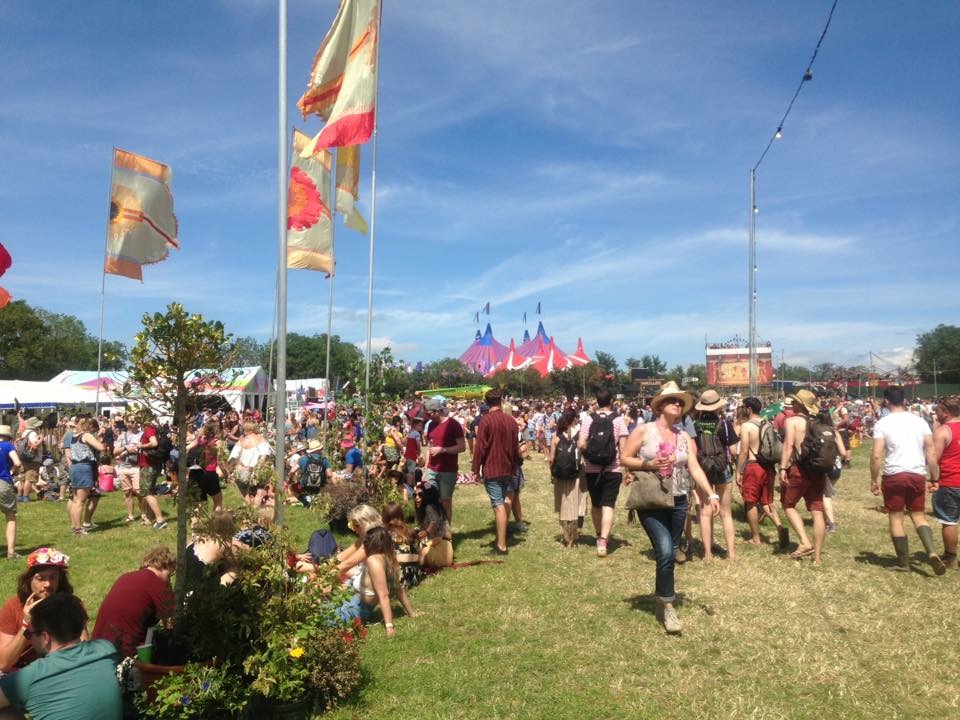 After descending onto the campsite and setting up our temporary home, we began to meet the neighbors of our new community. This included three laddy but friendly guys from Manchester and an entire Geordie family ranging from babies to grandparents. As we explored the sights, we found ourselves continually surprised by the nooks and crannies the festival contained. I can say with some certainty that at no other festival could I expect to walk down a random small path in the woods only to arrive to a multi-story, tree house cocktail bar and an acoustic hippy freak out down below, but at Glastonbury, that's exactly what happens.
As the sun set on our first day, and my girlfriend and I looked out from a massive hill, drinking ciders and watching the sun set on the pulsating city of Glastonbury that lay below us, we could only begin to imagine what other surprises could lay before us.
Friday (6/26/15)
As much fun as the wanders and world of Glastonbury can be, there's always a noticeable buzz on the first day of music at Glasto. And on Friday, there was perhaps an even bigger buzz than usual. With The Foo Fighters having pulled out as festival headliners after Dave Grohl broke his leg, it was announced that day that a surprise act would be replacing them on the main stage. Rumors ran rampant all day with names as diverse as Blur, Taylor Swift, Paul McCartney, and Jay-Z all being teased among the possibilities.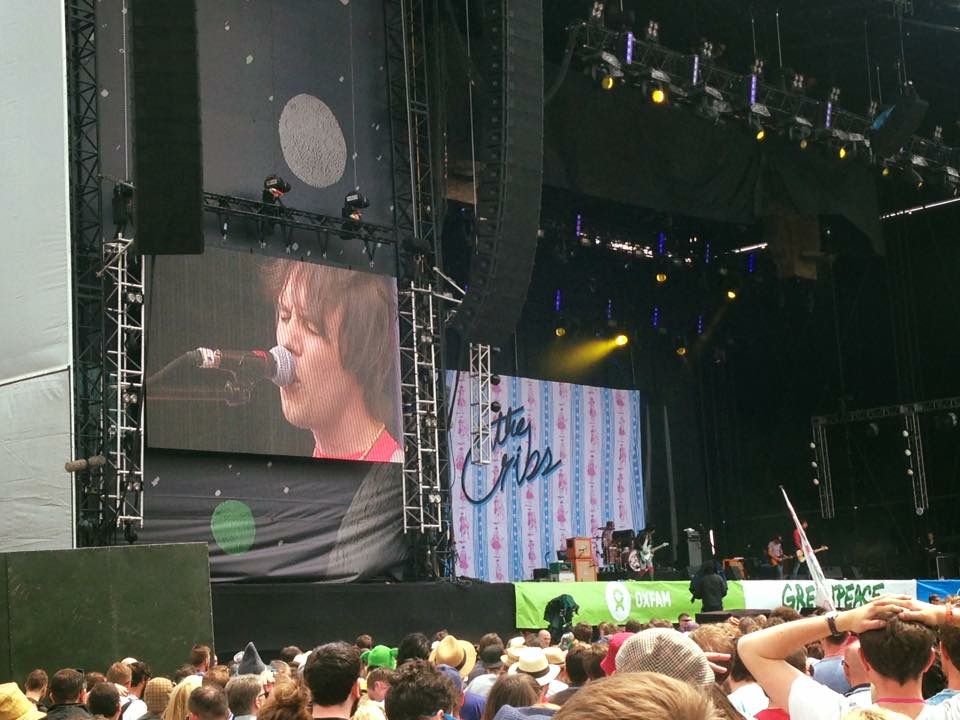 This air of gleeful anticipation ran throughout the day from stage to stage. Early on, London's underrated indie rockers The Cribs took to the Other Stage shredding guitars and leading the sizable crowd to mass singalongs. Even for those seemingly unfamiliar with the band, front man Ryan Jarman's sheer exuberance was contagious enough to help win many over.
Next up was Glass Animals. After having just recently played a rousing local set at Asbury Hall back in Buffalo, the Oxford art-pop band was bringing its seedy and sexy R&B sound to the Park Stage. While the band's early start was initially met with a tepid response (thanks in part to the arrival of some light rain), the crowd soon locked into Glass Animal's groove and a growing dance party was born. The band even paid tribute to tomorrow night's headliner, Kanye West, with an inspired doo-wop version of his 808's hit, "Love Lockdown."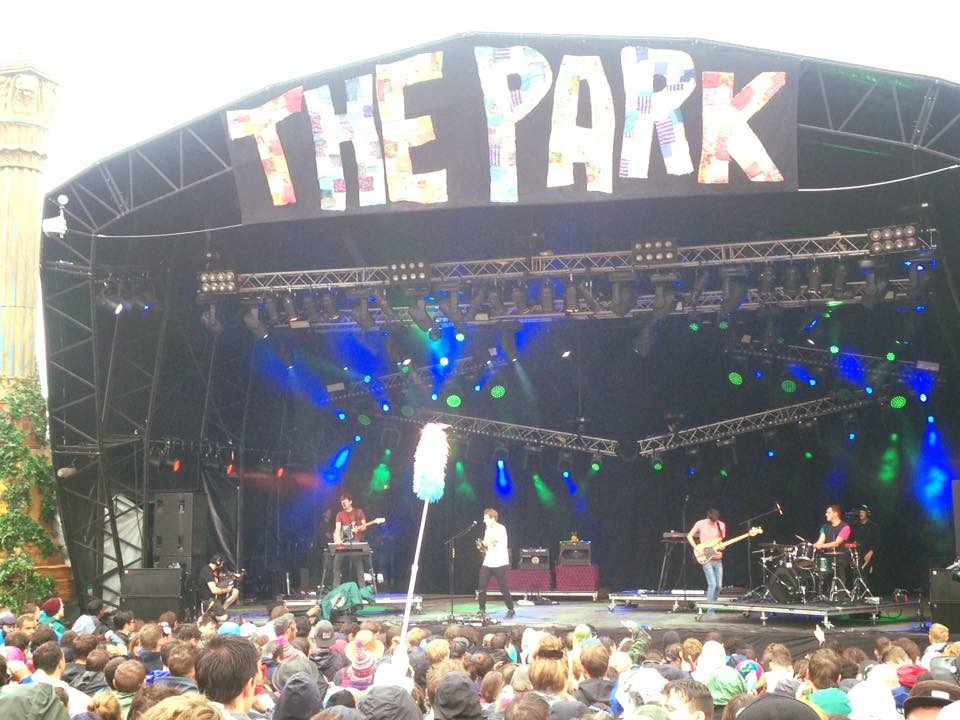 As the raging thunderstorms continued to grow, the weekend almost threatened to become the kind of mud bath Glastonbury can be famous for. However, just as it seemed like everything might turn to doom and gloom, one artist seemed to almost harness the power of the storm to provide one of the best surprises of the Glastonbury weekend. I can honestly say the two of us arrived to the Pyramid Stage to see Mary J Blige, neither of us expected much, except maybe some nostalgia. What we were treated to was an absolutely jaw-dropper of a performance. After running through a hit-packed set including classics like "Family Affair" and her recent collaboration with Disclosure, "F for You," Mary closed with a performance of "No More Drama" that defied any expectation. As the rain drenched the enraptured crowd like a Hollywood special effect, Mary dropped to her knees, draining every last bit of herself out into the song. Afterwards, she was met with a roar of approval from the crowd so loud that it silenced her repeated efforts to say goodbye. Mary could be seen left in tears, visibly moved by the warm reaction from the massive audience.
As we headed back to gather our wine and ciders to camp out for the next few acts, we caught The Vaccines. While its change of sound seems to have gone over pretty well on the studio albums, it appeared the same could not be said for the audience. As the band played through songs of latest LP English Graffiti, the crowd seemed notably quiet. The set's energy only seemed to continue to deplete as the show went on, aside from the few moments when some older tunes appeared.
Finally, after a day full of rumors and anticipation, a large crowd had formed en mass to see who would replace The Foo Fighters. As the banner finally fell on the stage backdrop, the image of The Libertines debut album, Up the Bracket, was revealed to the crowd, providing one of the biggest cheers of the entire weekend. That said, the performance sadly could not meet the level of anticipation. While the band provided a hit-packed set with nearly every song's lyrics shouted back at the band, Pete, Carl, and company looked nowhere near as engaged. As the foursome ripped through classics like "Time For Heroes" and "When the Lights Go Out," the accompanying images of the members lively, younger selves on the monitors only seemed to serve as a reminder of the chaos and energy the set was missing. While it was great to experience such a legendary band live, it was no doubt a disappointment to see it in this current state.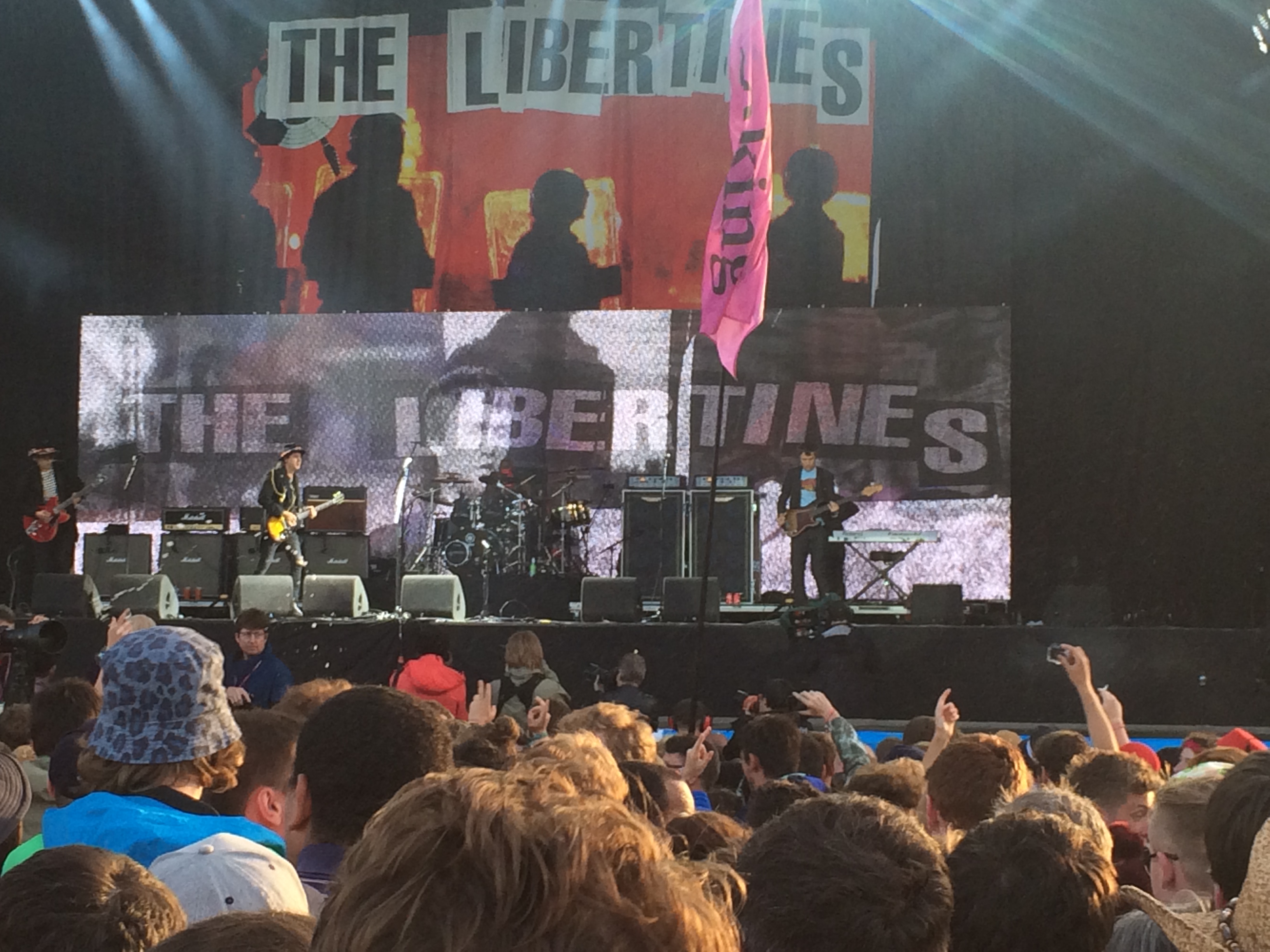 Thankfully, the evening's headliner almost proved to be the complete opposite. While I can say that I've enjoyed the occasional Florence & the Machine single here and there, I've never particularly been a fan. That said, given our prime real estate in the crowd, and my girlfriend's love of Florence, there was no way we were leaving. Thankfully, this turned out to be the right decision. A lot of pressure had been on Florence in the build-up to this show. With less than a week and a half to prepare and with many complaints stating she was not big enough to be headlining, there was genuine pressure. While my knowledge of the Florence & the Machine catalog might be fairly limited, I knew enough to know this: she killed it.
While other acts like The Who and Kanye arrived as stars playing Glastonbury, Florence arrived understanding the opportunity to make herself one by headlining the world's largest festival. Throughout her set, she completely played to the crowd, inspiring the crowd to join in sing-alongs, dances, public displays of affection, etc. Florence even recounted her own history playing the festival at 11am on one of it's smallest stages and serenaded the absent Dave Grohl in a stripped-down acoustic version of the Foo Fighters' "Times Like These." By the time, Florence had reached the closing number "Dog Days Are Over" by whipping off her top and running around the stage celebrating as a shower of confetti poured down, it had felt like a moment truly earned. At the start, many wondered if Florence could headline Glastonbury. After, many wondered if anyone that weekend could top her.