Taylor Swift's album 1989 dropped this week, marking a full departure from her cosmopolitan country-pop sound. Vocally, she is breathy, jaded, lower than before. Musically, there is less guitar and more echoing drums. Everyone is freaking out about it—in its opening week, it's probably going to break a million sales. Smart Girls on Stupid Music go off again on their favorite Taylor tracks and what they think about your taste in music.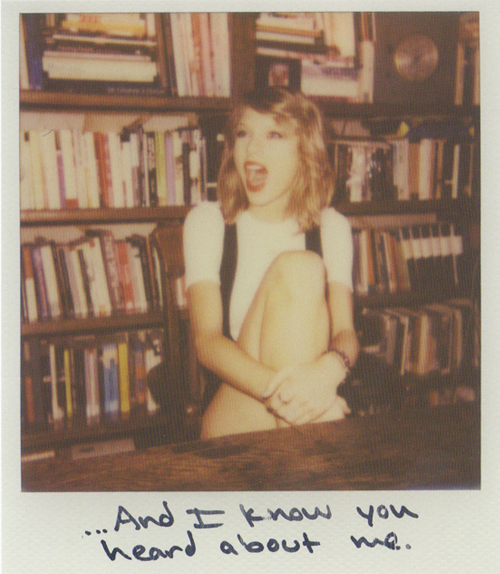 Sarah:
I am excited for 1989, though after an initial listen-through, I wonder if the lyrical handling of heart-heavy subjects is not as skillful as Taylor Swift's material has been in the past (i.e. "Haters gonna hate, hate, hate"). What I'm most interested in is the wildly positive reception the album has received so far. Is it because it's full on pop, and doesn't have the country (ok, faux-country) label tagged to it? After all, we did grow up in an era defined by AIM profiles whose favorite music category universally stated "anything but rap and country." The Taylor Swift of the past was scorned, mocked, put down, and publicly rejected yet secretly savored. Why is it now okay to tell people that you're "listening to Taylor Swift's new album, so deal with it"? I'd argue that it's because pop music is safe and easy to like. It fits perfectly into the 25-35 "ironic" love of pop music. But pop music is really easy to like, and so is this album, so please people, stop announcing it like you're some kind of taste-making revolutionary, and just listen to the damn album.
Sarah's Favorite
Top 5:
5) "You Are In Love"
4) "Shake it Off"
3) "Blank Space"
2) "Wildest Dreams"
1) "This Love"
Taylor Swift feels like I do, all the time. The only difference is that she can translate her feelings into billions of dollars (still waiting for my day in the sun). My favorite track on 1989 may not be a billion-dollar winner, but the song is a damned heartbreaker. "This Love" uses a sea metaphor throughout to describe a lost-then-found-again relationship; Swift accurately channels a rising then falling tide to describe the ebb and flow of love. Love, like water, is there and then it's gone. When they go, they leave behind debris and expose the surfaces they once covered. And sometimes you have no choice but to watch them leave (not if men or moon tides have anything to do with it, at least). Rocks and shoreline can't chase after retreating water, just as a woman shouldn't chase after an exiting man. But, as Swift describes, that doesn't mean you can't hope for their return—they are necessary. Water is the essence of life. Is not love?
Moira:
This album is coming at just the right time: I am feeling full of girl power and romantic wistfulness, and it's autumn. 1989, so far, has given me a chance to explore both the parts of me that are jaded and the parts of me that have a crush on everything. People want an echo chamber, and I don't mean the drums—they want to hear their opinions bounced back to them, and if a singer-songwriter is letting go of their secrets and stories so they can be co-opted, they want a contemporary. Taylor Swift's sort of mawkish, girly brand has alienated her from a lot of millennials and given her a teenage fanbase instead. I think this album is going to be the lightning-in-a-bottle that gets people our age hooked on her music—and I ardently don't want that to be because she is world-weary and suffering from romantic fatigue now. She really has taken a turn for more intelligent, modern, self-aware pop music. I love when an artist grows up and you can hear it. I can only hope that everyone takes it in stride. Things and people that teenage girls like are not jokes: that is an insult to teenage girls. Teenage girls that grow up to be women are not jokes either. No more shame-listening or hate-listening—what Taylor Swift does well is emotion, and to hedge around your own for the sake of taste is disingenuous. I recommend at least giving this super-catchy album a listen for the sake of eclecticism!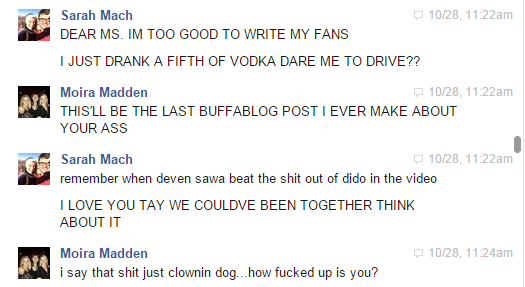 Moira's Favorite
Top 5:
5) "Bad Blood"
4) "How You Get the Girl"
3) "You Are In Love"
2) "Wildest Dreams"
1) "Blank Space"
I've already heard "Blank Space" on the radio once. It displays a self-awareness that she doesn't usually have, as an artist or as a public figure. It springs from what has happened to her love life now that music critics who deign to give her their time have painted her as at once an ingénue and a maneater. It captures the excitement of dating for a confident, funny woman who really embraces that dating is a game: "Got a long list of ex-lovers, they'll tell you I'm insane! / 'Cause you know I love the players, and you love the game." Gone are the fairy tales, and they are replaced by the story of someone who is now playing the princes and "can make all the tables turn." Plus, it is so fun. Like, "Candy" by Mandy Moore level catchy. Drive another nail in because I really do mean that, and it is the highest praise.