Wednesday night, New York City's Hooray For Earth returned to Buffalo after a four year absence for a special yet sparsely attended show at the newly reopened Sugar City art space on Niagara Street. I don't know exactly what happened that contributed to a show for an up and coming band being attended by 15 people, but that's basically what ended up happening. That those 15 people were treated to a magnificently loud and blisteringly gorgeous performance is almost beside the point; Hooray For Earth made good on their promise to get here after cancelling in January of 2013, and I want to thank Hooray For Earth and opener Grooms for making the trip.
It was one of those shows where the bands start early so they can get on their way to the next stop, hopefully with a bigger crowd. Grooms, a power trio from Brooklyn, started before the advertised (is that the right word?) 8:00pm show start, which meant that I totally missed them by the time I got there having worked late. Usually you get some wiggle room at these things, but not last night, and for that I apologize for missing them. Word on the street is that their set was good.
By the time I arrived, Hooray For Earth was already getting ready, which gave me a chance to wander around Sugar City's new space on Niagara Street, right across from the Resurgence Brewery. A fixer upper very much in a raw state, one can definitely get a sense of its future promise both as a gallery in the front and vibrant performance space in the back. The room in the back is huge, a perfect venue for Hooray For Earth's powerful walls of sound, and for it's first show from a national touring band, it was up to the task. Hopefully future shows will feature amenities like water or soda (the absence of booze is due to Sugar City's admirable "all ages" policy).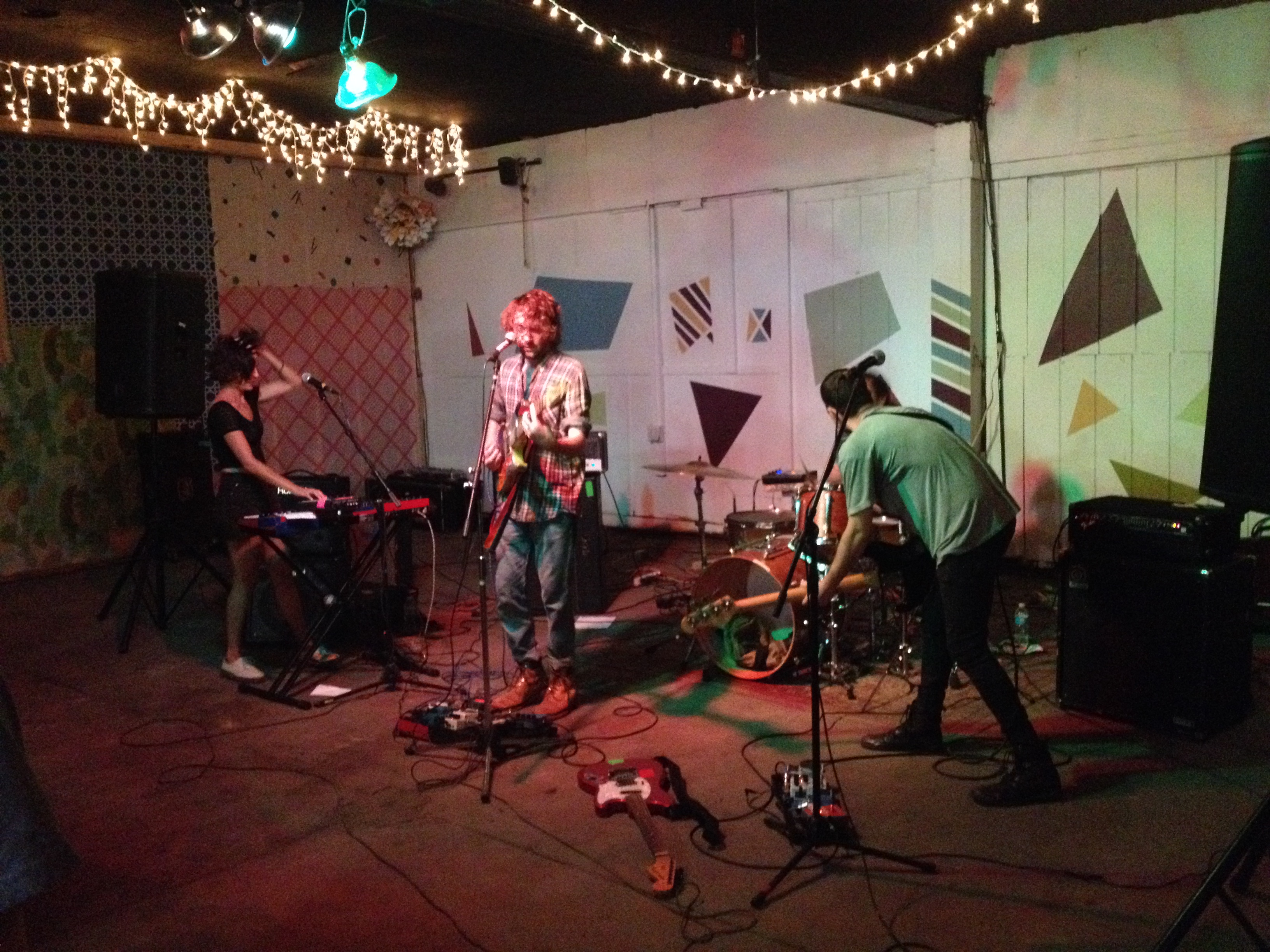 After a brief interim, Hooray For Earth ripped into the mesmerizing "Airs" off of their new album Racy. Front man Noel Heroux laid down feedback drenched guitar licks that spiraled and merged with the fuzzed out bass and dense drums to create a cascading wall of sound that bounced off Sugar City's rough concrete floor to absolutely pummel us with psychedelic rock goodness. That wall of sound would feature throughout their brief but wonderfully intense set. Even though Noel's tenor was sometimes hard to hear, everything just came together magnificently for the aural adventurers who turned up for the show.
I don't want to saddle anybody with anything, but that show was a minor masterpiece as Heroux worked his pedals and guitar like more than one guitar hero Wednesday night. "Sails" and "True Loves" thrilled the crowd alongside new cuts like "Keys" and "Happening." By the time the band wound up with the pulsatingly  hypnotic"Black Trees" and "128," the b-side to "Keys," the 15 people in the funky, unfinished back room at Sugar City were reduced to rapturous delight before being set loose into the Buffalo night to ponder how only 15 people were there to witness such a luminous show , and to hope that they get to see it again…