You may have seen some photos of Jenny Lewis mugging in a rainbow-cream pantsuit airbrushed with clouds and stars lately. Now that I've seen her showboat in it on stage in some cerulean sci-fi shades, I'm pretty much convinced that she is ready to bust out of her mortal corporeal form and just become the total goddess she knows she is, space-Barbie style. Furthermore, I'm even more excited for her new record to come out on July 29th, titled The Voyager.
Jenny is an indie star and it's fabulous to see her embrace all of the selves she has ever been for us on stage: her setlist for TURF (Toronto Urban Roots Fest) yesterday even included two anthems from Rilo Kiley's More Adventurous and The Execution of All Things. She also revisited quite a few Under the Blacklight classics, such as "Close Call" and "Silver Lining." Under the Blacklight, the band's glammed-up departing album, was a little divisive for fans (excuse me, but "Dejalo" died for Rilo Kiley's sins and not even the rap remix on rkives could save it) but Jenny rocked and wailed and danced all around the stage, and "Moneymaker" is actually very fun live.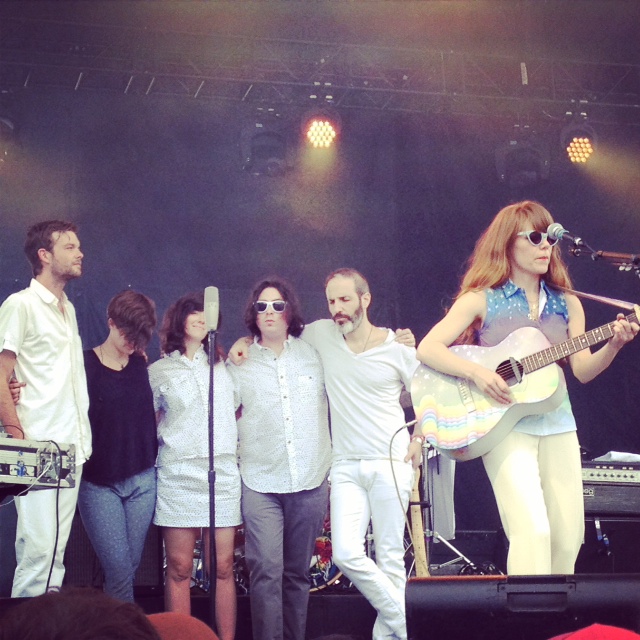 Her setlist also delivered quite a few gorgeous songs from her solo effort Acid Tongue, helped along by a crew of energetic, talented musicians and backing singers. "The Next Messiah" is especially wonderful and emotionally-loaded live. Jenny is the queen of coaxing us into loving difficult, complex ladies through her lyrics: from when she crooned "I'm sorry I'm hard to live with / living is the problem for me," to when she pointed up at the sky and clicked her colorful heels, singing "she's not me! / She's easy," all eyes were on her, the voyager. New track "Head Underwater" made a big impression while I personally think "Love U Forever" is going to be a total summer 2K14 bop. I can't wait to see where her journey has taken her music to on the full album later this month, and will be counting down and daydreaming about it. In the meantime, keep listening to the studio version of the reverb-heavy single, "Just One of the Guys," which is very womb-fury-childless-chic.