For our Best of 2015 coverage, we once again decided to reach out to some friends of the blog to get an idea of what made the year in music so great for them. For the latest installment in the guest series, Drew Brown and Kevin Heffernan of Rise Collaborative submitted their year end lists. Rise supports local businesses, artists, non profits, and advocacy groups. As a culmination of their shop local series this season, they're throwing their first of many "Storefront Sessions" this Friday from 6pm-9pm at Renew Bath and Body on Elmwood. Free cocktails, food, and old school hip hop as well as all the gifts you need to finish off your shopping list.
Make sure to follow all of the blog's year in review coverage throughout the month of December.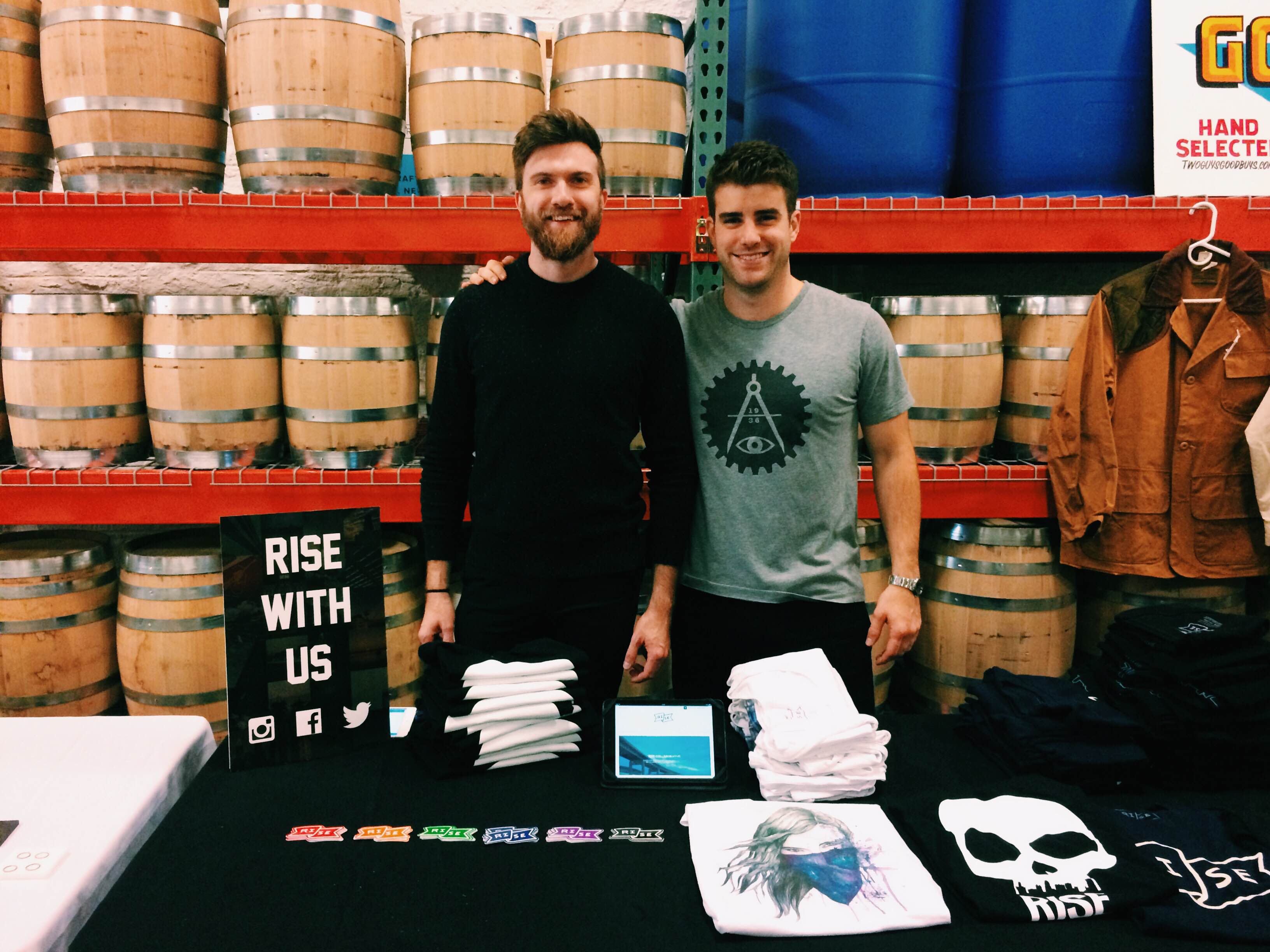 Drew Brown
No matter the monumental or tiny shifts in my world – and 2015 was full of 'em – music was along for the ride. These are songs that soundtracked the journey.
When I was a kid, my father preached listening to music that makes you feel the full spectrum of emotion. So if you're looking for any semblance of a theme in this playlist, I'm afraid you may not find one.
Full disclosure, I let shuffle mode decide the track order. C'est la vie!
Kevin Heffernan
I teach spin class 3x a week, so Spotify's new music suggestions have started to revolve around increasing BPM. Living and working in the city would have me second guessing my Sirius subscription with so little time spent in the car, if not for Ch 35 XMU. They rarely disappoint and discoveries made there comprise the majority of this playlist. Enjoy the different waves.
1. Courtney Barnett – "Depreston" (Sometimes I Sit and Think, and Sometimes I Just Sit)
Arcade Fire's The Suburbs was a very influential album for me back in 2011. This song from Courtney Barnett, about moving out of the city into the suburbs, definitely strikes a cord about two different lifestyles as I see so many friends now leaving the excitement of the city for the comfort and seclusion of the suburbs. When Barnett came onto the scene earlier this year, I couldn't help but picture her as a broke artist, living in Allentown during the summer, and working three jobs while seeking gigs. After watching a few interviews, I think she'd fit right into our neighborhood.
2. CHVRCHES  – "Clearest Blue" (Every Open Eye)
I've liked CHVRCHES since I heard "The Mother We Share" a couple years ago. I remember thinking "hey, this is some 80's shit!" A subsequent interview revealed that this song was inspired by the hard hitting synth track from the 1984 Ghostbusters soundtrack, "Savin The Day" by Alessi. This latest album came out swinging hard and talking bold. "Clearest Blue" is often on my playlists for the spin classes I teach at Revolution because of the buildup and explosion of fun that goes on from about 1:40 til the end.
3. Jamie XX – "Girl" (In Colour)
Infatuated by the opening dialogue sample, I found out that "You're the most beautiful girl in Hackney, y'know" was from a British drama called Top Boy. What's even better is the faint whisper of some girl agreeing, "It's true." This is the kind of song that I would use for a montage of a party in a movie. It just doesn't get old.
4. CRUSHES – "I Miss You" (I Miss You)
You've got to include some local music in a top list, especially when that local talent is Laura DJ LULU Robinson. Technically, CRUSHES is a Rochester, NY collaboration. I was thrilled to find their three tracks on spotify, and even more thrilled by the music itself. I've always been a fan of Tycho, and to me, this is like improving Tycho with some lyrics and dialogue that doesn't take away from the instrumentals.
5. Unknown Mortal Orchestra – "Multi-Love" (Multi-Love)
Lead singer Ruben Nielson's voice is infectious, haunting, and unique. If he were to do some coffee shop gig, quietly starting in the corner, the whole place would come to a halt. Every song from UMO stands is so much different than anything else you've listened to that day.
6. The Weeknd – "Can't Feel My Face" (Beauty Behind the Madness)
I'm sorry. It's pop. I don't care. This song is so damn good. On Halloween at Hardware, the DJ played it three times! If he did that with any other song, there would have been outrage! But people were like "oh thank god this is on again!" and proceeded to bust out their best dance moves.
7. Ratatat – "Abrasive" (Magnifique)
While I had been a very loose fan of Ratatat's, I never looked them up and always assumed they were two German dudes for some reason. That all changed at the Rapids Theatre in Niagara Falls on September 3rd. Shortly before the show, I found out they were from Brooklyn, which explained the four people in their 60's and 70's standing in the VIP section to our left when the show started (family from WNY). One uncle came in with an oxygen tank, and halfway through the show, he was grooving and bopping his head back and forth as hard as anyone front and center. What an incredible show and album. This particular track happens to be one of the happiest tracks I've ever listened to. Just when you think it's over, up comes one more wave of warmth.
8. Caribou – "Can't Do With You" (Extended Mix) (Our Love (Expanded Edition))
There's something to be said about a long slow buildup in a song. It really makes the full arrival of all sounds and instruments that much more enjoyable. That's what's going on in this mix. Why rush through the shorter version? Get comfy and enjoy the ride up to the big drop at 2:45.
9. Neon Indian – "Slumlord" (VEGA INTL. Night School)
This was a very tough concert to miss. I'm still checking websites to find the next trip to anywhere nearby. Sticking through the strange intro is rewarded with a song you'll find yourself dancing to every single time.
10. Day Wave – "Drag" (Headcase)
This song is almost too mellow compared to what I've listed thus far, but it's got nostalgia powers, taking me back to the insecure days of my late teens. It's new old school.