Before Friday, I had no idea how to describe Mac DeMarco. Well, I still don't. It suffices to say that the guy is a complete anomaly; his music obviously speaks to people if his draw at Friday's show at the Tralf is of any consideration. The place was packed with DeMarco look-alikes—a throng of carefree kids embracing the "I don't give a shit" lifestyle. Unfortunately DeMarco was void of any backing musicians that night, but he was somehow still able to transform the packed venue into a wild party with just a guitar and his arsenal of caustic little anecdotes. Mac DeMarco is the party. I guess I can describe him after all.
Opening support came from local electro whizkid Shawn Lewis of Lesionread, who got things started with his eclectic mix of experimental electronica. The music, comparable to that of Death Grips or Flying Lotus, certainly had a few people moving their feet, but when the dancing was not to Lewis' satisfaction, he would grab his megaphone and inject himself into the crowd in an attempt to get things further revved up. His enthusiasm for fun was admirable—at one point he instructed the entire crowd to lie down on the floor while he stepped over people and shouted through his megaphone to complement his club-tastic electronic stylings. His performance was more of an interactive experience than a demonstration of his musical ability; by the end of his set he had his audience wrapped in red caution tape while he wailed on a presumably circuit-bent plastic Rockband controller. It was strange, but undeniably fun.
Next on the bill was New Jersey's Delicate Steve. I have never felt more motivated to rip air guitar solos in my entire life. The quartet, fronted by guitar virtuoso Steve Marion, played tight instrumental songs showcasing Marion's unique playing style. Lick-heavy and hot, the songs sound like a progressive surf rock of sorts, capitalizing on interesting compositional techniques and blisteringly good guitar solos. I especially enjoyed the dynamic between Marion and drummer Booker Stardrum. Stardrum's tom-heavy afrobeats, played on a sparse kit with a beat up crash cymbal, paired perfectly with Marion's dexterous shreddings. The two found the pocket quickly and consistently, and the exactness of it all made for a truly gratifying aural experience.  Highlights of the set included the danceable groove of "Afria Talks To You," contemplative and nutty track "Butterfly," and the satisfyingly piercing guitar melody of "Wally Wilder."
I was disappointed to learn that Mac DeMarco would be playing solo; I was looking forward to a few of his more synth-driven tracks such as "Chamber of Reflection" and "Passing Out Pieces," which were understandably omitted from the setlist. However, the bandless DeMarco still entertained with ease, playing an intimate 14-song set for the packed room. A bottle of Jameson by his side, Mac kicked things off with "Cooking Up Something Good," a popular track off of his 2012 full-length 2. The song must've been some kind of metaphorical thumbs-up for a select few in the crowd, cueing up a cloud of smoke that could be seen (and smelled) rising up from the second or third row. Other highlights from his set included title track "Salad Days," crowd favorite "Ode to Viceroy," and "Annie," during which he invited an unsuspecting Annie from the crowd to join him onstage. From the first song, I could tell DeMarco had a certain air about him, an attitude that proclaimed "I don't care how many people are on this stage, we are still going to have fun tonight." This proved to be true.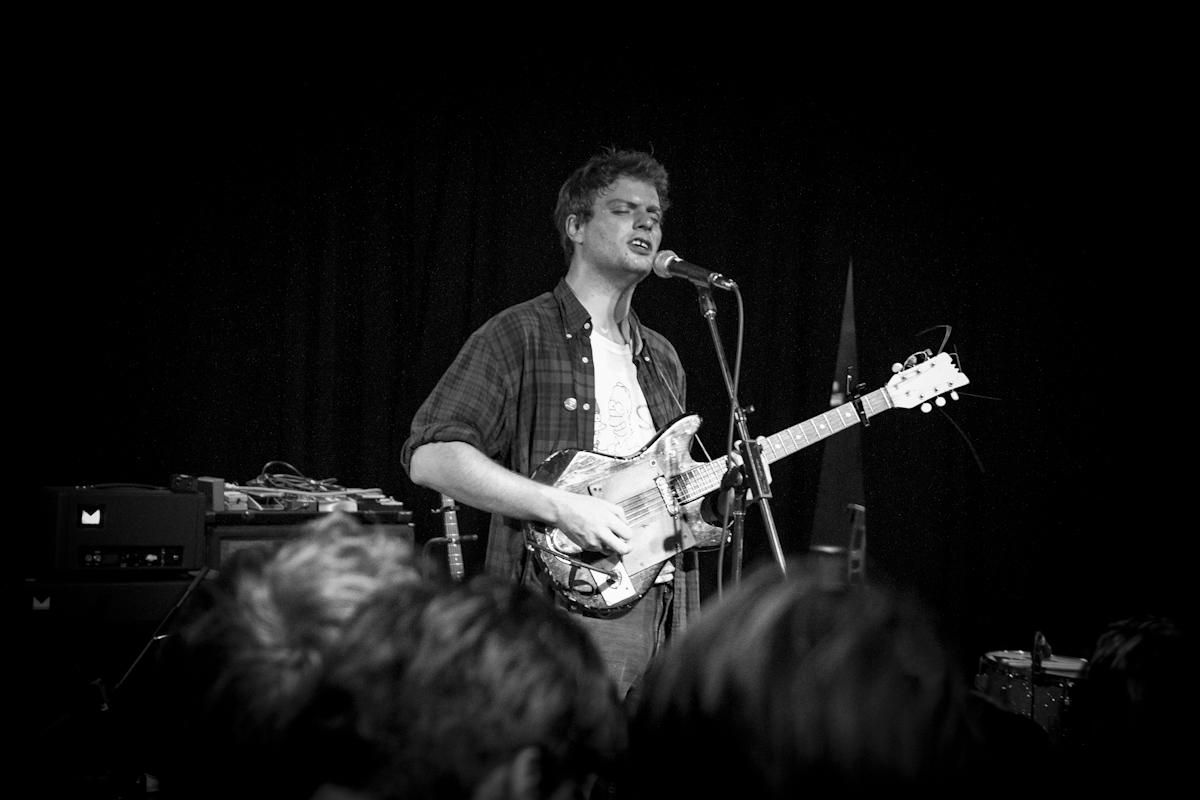 Mac knows how to embrace his audience—it felt more like he was hanging out with us than performing for us. Whether he was asking the crowd for falsetto accompaniment in "Still Together" (as if he needed it), inviting a fan onstage to play drums for him during a mildly parodying cover of BTO's "Takin' Care of Business," or just sharing his Jameson with the willing crowd, DeMarco made his audience part of the show.
However, the true craziness didn't ensue until Delicate Steve joined Mac on stage for back up during his encore performance of Deep Purple's "Smoke on the Water." Fueled by whiskey and wielding a voice-modulated microphone, DeMarco tore into the classic rock song with an enthusiastic sarcasm. Sharing the mic with the front row of his devotees, he chanted "Smooooooke on the waaaaatahhh, FIRE IN THE SKY-EEE!!!" repeatedly for a solid 10 minutes before leaping from the stage, bottle in hand, onto the accepting hands of the crowd. A few kids tried joining him on the canopy, a couple of them finding success until they were either plopped back down on the floor or removed by Tralf security. Mac may have been without musical support for most of his set, but after an encore like that I doubt any of his fans felt robbed of the true DeMarco experience.
Setlist:
"Cooking Up Something Good"
"Salad Days"
"The Stars Keep On Callin' My Name"
"Treat Her Better"
"Blue Boy"
"Ode to Viceroy"
"Annie"
"Let Her Go"
"My Kind of Woman"
"Let My Baby Stay"
"Robson Girl"
"Taking Care of Business"
"Still Together"
Encore:
"Smoke on the Water" w/Delicate Steve
Photos by Candace Camuglia