Do you remember the stir Zach Braff created last April when he launched a Kickstarter campaign to finance his next movie? People were very divided on the issue; some threw their money at their favorite former Scrubs/movie star, while others resented what the perceived to be an A-lister trying to milk laypeople of their hard-earned money.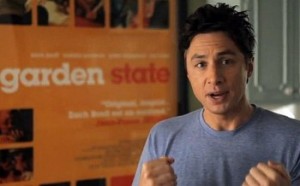 Regardless of how you felt, the Kickstarter campaign was a success and Braff's movie, Wish I Was Here, is coming out on Friday. The soundtrack debuted yesterday, and it's getting a fair amount of attention thanks to Braff's soundtrack track record (cough, Garden State, cough). His 2004 efforts were everything that "lightening-in-a-bottle" phrase intends to describe, and Braff had a lot to live up to this time around.
In his press rounds this month, Braff has shared some anecdotes about the soundtrack, the most intriguing being that he tapped several artists to write original songs for the movie based on how they felt after watching it. He told Rolling Stone that he viewed it as a "wonderful, fun" collaboration, and it shows. The soundtrack is emotional, dreamy, indie (of course), and borderline heady. Remind you of anything? (see: cough, Garden State, cough.)
Movie music is typically selected in post-production and there's definitely an art to picking the absolute perfect song, but there are a lot of X factors that make it risky. What if it's a miss? What if it tries too hard? Braff's approach eliminates all the risk factors. Artists who appreciate his aesthetic try to match it with their own, injecting the album with subtle nuances of creativity that make you want to listen again and again.
The approach shines particularly well on the opening track (also featured in the trailer), by Braff favorite The Shins. Practically a patron of The Shins art since 2004, Braff asked the musicians to write something like their first album. "So Now What" has that familiar sound and ushers in this movie's discography much like their Garden State contribution "New Slang" did for that album. They set the standard by merely by being first, and here you could argue they do the same.
Another standout is the eponymous track written and performed by Coldplay and Cat Power. The combination of Power's vocals and the beautiful piano instrumentals are quite powerful. Without having seen the movie, the song kept reminding me of the surprising use of "Hallelujah" in Shrek. The song itself is a standalone shining star, and it was a real treat to see and hear it used so well on screen. "Wish I Was Here" has the same potential. The song's emotional charge is so strong that by the time its movie scene arrives, you're stopped in your tracks by how the visuals take it to the next level. I hope this happens in Wish I Was Here.
Braff's soundtrack also offers old favorites that viewers will automatically recognize, such as Bon Iver's "Holocene" (whose destiny was probably always a Zach Braff movie), Badly Drawn Boy's "The Shining," Gary Jules' "Broke Window," and Paul Simon's "Obvious Child."
The mix of old and new tracks is pretty fitting for the feeling I get about Braff's project. He's forging some innovative and creative paths while relying on his comfort zone. Garden State was his innovative and creative path in 2004; the characters were young, fresh, and exploring new ideas, and the soundtrack was unlike anything else at the time.
Wish I Was Here could be attempting creativity and innovation, but is coming off as safe. I mean, it is a movie about a 30-something man finding his identity in the context of family and all. And it can't be ignored that the soundtrack reflects that mid-30s life: you test the waters a little bit by trying one or two new things, but ultimately you want to be comfortable, safe, and surrounded by what you know. We'll see if the movie is the same way.
Check out the trailer below.