Touring the US in support of their first live album, Live at Flamingo Hotel, Dr. Dog will bring their high-spirited folk rock to Buffalo again this year at the venerable Town Ballroom. After eight albums and a truckload of tours, the boys have undoubtedly hit a comfortable stride, and show no signs of slowing their roll. It seems fitting that Dr. Dog finally put out a live album; their electrifying live performances generate nothing but good vibes and an undying respect among their cult-like die-hards, first time attendees, and everyone in between. buffaBLOG caught up with keyboardist Zach Miller and talked touring tips, special memories, and the conception of their new live album, out now via Anti Records.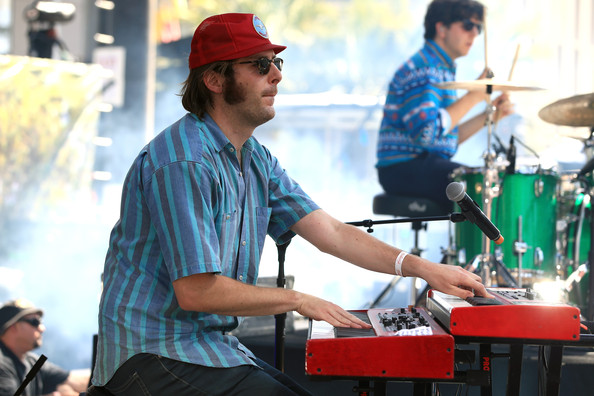 buffaBLOG: Dr. Dog is about to hit the road for tour… Besides your gear and good attitudes, what are some essential items you bring along with you?
Zach Miller: Folding bicycle, barbecue grill, DVDs, towel, acoustic guitar.
bB: Any sage words of advice for local bands just starting to embark on tours?
ZM: Positive attitude. You have to be able to roll with the punches. As a touring band, you're driving into a new situation every day, often in a rickety old van jammed full of gear and people. Something is bound to go wrong, be it large or small, and you can't let them pull you down. I need to remind myself this too sometimes.
bB:  Has touring become any less of a ritual for you?
ZM: Probably more of a ritual if anything. By this time, we all know who sleeps in which bunks on the bus and what people like to do, who's going to want to go out for coffee or dinner or a hike on a day off. We have little traditions each day that keep us centered.
bB: This year you're touring in support of your forthcoming Live at Flamingo Hotel, your first live album. In which ways will this tour be different than your previous tours?
ZM: Ironically, we aren't fretting about the live show as much, the setlist specifically. We don't have to worry about getting new songs into the show at the expense of old songs. They're all old songs now.
bB: No doubt you harbor some special memories of tours past. Any particular favorites?
ZM: Oh sure, it's a cliche, but Red Rocks is always amazing. Truly incredible place. We're in Brooklyn right now so I'm thinking about the first ever show we did here at a place called the lucky cat. It snowed a lot that day and a lot of the roads were impassable so we took the train from Philly with our keyboards, amps, guitars, everything except drums, which we borrowed. Took them all on the 2 hour train ride and trudged through the snow to play the show. Lots of little stuff like that is fun to think about because there is usually something distinctive about each show that will cue a bunch of other memories from that night.
bB: I'm curious how the live album came together. Did you all agree to take a brief departure from the studio grind, or was it more of a whimsical decision?
ZM: The idea had been kicking around for a while and we just decided to go for it.
bB: How was the live album recorded? What was the process like?
ZM: We took a multi track recording from our monitor desk and then assembled the album from those recordings. We did about 20 shows, so it took a long while to whittle the album down from more than 400 songs
bB: I noticed that none of your 2014 dates took place at a "Flamingo Hotel." Where did the album title come from?
ZM: It was in part because the album was assembled from many parts. So we invented a fictional network of hotels on which to base it.
bB: Musically speaking, what has been on your radar / heavy rotation?
ZM: I've been loving Marty Robbins' Gunfighter Ballads; such amazing space in those records. And I'm a sucker for those background choirs.
bB: Pop quiz! (No smartphones or laptops allowed.) What do you know about Buffalo?
ZM: Jim Kelly, Dominic Hasek, Ani Defranco, Sparks shrine at the Mohawk (RIP)
bB: What is your version of the Dr. Dog mission statement?
ZM: Use what you have to make something cool.
Town Ballroom opens their doors tonight at 7pm, with the whimsical folk-pop contemporaries in Yellerkin set to open up the stage. See you there.