With the exception of the stellar design work over at Your Cinema and the now west-coast based Hero and Sound, the Western New York Book Arts Center has been producing some of my favorite gig posters in Buffalo over the last few years. Better known as WNYBAC on the streets, the Washington St. printing center has been producing prints for the likes of Godspeed You Black Emperor!, the New Pornographers, First Aid Kit, tUnE-yArDs and my personal fav, the Broken Social Scene poster for their last gig in Buffalo on their "final" 2010 tour. I have a pair of these hanging in my apt.
WNYBAC's most recent commission is for tomorrow night's of Montreal show at the Town Ballroom. Samantha Epps, WNYBAC's retail manager, filled us in on the design process: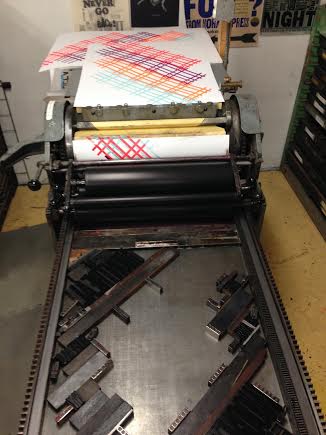 "This is a 5 color letterpress print produced using metal and wood type exclusively from the collection at the Western New York Book Arts Center. The print centers around a "train tracks" woodcut printed in 4 different times, each in a different color: neon orange, neon red, robin's egg blue, and bright purple. Bordering this colorful design is the band name, venue, date, and opener Dream Tiger, all printed in a bold gothic condensed type of varying sizes [see below].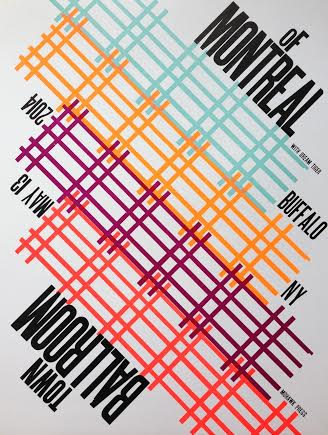 "Letterpress is a type of antique style printing in which individual letters and pieces are set to create a form and then printed on a hand-run press. Due to the nature of letterpress printing, each print features uniques variances, making it completely one-of-a-kind."
The posters will be available for purchase tomorrow night at the Town Ballroom for $20, in addition to the store at 468 Washington Street and WNYBAC's etsy shop.