Back on April 29th, local groove lords Aqueous announced that they would be opening for one of their favorite bands, Umphrey's McGee, at Canalside, igniting an interesting twitter exchange. Dan Murawski of Orchard Park, an apparent Aqueous backer, wasted no time in proclaiming the group would "blow Umphrey's out of the water, so get there early." The following day, Umphrey's keyboard player and founding member Joel Cummins responded with the joking reply "Umphrey's suuuuuuuuucks so bad."
Although Murawski's comment may have been a bit inflated, there was some truth to what he said. For one, this was absolutely a show to arrive early to and second, there is an argument to be made that when considering the time allotted to each band, Aqueous did more with their hour than Umphrey's did with their two and a half.
Working with a shorter than usual slot time, the Buffalo band still managed to execute five selections with absolute precision. Kicking off with "Kitty Chaser (Explosions)," there was no doubt that they were bringing the fire for the hour they had been granted, as the opening number clocked in at just under 20 minutes.  From there, the group transitioned to "Underlyer"(a fan favorite) and "Gordon's Mule" followed by an incredible cover of "War Pigs."
This wasn't the first time I witnessed the band cover the Black Sabbath classic, as they also tackled it last fall in Burlington. After the show, while talking to guitarist Mike Gantzer, I said "Damn man, its pretty cool that you guys played that on the day we just sent 1,500 more troops to Iraq." He responded by saying he had no idea and they just felt like playing that, but it was a cool coincidence. Well, we once again got "War Pigs," on the night of the first GOP primary no less. Coincidence? Probably, but I would still like to believe the forces of the universe played some role in the song selection. They then closed their five song set with "Don't Do It" which had everyone at Canalside dancing.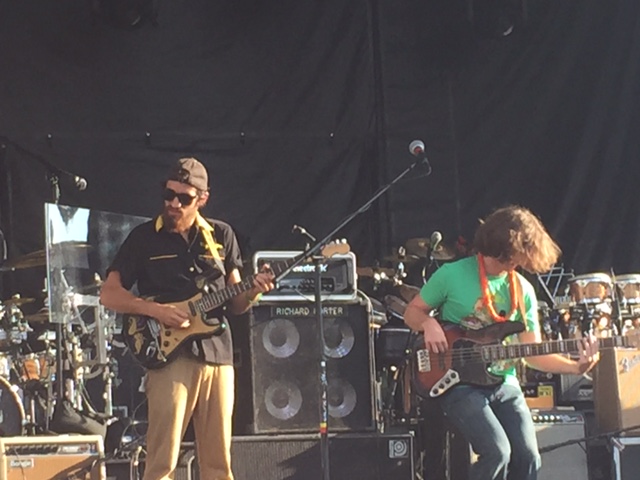 As for Umphrey's McGee, perhaps the most attractive jam band out there mind you, they played two strong sets that clocked in at nearly three hours. Their first set did kind of feel like they were going through the motions, though.  A cover of Steely Dan's "Reeling in the Years" managed to be the highlight of the set in regards to crowd reaction while lead guitarist Jake Cinninger really felt like he was simply warming up for the back half of the night.
Umphrey's second set was much stronger. Starting with "Wife Soup" into "Higgins" and back into "War Soup," it became pretty clear that they were not messing around. As the set progressed, my friend did express one grievance to me that I am not sure I completely agree with but would certainly entertain.
"A lot of these songs sound very similar."
I guess where this comes from is the reality that Umphrey's uses a similar structure for many of their jams. It's not that their songs are necessarily carbon copies of each other, but there is an argument to be made that they do in fact end up finding the same place most of the time
To the merits of Murawski's tweet back in April, I say that Aqueous took full advantage of the opportunity they had. They looked incredibly comfortable on the big stage, and they executed their selections with absolute precision. The same thing can be said for Umphrey's. I don't think either band thought this was a competition, but ever since the twitter exchange occurred, it's been hard for me to view it any other way, although I ultimately decided to abandon that idea while leaving the water front.
Opener or not, Aqueous played a diverse and explosive set. Would we all liked to have had a little more time with those guys up on Buffalo's biggest stage? Sure. But mark my words, those guys will headline Canalside sooner than you would expect. If you doubt me, just take a look at where they have been playing this summer. And for anyone who may have missed last night's show, mark your calendars for Iron Works on October 30th and 31st.