Jeff Tweedy was met with an uproar of approval after telling the packed Town Ballroom "You guys are the best audience we've had, hands down." No doubt his claim was validated—the Wilco frontman played over a two hour set for the adoring crowd. His new solo outfit, Tweedy, featuring his 18-year-old son on drums, played the intimate Buffalo venue Wednesday night in support of the band's 20-track beauty debut Sukierae, and stole the night with that powerful, entrancing magic that Jeff Tweedy is known for.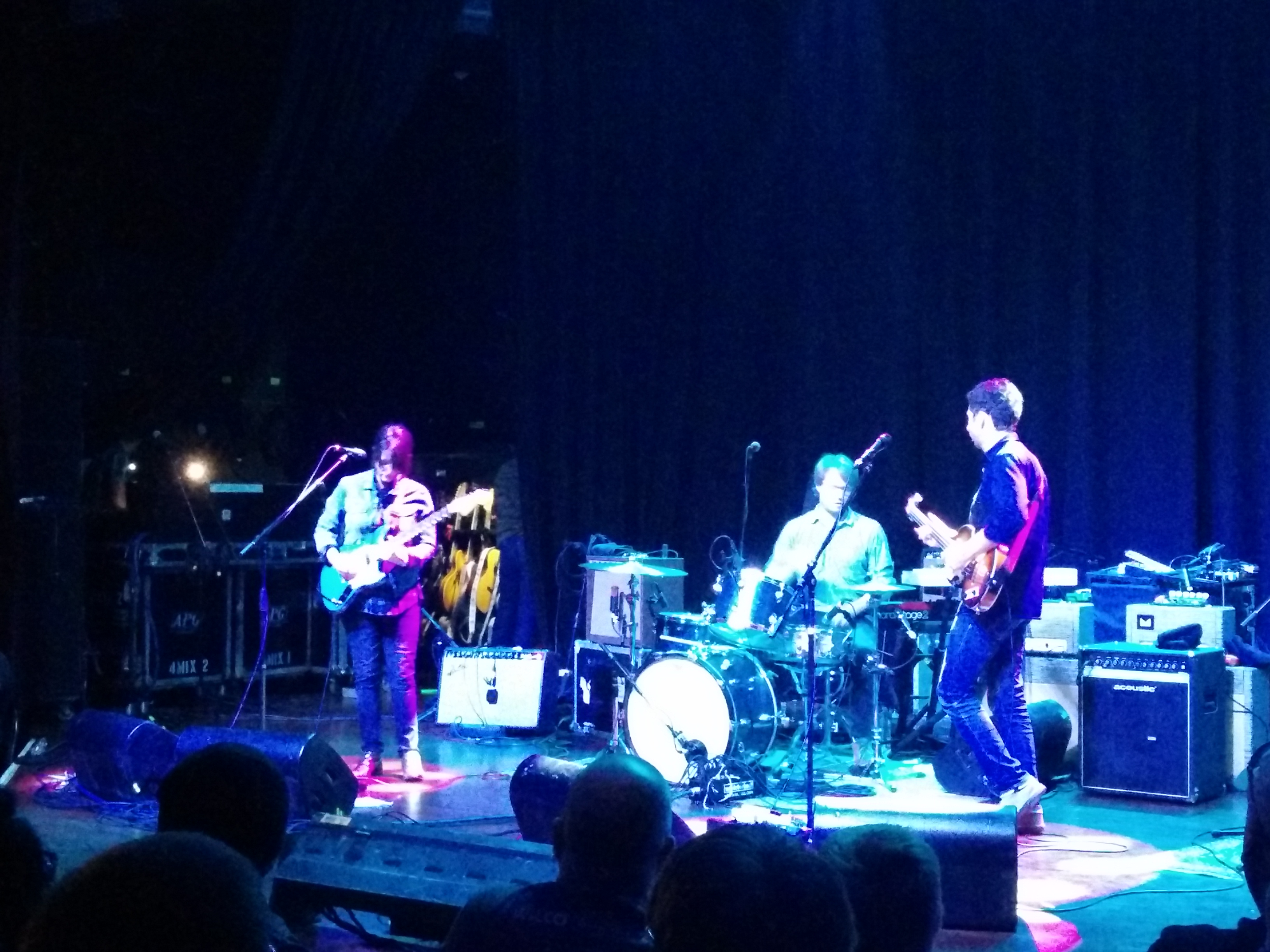 Brooklyn avant-pop three-piece Hospitality started the show, launching right into a fresh adaptation of "Inauguration," a whimsical slow-burner off the band's latest full-length, Trouble. This particular version presented a much more organic take on the song, highlighted by a slick little solo played by singer/guitarist Amber Papini towards the latter half. Other highlights of their set included the smooth and cool "Going Out," rhythmic new track "Traps and Arrows," and the fiery and well-known single "I Miss Your Bones," with which they extended the outro and clinched their set.  The three musicians had a fantastic symbiosis to them and sounded exceptionally balanced and well-rounded. All things considered, Hospitality was a box of chocolates serving up indie-pop gems for the hungry crowd before the Tweedy main course, and fit beautifully on the bill.
Jeff Tweedy and company took the stage around 9pm, kicking off their lengthy set with the pensive stroll of "Nobody Dies Anymore." Despite obvious excitement, the crowd remained collected and respectful during the contemplative number, and the lack of drunken conversation made for a particularly special experience. After the welcoming wave of applause following "Nobody," the 5-piece band went into "Flowering," a bouncy easy-rider in which Spencer, Jeff Tweedy's eldest son, demonstrated his exceptional ear for dynamics, an increasingly rare trait in today's young drummers. Speaking on age, it was a strange and beautiful spectacle to see the two different generations come together onstage and bring forth such endearingly good music.
It's difficult to single out highlights when the whole set was one bright neon streak. As far as Sukierae goes, the band played through a meaty portion of the album's 20 songs, including (but not limited to): "Pigeons," "Desert Bell," "Please Don't Let Me Be So Understood," "World Away," and "Summer Noon."  I particularly enjoyed "Diamond Light Pt. 1," a bass-and-drum driven number that stands out among the folksier draw of other songs. Spencer and bassist Darin Grey kept the song well-anchored with a comparatively intricate drumbeat and penetrating bass groove, displaying their rhythmic supremacy during the final few measures before both simultaneously dropping out to silence.
After a 14-song set, Spencer hugged his father and left the stage with the other three backing members. The lights dimmed, the mood changed, and Jeff, the only one remaining onstage, took the reins and performed an exceptionally well-received 12-song solo set. Leading off with "I Am Trying To Break Your Heart," a song to which most audience members felt compelled to sing along, Jeff offered up a familiarity among the crowd that made the room feel like a big, homey campfire. He continued on with a handful of other Wilco classics, including "Jesus, Etc.," "Passenger Side," and "A Shot In The Arm," all the while remaining charismatic and talkative in between songs. "I think internment camps are completely justified… for people who yell 'Freebird' at concerts. They would have to listen to it 24 hours a day on repeat." he joked, after someone shamelessly shouted "FREEBIRD!" at him in between songs. Other highlights of the solo portion of the set included Jeff's virtuoso whistle accompaniment in crowd-favorite "Hummingbird" and the 90's nostalgia that came with "New Madrid," an Uncle Tupelo song for those Jeff Tweedy die-hards.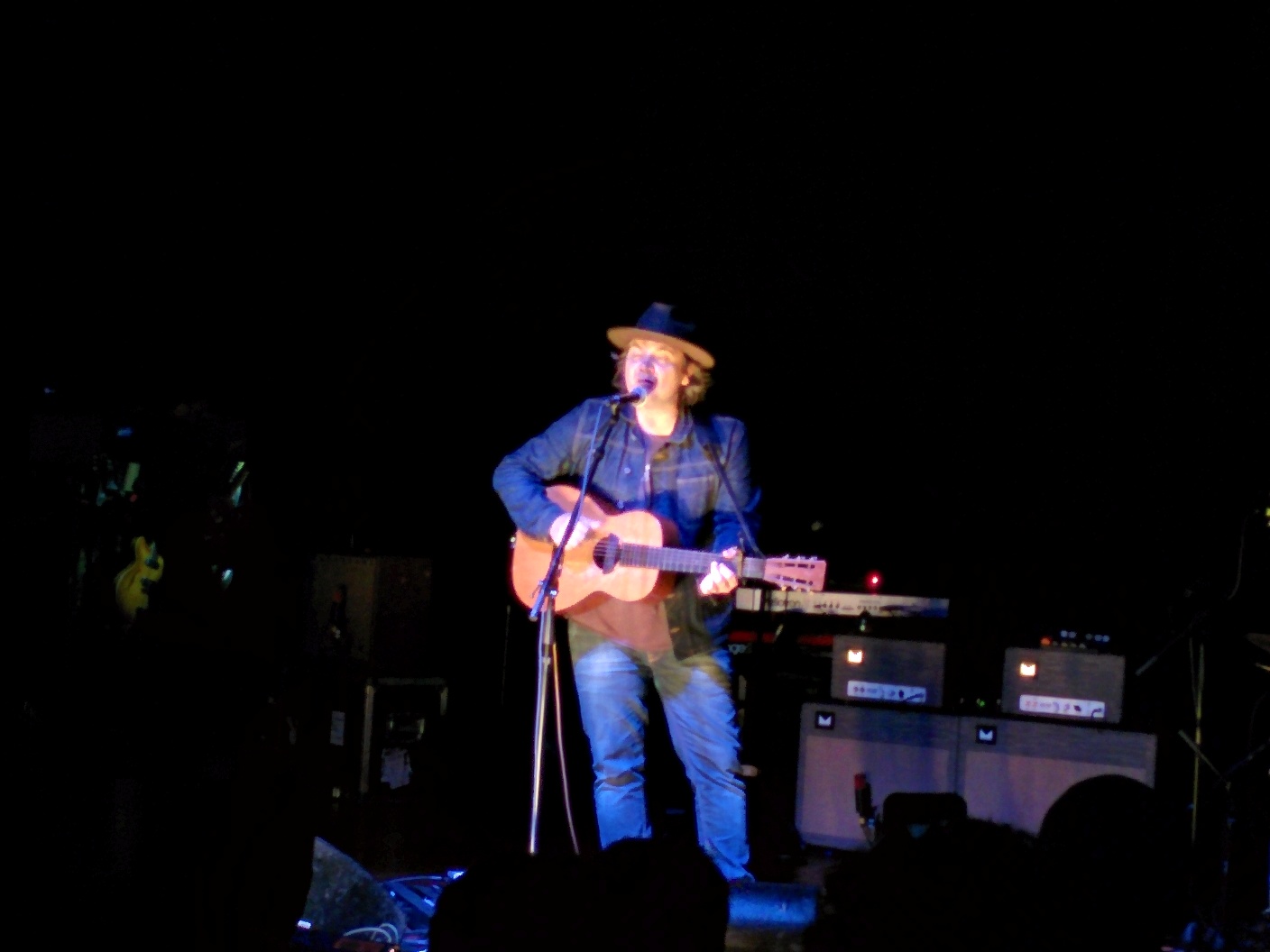 As expected, the crowd fervently requested an encore, and Tweedy (the full band- yes, I realize that's confusing) returned to the stage for a classic-packed final few. The band sassed it up with Mavis Staples' "Only The Lord Knows," offered up some more Uncle Tupelo goodness with "Give Back the Key To My Heart," and closed out the night perfectly with the wistful lyrics of "California Stars." Jeff, again taking matters into his own hands after his band had left the stage, began playing a familiar bluegrass tune on his acoustic guitar—a song Uncle Tupelo fans would recognize to be "Acuff Rose." Standing in front of a single microphone, Jeff Tweedy finished the night appropriately—"Early in the morning, sometimes late at night / sometimes I get the feeling everything's alright." Buffalo sure as hell felt you on that one, Jeff.
Setlist
01 – "Nobody Dies Anymore"
02 – "Flowering"
03 – "Summer Noon"
04 – "World Away"
05 – "New Moon"
06 – "Pigeons"
07 – "Desert Bell"
08 – "Why Why Why?"
09 – "High As Hello
10 – "Fake Fur Coat"
11 – "Diamond Light Pt. 1"
12 – "Hazel"
13 – "Love Like a Wire" (Diane Izzo cover)
14 – "Low Key"
Solo: 
15 – "I Am Trying to Break Your Heart"
16 – "One Wing"
17 – "Reservations"
18 – "New Madrid" [Uncle Tupelo]
19 – "Please Tell My Brother"
20 – "Hummingbird" (Alternate Version)
21 – "The Ruling Class" [Loose Fur]
22 – "Passenger Side"
23 – "Jesus, Etc."
24 – "Misunderstood"
25 – "I'm the Man Who Loves You"
26 – "A Shot in the Arm"
Encore:
27 – "Please Don't Let Me Be So Understood"
28 – "Only The Lord Knows" (Mavis Staples cover)
29 – "Give Back The Key To My Heart" (Doug Sahm cover)
30 – "California Stars"
31 – "Acuff-Rose" [Uncle Tupelo]
Photo Credit – Ron Walczyk
Video Credit – Jonathan Quonce