I had seen The Decemberists once before. The Portland, OR natives played an outdoor, midday set on a sweltering day at Bonnaroo 2011, and I was excited to be able to cross one of the "bucket list bands" off of my list, despite the heat. Unfortunately for me, I didn't show up hours early for a good spot in front of the stage, and the sun was entirely unforgiving—curse my fair skin—making the experience distant, hot, and less than magical. Luckily for me, the indie-folk storytellers made their most welcome return (and second sell out) to UB's Center for the Arts this past Wednesday evening, and this time the magic prevailed.
Toronto-based girl-pop group Alvvays opened the show promptly at 8pm (the CFA doesn't mess around when it comes to start times), kicking things off with "Adult Diversion," the opening track off of the group's excellent 2014 self-titled debut. For reasons unknown (I'm lazy, I admit it), I was reluctant to check this band out when fellow buffaBLOGGER Nick Sessanna so highly recommended them to me back when their album dropped, but I finally picked it up this January. Since then, Alvvays has become one of my favorite new bands. (Nick: I hereby entitle you to one "I told you so.") All ten tracks are gems, highlighted by Molly Rankin's heavenly voice of "innocence and glassy-eyed indifference," as Sessanna so aptly describes it here.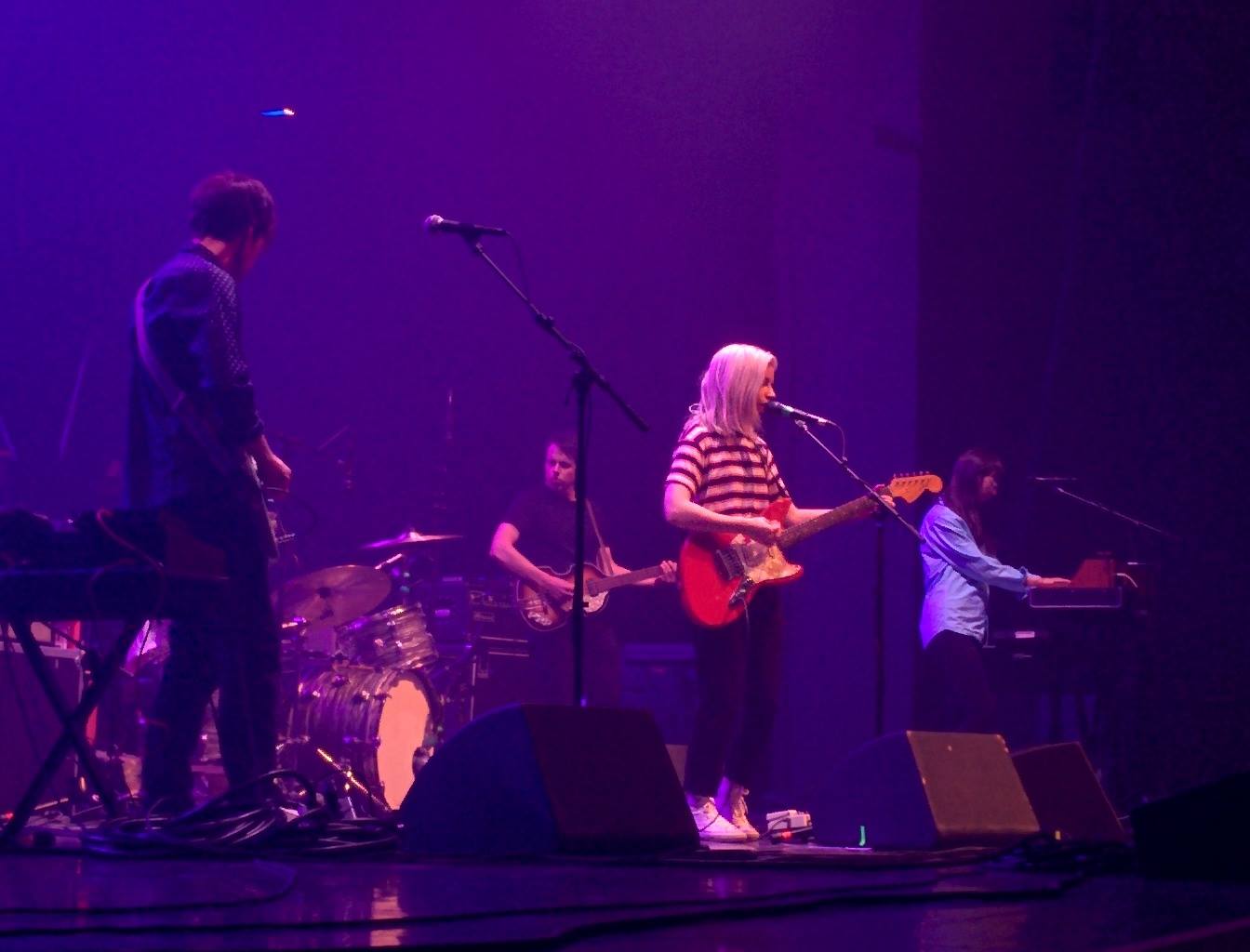 Highlights of their live set included the riffing high energy of "Next of Kin," the trouble-melting dream state of "Ones Who Love You," and "Dives", my personal favorite, during which Rankin and keyboardist Kerri MacLellan delivered some truly angelic vocal harmonies over the song's hypnotizing stroll. Predictably closing their set with 2014's indie summer anthem "Archie, Marry Me," Alvvays thanked the crowd and disappeared backstage.
Met with an uproar of admiration, Decemberists frontman Colin Meloy walked to the front of the stage, in all his scholarly glory, armed with his acoustic guitar. Without hesitation, he began strumming the familiar chord progression to "The Singer Addresses His Audience," the opening track of the band's honed-in new album, What A Terrible World, What A Beautiful World.
"We know, we know we belong to ya" sings Meloy, seemingly staring into the eyes of his audience in an effort to assert the authenticity of his lyrics. "And the hopes that we wouldn't change / but we had to change some / you know, to belong to you."
The full band continued through a lengthy WATWWABW-heavy set, including "Cavalry Captain," "Anti-Summersong," "Carolina Low," and "A Beginning Song," with which they closed out their set fantastically. "Make You Better," the new album's first single, was also particularly well-done—Meloy's impressive vocal stylings swirled effortlessly through harmonies in the song's grandiose choruses. I've enjoyed their new album since it came out this January, but what I truly craved to hear live was some Picturesque / The Crane Wife era material, most of which was sorely omitted from the night's setlist. I suppose with a discography as extensive as The Decemberists', the band can play only so many songs in an evening's time.
Yet, the setlist wasn't completely void of older material. The band ripped through some legacy-Decemberist favorites including "Grace Cathedral Hill," "Los Angeles, I'm Yours," and "16 Military Wives." The crowd's reception to the older material seemed to be pretty mixed, some fans bobbing their heads, waiting patiently for the next song, while others were singing every word right along with Meloy and company. Special props goes out to the couple in the fourth or fifth row who remained standing in stoic support throughout the majority of the set, despite the 1700 or so other individuals who stayed glued to their seats.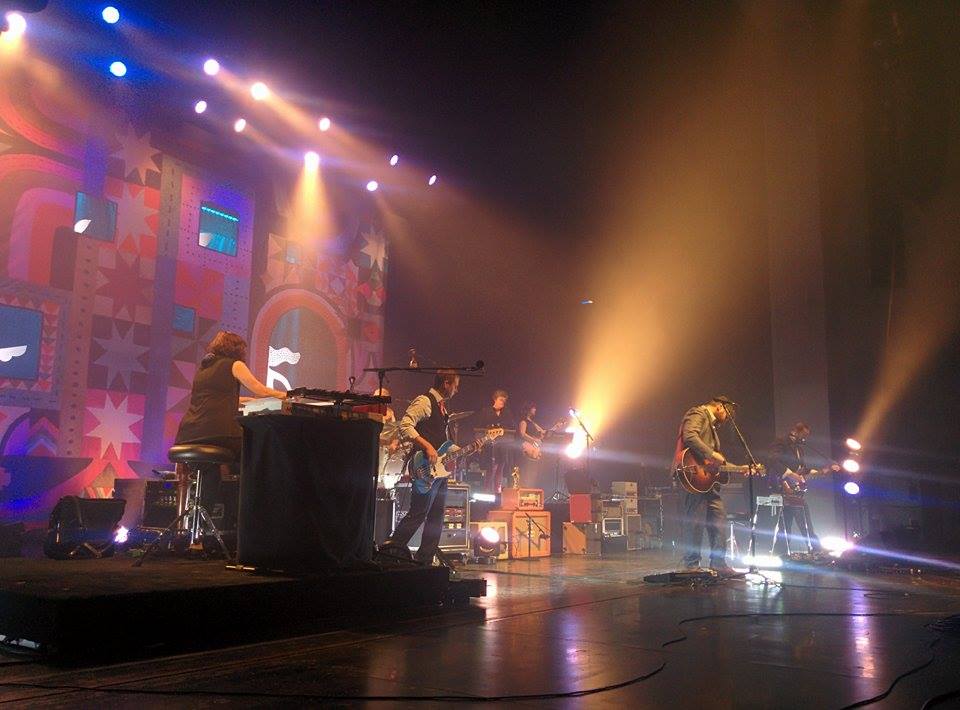 "Sure, we've got time to play a couple more for you." said Meloy after returning onstage for the band's encore at the obvious request of the adoring crowd. The first song of the two-song encore, "12-17-12," was played beautifully, and met accordingly with a thunderous applause from the crowd, whom were all standing at this point. The song was written in dedication to the tragic events at Sandy Hook, and having it played live served as a tender reminder that gave me—and I'm sure I'm not alone on this one—some serious feels. The Decemberists' final song of the night, "The Mariner's Revenge Song," proved to be their most theatric, as the band was joined by a stage-hand operated giant whale prop that proceeded to "eat" the band as the audience screamed in participation, as per Meloy's request. The encore, in typical Decemberists fashion, left the audience in high spirits, feeling as though we'd contributed something special to the evening. Suddenly, as the band is walking off stage, Meloy's lyrics make perfect sense: "And we did it for you / we did it all for you."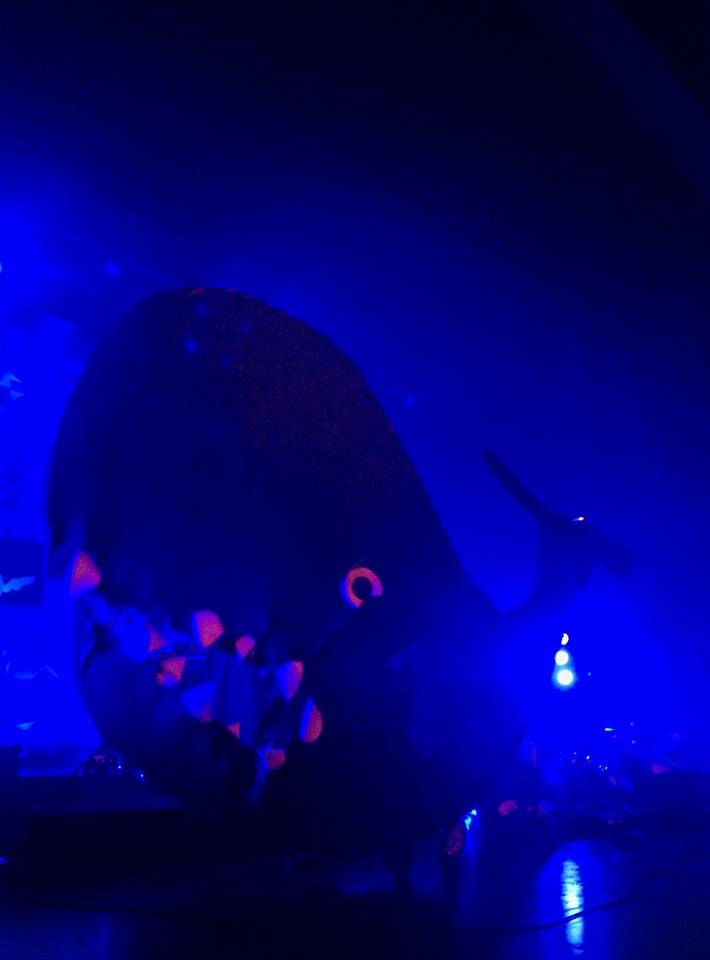 Setlist:
"The Singer Addresses His Audience"
"Cavalry Captain" 
"Down by the Water"
"Calamity Song"
"Grace Cathedral Hill"
"Anti-Summersong"
"Make You Better"
"The Wrong Year"
"The Island: Come and See" / "The Landlord's Daughter" / "You'll Not Feel the Drowning"
"Los Angeles, I'm Yours"
"Carolina Low"
"A Bower Scene"
"Won't Want for Love (Margaret in the Taiga)"
"The Rake's Song"
"16 Military Wives"
"Dracula's Daughter / "O Valencia!"
"A Beginning Song"
Encore:
"12/17/12"
"The Mariner's Revenge Song"