So we may not have been treated to a very random cover of Drake's "Hotline Bling," but we were still undoubtedly treated. Sufjan Stevens, in his long-awaited return to Buffalo this past Friday, delivered one of the most spectacular live performances the city has seen all year. I thought Carrie & Lowell—Stevens' 2015 full-length written in dedication to his late mother—was already a masterpiece, but seeing, hearing, and feeling the album performed live at UB's Center for the Arts Mainstage Theatre brought an entirely different light to the songs, a poignancy so thick it was nearly tangible.
I wasn't sure what to expect from opening artist Gallant; I hadn't sampled his music before the show, but was confident that an opening slot on a Sufjan Stevens' tour was already a testament to his ability. I wasn't wrong—the young R&B singer (23) had an incredible falsetto and exuded a great deal of confidence as he strutted across the stage, microphone in hand. Gallant started with a stripped-down soulful rendition of Foo Fighters' "Learn to Fly," and continued to serve up radiant R&B gems, song after song. I found myself thinking "He can't possibly sing any higher than that," and was consistently proven wrong right up until the end of the set. His ability was obvious, but to precede a set from Sufjan Stevens—especially a performance as emotionally ravaging as Carrie & Lowell—with R&B-tinged pop music seemed strangely out of place. Maybe Sufjan's strategy was to raise spirits as high as possible before crushing us all with tragedy, loss, and despair. Who knows?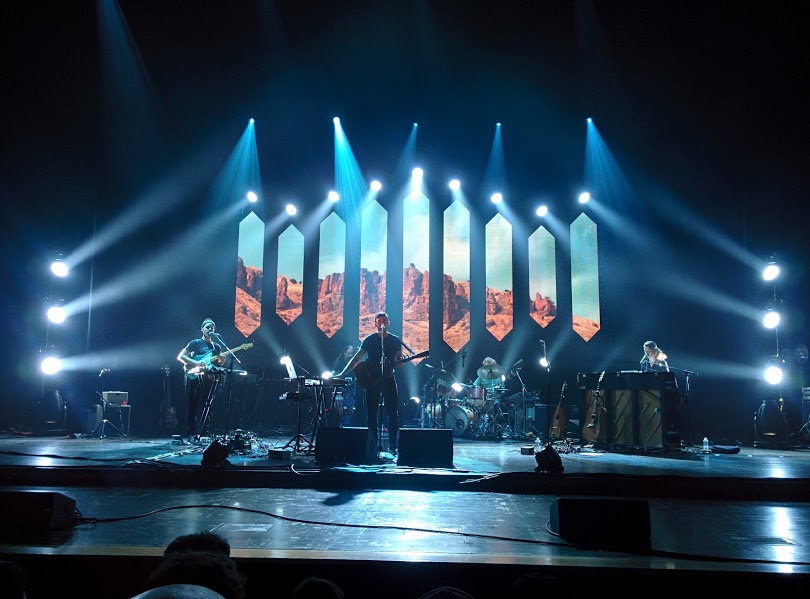 Before jumping right into Carrie & Lowell, Stevens sat stoically behind a piano and delivered the ebbing chords of "Redford (For Yia-Yia & Pappou)" to the nearly sold out Mainstage Theatre. The swirling vocal harmonies of the lyric-less number filled the room beautifully and dutifully introduced the chilling tone of C&L. "Death With Dignity" followed a seamless (and applauseless) transition, Stevens standing center-stage to sing the opening track. A number of large candle-shaped LCD screens served as the stage's backdrop, playing old home videos of Stevens and family throughout the song. The juxtaposition really highlighted the personal nature of the album and did well to bring an unbridled emotion to the forefront of every song.
Stevens and company then completely immersed themselves in the rest of the album (in its entirety), ironically giving each song a living, breathing pulse. The transformative nature of the studio takes to the live performances was nothing short of breathtaking; I was really blown away by how such delicate songs could be made so incredibly powerful onstage. "Fourth of July" was particularly well-done; the ambient piano sounds were accompanied by a brooding, full-band crawl that added to the song's haunting atmosphere considerably. The extended ending swelled with rising instrumentation as Sufjan and his crew repeated the album's most iconic lyrical motif in stunning harmony—"We're all gonna die." No exaggeration—"Fourth of July" was the most beautiful song I'd ever heard performed in a live setting.
After performing most of Carrie & Lowell, Sufjan ran through a couple songs from 2010's The Age of Adz, including an intense 10-12 minute instrumental interlude after "I Want to Be Well." Eventually the intensity waned, but not before tip-toeing the fine line between prowess and self-indulgence. The display was undoubtedly impressive, but in my opinion, mostly unnecessary. Sufjan Stevens then brought the feels back one last time for the final track of C&L, "Blue Bucket of Gold," again filling the theater with swirling layers of ambient piano tones and chilling harmonies.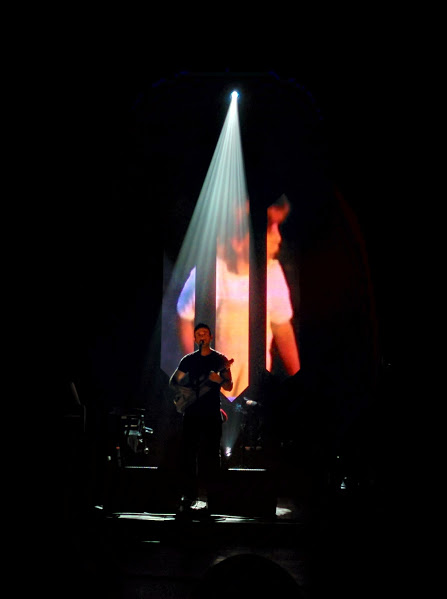 Encoring with some crowd-pleasing older material including "John Wayne Gacy Jr," "Casmir Pulaski Day," and an excellent rendition of "Chicago," which fell somewhere between The Avalanche's acoustic and adult contemporary versions, Sufjan thanked the crowd for being a part of his grieving process. "Performing these songs, it's full immersion into my misery—and then I offer that to you; it's a beautiful thing. Thank you." And the man was right; there was something very special about his performance that night, not just for himself, or me, but for everyone in attendance. To bring that misery to song and perform it for the masses is commendable to say the very least, and his performance on Friday will go down markedly as one of (if not the) best of the year.
Setlist
"Redford (For Yia-Yia & Pappou)"
"Death With Dignity"
"Should Have Known Better"
"Drawn to the Blood"
"Eugene"
"John My Beloved"
"The Only Thing"
"Fourth of July"
"No Shade in the Shadow of the Cross"
"Carrie & Lowell"
"All of Me Wants All of You"
"The Owl and the Tanager"
"Vesuvius"
"I Want to Be Well"
"Blue Bucket of Gold"
Encore
"Concerning the UFO Sighting Near Highland, Illinois"
"For the Widows in Paradise, For the Fatherless in Ypsilanti"
"John Wayne Gacy, Jr."
"Casmir Pulaski Day"
"Chicago (Acoustic Version)"