For the second time, buffaBLOG has been given the opportunity to attend and cover Pitchfork's annual festival in the heart of Chicago. This year, we will be sending buffaBLOG writers Michael Moretti and Alyssa Gottlieb to preview, cover, and review the festival to clue some of us in as to what to expect or in many cases, what we are missing out on.
Each day, the two will preview five acts to make sure you are in attendance for.  It would be easy and obvious to say "You need to check out Beck," or "Make sure you don't miss Neutral Milk Hotel," but the writers will focus on the lesser known bands to check out and pay attention to.  Here are Friday's recommendations in case you missed it. 
The Range (4:45pm, Blue Stage)
The Range (aka James Hinton) may be on your radar already thanks to clutch opening slots for CHVRCHES and Phantogram on their latest tours. Formerly performing under the monkior, Stegosaurus, The Range found it's footing with the R&B tinged breakbeatronica release, Nonfiction.  Fans of the complexity of DJ Shadow  and accessibility of BATHS would dig.
Mas Ysa (3:45pm, Blue Stage)
Montreal-born, Brazil-raised Thomas Arsenault released his first EP, Worth, last February under the moniker Mas Ysa. This electronic artist smothers his vocals all over digital beats in a way that is similar to that of Julian Casablancas solo with the accessibility of early Passion Pit.  His single "Why" will have you glad you decided to check him out.
Cloud Nothings (3:20pm, Red Stage)
I was going through an internal struggle with whether or not to preview Cloud Nothings. Do they really need a nod? Have they already made it? Don't get me wrong, I absolutely love Cloud Nothings. When I saw them in the basement of the Ninth Ward in early 2012, I was captivated and hooked. The band has grown in both sound and popularity in the past two years, being one of the most talked about indie rock bands in the blogosphere, to even being tweeted about by Blink 182's Mark Hoppus. The band is a manic post-punk voyage of tension and release. Fuck it, go see Cloud Nothings. I'll be there.
Wild Beasts (2:30pm, Green Stage)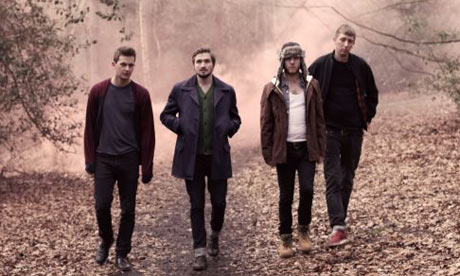 Vaudevillian UK indie-rockers, Wild Beasts, have been around the block, performing as a band for close to ten years. Their sound is enchanting and luring, mostly due to bassist/lead singer Hayden Thorpe's angelic falsetto vocals. I don't know if I'll ever get used to the cursing in the choruses by such a sweet and caressing voice. Regardless, Wild Beasts are a band with staying power.
Twin Peaks  (1:00pm, Green Stage) 
Self-proclaimed "Chi-city rock and roll dawgs," Twin Peaks, will definitely make it worth nursing your hangover early Saturday. These Chicago locals are set to follow-up their critically acclaimed debut with their upcoming release, Wild Onion, on August 5th. They manage a stoner garage rock that showcases their talents while definitely not taking themselves too seriously.  Fans of The Black Lips, FIDLAR, and Shannon And The Clams will enjoy.