Since its  2014 new record, Too Shabby, Rozwell Kid has been making waves in the music community. Fresh off of a tour with The World is a Beautiful Place and I am No Longer Afraid to Die,  Rozwell Kid is now hitting the road with You Blew It!, including a show with them tonight at the Studio at the Waiting Room.  I had a chance to ask vocalist Jordan Hudkins a couple questions about the band's music, live show, hummus tendencies, and whats next for the band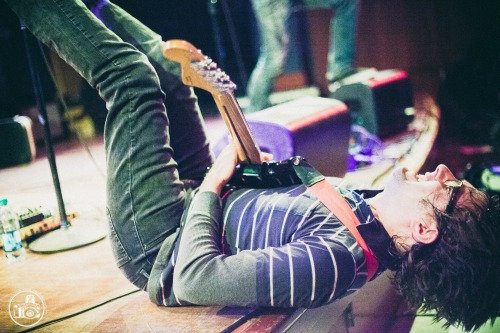 buffaBlog:  If you were going to explain your sound to someone who had never listened to Rozwell Kid before, how would you describe it?
Jordan Hudkins: I guess Indie Rock is the most appropriate blanket term? Powerpop? It's all Rock and Roll at the end of the day.
bB: On first listen, many people would probably peg Weezer as your clearest influence. What are some other bands that you think influenced your sound?
JH: I really like Pavement's vibe. Green Day's Dookie and"Insomniac were really big for me. NOFX for their sense of humor AND melody. Weird Al, Ozma, The Rentals, That Dog, The Beatles, The Shins, Punk-O-Rama Vol. 2 through 7
bB: I've seen you guys twice so far, and what really sold me on your band was your live show. If you had to describe your live show in one phrase/saying, what would it be?
JH: Ummmm, how about "entertaining?" That sucks. I don't know… I guess I could just say energetic. I've never actually seen us live.
bB: I know that the band as went through some lineup changes. How did everyone in the current lineup for the band meet?
JH: Adam (guitar) and I have been best friends since high school. We went to college together and played in another band for a long time before RK. We met Sean (drums) through our former bands playing shows in our area. He lives just beyond the state line in Pennsylvania and used to host shows in his basement. Devin (bass) moved from Atlanta to West Virginia a few years ago and started playing in bands. We got acquainted when he was recording with Adam in our basement.
bB: For the people who don't know, you're on the label Broken World Media.  How would you describe your experience with them?
JH:  Working with Derrick and Broken World has been sick. Most of the opportunities we've gotten have stemmed from them putting out our first album on cassette. Derrick introduced us to an entirely new scene that has been extremely positive and supportive of what RK is doing.
bB: I saw you guys just announced a new EP Good Graphics and song. Talk a little bit about the new EP just in general.
JH: It's part of a really cool new cassette subscription club that Infinity Cat Records started in 2014. Good Graphics was written simultaneously with our latest LP Too Shabby, and the EP was actually recorded before the LP. It's six new songs, and will be available on a limited run of 300 pink cassettes.
bB: The new song off the EP is called "Hummus Vacuum."  As a fellow hummus enthusiast, what is your favorite flavor?
JH: Sabra Supremely Spicy. No contest.
bB: The opening line on Too Shabby is "Simpsons season three, and a thing of hummus." Why season three?  Also, what is your favorite episode?
JH: "Season three" sounds more pleasing to the ear, and it rolls off the tongue. It could honestly be any season up to, eh, 15 or so and the sentiment would be the same. I love The Simpsons (whooooo doesn't???) so its hard to pick a single favorite episode. However, one of my favorite Simpsons' jokes is when Homer is bragging about how he always finishes what he starts, then immediately discovers his unfinished robot in the garage. The robot reaches out and pleads "FATHER… GIVE ME LEGS!" Hahaha it's so bonkers.
bB: Its awesome to see you guys out on tour with bands like The World Is and You Blew it!.  What would be your dream tour?
JH: Opening for Weird Al Yankovic. We don't even have to play, actually. Just hanging out with him from city to city.
bB: What is the next step for Rozwell Kid?  More tunes?  More tours?  More hummus?
JH: We are going to do some more touring this year in support of Too Shabby and Good Graphics…. SXSW…. then I'm going to start writing and demoing for our next record!
Doors for the show tonight open at 6pm, and bands start right away, so don't be late. Rozwell Kid's show is one you will NOT want to miss.