If you're familiar with Intrepid Travelers, you probably know Jerry or have at least unknowingly been exposed to his presence. Jerry, a stuffed rainbow-striped monkey, functions as an unofficial mascot and source of spirited inspiration for the band. When I ask them how they arrived at their carefree aesthetic, they tell me the story behind the striped monkey. To understand this story is to understand Intrepid Travelers on a bird's-eye level.
At some point during a Phish show years back, Jerry began making rounds in the crowd — you know, like the token beach ball at any largely populated outdoor show. Though drummer Jon Fohl was uncertain of his return, he successfully reappeared in one piece by the end of the second set. Fast forward to the 2011 All Good Festival when keyboardist Donny Frauenhofer was bestowed custody of Jerry and told specifically by Fohl to not lose him. Long story short, he loses him and spends a decent portion of the fest asking concertgoers and staff if they know of the stuffed animal's whereabouts.
Since then, the monkey has been replaced a few times and for the most part has adopted a position as a stationary ornament on stage. But, just in case anything else happens to Jerry 3.0, he has been immortalized in the form of the band's 2014 EP, Have You Seen My Rainbow Monkey?, and handy little Jerry stickers, to be placed anywhere and everywhere by wanderlusts alike. This is the spirit of Intrepid Travelers in a nutshell and I can immediately sense it when I sit down to interview them in their cozy, self-renovated attic-turned-practice-space.
Though their name was born into existence in 2011, the guys didn't really ever consider themselves a serious band in the beginning. Like a lot of super tight musical groups, the formation wasn't at all premeditated. All four members grew up in the same area, were grade school pals and just kind of fell into playing together all the time because it felt natural. It wasn't until roughly two years ago that they decided to actively seek out gigs.
"There's no way I'm going to grad school," says Frauenhofer, recounting the period of time when he and guitarist Brian Calisto decided to wholeheartedly pursue Intrepid Travelers with bassist Dave Neimanis and Fohl.
A long history of both personal and musical friendship is the foundation of the group. A foundation that has prompted them to not only thrive as bandmates, but also as housemates sharing a spacious 3-story apartment on Buffalo's West Side.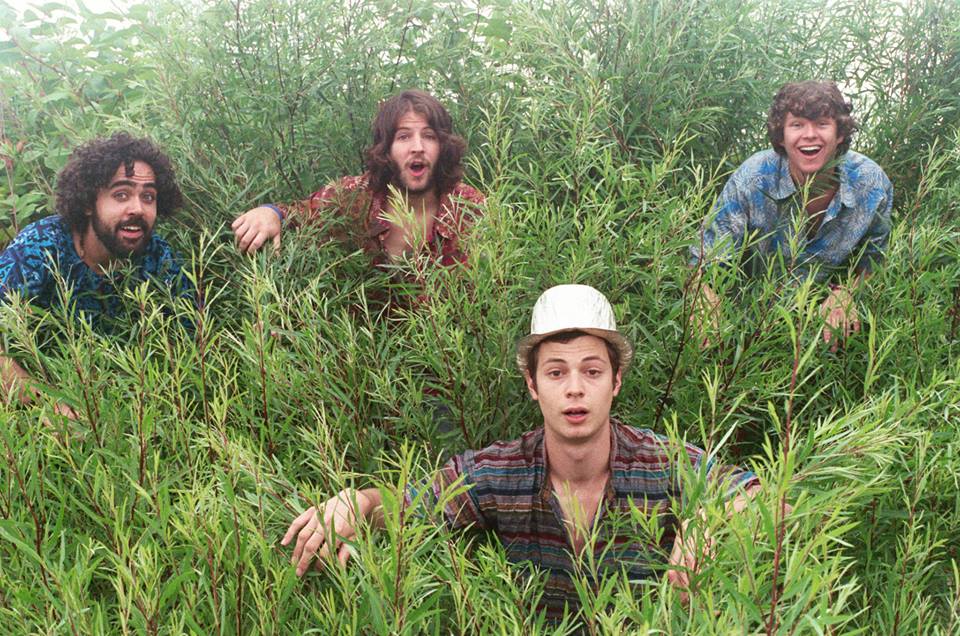 When I begin the interview, everyone reads a little timid — it's their first time being interviewed. But not even five minutes into it, I hardly have to pry for answers or conversational topics. They carry what I can best describe as a natural buzz around each other. All four members feed off of what the other is saying and it's almost like they're finishing each other's thoughts before they've even materialized fully. To assume that this exact habit is what drives the band creatively would be safe.
On a very elemental level, you could pigeon-hole Intrepid Travelers as a "jam band", but that genre label does a great injustice to the type of music they actually play and are influenced by. It's a sort of potpourri of jam-oriented funk with elements of bluegrass, jazz, pop and even post-rock at times.
Frauenhofer puts it like this: "I think it's the spirit of Phish, The Dead and jazz that we have in terms of improvising. We'll have structured songs but we'll have parts that are completely improvisational. And not just in a way where one person is soloing and we're all just responding by improvising, but where it's truly collective and everyone is soloing at once but almost no one is soloing. I don't know how to describe it."
And that's just it. It's hard to describe exactly where these guys fit, but wherever that may be, the true magic of this band lies in the fact that they all have each other's best interest at heart musically.
"We're going to go with anything that someone puts out there and make it better. We definitely like to dive into the unknown and have each other's backs," Neimanis mentions.
The support extends far beyond the scope of their own friendship. Their reach has spread far and wide enough for them to fully fund a Kickstarter campaign for a new tour van this past September. Over $3,700 was raised from over 50 different people in just one month's time. This has allowed them to complete a two-leg East Coast tour this past fall and has opened up the tremendous floodgate of touring opportunities.
_________________________________________
I listen to the guys play a few tunes after the interview and it's difficult to not be absorbed in their performance. For being such a young band, their purpose is pretty well defined and that confidence is apparent. They've set out to create the ideal band that they'd want to listen to and cultivate sensory experiences rather than strictly impressive performances.
As far as what the future holds, Intrepid Travelers are focusing on their live set as much as possible. They have a first-time tour of the West lined up for this coming January thanks in part to their manager CJ Cook, and are flirting with the idea of a full length concept album. All in all, they know exactly where they want to end up and they're in no particular rush to get there.
"Time is a big factor in success," Neimanis imparts, which for these guys honestly seems like a small and enjoyable feat. If their choice method of achieving that success is through internal support and organic conveyance of their talents, there is no doubt that they will arrive where they need to be perfectly on time. In the meanwhile, here's to hoping Jerry 1.0 makes his way back home.
You can catch Intrepid Travelers on tour this January at the dates below.

Photos by Courtney Denk