For our Best of 2014 coverage, we once again decided to reach out to some friends of the blog to get an idea of what made the year in music so great for them. For the next installment in the guest series, Pat Butler, singer/guitarist for the Sleepy Hahas, submitted his year end list. The Sleepy Hahas will ring in the new year next Wednesday night, beginning at 10pm, at the Gypsy Parlor.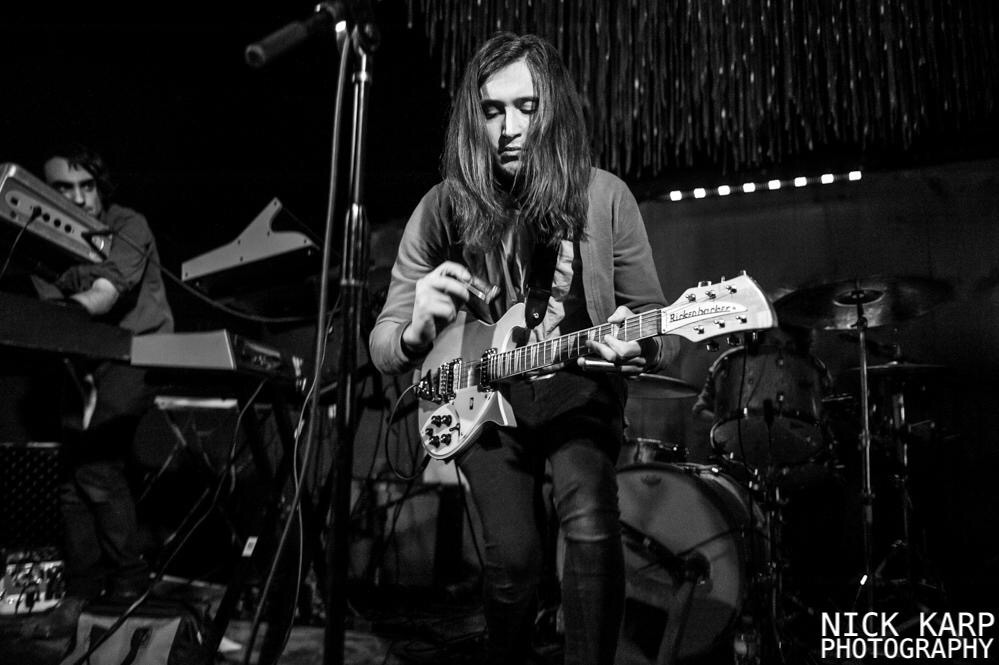 Favorite Albums:

10. Death Grips – Niggas on the Moon
I'm not going to lie. I wept deeply when I heard they were breaking up this past July. I hate to see a truly groundbreaking band die prematurely, but at least we'll never have to listen to a crappy Death Grips album. Niggas on the Moon popped up out of nowhere for free, and boasted a slightly tamer side of the band, while maintaining all the psychotic ferocity that they're known for.
9. Ty Segall – Manipulator
If you follow Ty Segall's career at all, you know by now that his most recent release, Manipulator is the anomaly in his discography. Segall spent nearly a year and a half meticulously recording the 17 track mega album, and his precise attention to detail on this record is a refreshing break from his otherwise warp speed prolificacy. The album is full of nods to 70s glam and guitar driven hard rock, and Segall's trademark Bolanisms are better than ever.
8. Flying Lotus – You're Dead!
Flying Lotus has found a seamless amalgamation of avant-garde free jazz and electronic production. When it was revealed that the experimental beatmaker was teaming up with the likes of Herbie Hancock on his next release, many were excited for what would come out of such an unlikely collaboration. The result is a beautiful collaboration between a host of high profile contributors, in one of the year's weirdest yet most immersive concept albums.
7. Liars – Mess
It's like, take your favorite punk rock band, tell them to make a club dance record, but also the most catchy album you'll hear all year. I'm a huge fan of Liars from day one, but I seriously think this one is somehow my favorite.
6. The Bilinda Butchers – Heaven
I was driving Derek Sullivan of Network home a few months ago while he was in town, and he showed me the track "Ume ft. Juri Nakashima" by The Bilinda Butchers. He prefaced it by saying they were some sort of ancient Japanese history concept album band that fuses My Bloody Valentine-esue shoegaze (hence the name of the band) and J-pop. 30 seconds in to the song I looked at him and said "holy shit" and I've been spinning this record ever since.
5. Swans – To Be Kind
It's amazing how Swans just keeps getting better with age. I think this is perhaps my favorite album of theirs, even growing up as a fan of their 80s/90s no wave for which they're known today. When they reformed in 2010, many fans of alt rock from that era were terrified of what would result (with good reason, look at reunions by Pixies, Smashing Pumpkins, Alice in Chains, etc.). But the three records Swans have put out since their rebirth have been getting better and better. To Be Kind is a droning, entrancing, monotonous, and sometimes creepy experimentation in Swans' mastery of building (and often never releasing) tension.
4. King Gizzard and the Lizard Wizard – I'm In Your Mind Fuzz
This is one of the most fun and entertaining albums I listened to all year. Their sound is incredibly difficult to describe. It's as if your favorite hardcore punk band got really high and tried to make a jam record, but completely nailed it. The first 5 or so tracks are one seamless hyperactive jam, and after that, the album ebbs and flows throughout chill grooves like the appropriately titled "Slow Jam 1."
3. Dope Body – Lifer
Dope Body is both the best and most misunderstood modern underground punk rock band. When I first heard them, I fell in love with their fusion of Fugazi type grooves and manic noise punk energy. Their comparisons however, range anywhere from Red Hot Chili Peppers to nu-metal. Don't be turned off by bad/lazy press though. Lifer is just as much of a masterpiece as their previous two albums Nupping and Natural History. The band finds a slightly tamer sound at points on this record, experimenting with more expansive rock steady grooves, while never abandoning vocalist Andrew Laumann's Iggy Pop-esque moans and the bands incomprehensible noise rock guitar riffs.
2. Caribou – Our Love
2014 gave me a handful of incredible electronic albums, but also forced me to say goodbye to some of my favorite electronic artists of all time. In a relatively short period of time, I was informed of the news of The Knife, Death Grips, Crystal Castles, and Darkside all calling it quits. To fill that void, I fell in love with Caribou for the first time, on their Fall 2014 release Our Love. The album is a gentle meditation on love lost, with climactic dance groove breaks scattered throughout, carefully selected vocal samples, and mouth watering synthesizer chords. The penultimate track "Back Home" is by far my favorite song of 2014.
1. Perfume Genius – Too Bright
Too Bright is one of the most emotionally complex and touching albums I've ever heard in my life. Singer/songwriter Mike Hadreas has a way to communicate the dark journeys and perils of his life like a laser beam directly into your soul. The album takes Perfume Genius's trademark morose piano pop and brings it new life with new found glam rock sass. It's incredibly inspiring to hear such personal testament conveyed in such a confident way. With this album, Hadreas leaves his status as overnight Myspace celebrity and secures his place as an indie songwriting giant who's here to stay.
Favorite Local Album:


Mooses – Tales From the Elephant's Nest
I've loved Mooses since the moment I met them at a dingy Fredonia basement show a few years back.  I've played handfuls of shows with them, and fell in love with their surfy, sleepy, psych pop sound. Over the years, their (unreleased) recorded material has been plagued by Fredonia recording majors looking for final project bands, who throw around bullshit words like "fidelity" and "quality" that are synonymous with "getting A's." When Mooses' first official release, Tales from the Elephant's Nest, came out this past May, I was happy to find that not only their songwriting and band identity had found a cohesive unity, but also whoever recorded it absolutely nailed the production. On Nest, Mooses combines Congratulations era MGMT with lazy, twangy, Telecaster strums that undoubtedly are influenced by their early early days as a folk/acoustic group. This EP is beautiful, and would be too short if I didn't have a feeling there was new Mooses coming in 2015.
Favorite Show:
Dope Body/Chain and the Gang @ The Crown, Baltimore MD (05/18/14)
By pure coincidence, Sleepy Hahas a Sunday night off on tour last May in Baltimore, and found ourselves seeing one of our favorite bands Dope Body with Chain and the Gang at The Crown. We tried unsuccessfully to hop on the bill just a few hours before, but the guys were super nice and invited us down to hang out. The performance was fierce, powerful, and impressionable. Andrew is one of the most entertaining and wild frontmen out there today, and his command over the crowd was palpable in the air. The instrumental mastery and tightness of Dope Body is something that can really only fully be perceived live, so I'm hoping they'll swing through Buffalo sometime soon.
White Fence, King Gizzard and the Lizard Wizard, The Naturalists @ The Tralf, Buffalo, NY (10/19/14)
I've been a big fan of White Fence for a few years, and when I heard my friends The Naturalists were opening for them at The Tralf in October, I cruised downtown by myself to catch the set. I had heard of King Gizzard and the Lizard Wizard via Peter from Mooses, but never had the opportunity to check out any of their material. By the time King Gizzard had finished playing, I didn't really care to check out White Fence. They played the jam from the first half of Mind Fuzz for about 40 minutes straight with no interruptions, and never let things get boring or dull.
Worst Local Artist:
Lesionread
Alright, so if you live in Buffalo, have the internet, and are a local showgoer, you've probably heard that I hate Shawn Lewis (and he hates me too). The story is simple. Our parents met and have been good friends ever since we were young kids, and at some point, he became jealous that I have long flowing hair that billows on stage when I play guitar solos. The point is, my cat could program blips and whirs better than he can. Shutup.
Photo Credit – Nick Karp