For our Best of 2014 coverage, we once again decided to reach out to some friends of the blog to get an idea of what made the year in music so great for them. For the next installment in the guest series, Mark Czelusniak, founder of Rochester live sessions series, Genesee Live, submitted his year end list. 
2014 was a a big year in my life. No, it was not impacted by any of the major world or current events. Nor were there any major, life changing events in my personal life for that matter. 2014 is the first year that I can not say for certain that, in all my years of music fandom, I don't have a favorite record. It was much easier when I was younger and much of the music I listened to in high school had a bigger impact on me as a person. However, with the music industry shifting everyday and diversifying, for better or worse, it's becoming very difficult to pick and choose which band, album, or single has stood out. Even though that obstacle is becoming more and more pronounced, it's still worth pointing out what mattered and what big things are to come.
For me, as a Rochesterian, I have seen our music community only strengthen over the past five years or so. If you told me ten years ago that there were Rochester bands that were even worth going to see at places like the Bug Jar, for instance, I would've laughed at you. Now, as the national music industry has diversified and the internet has become a much stronger utility in giving the smaller, lesser known bands a way to communicate to the masses, I think it's safe to say that there's a lot of optimism on the horizon for the music community as a whole—more so than in the early days of digital music. With all that in mind, I'm going to break down what I have observed to be the most significant records/concerts of the year, and I'll share who or what I'm looking forward to in 2015.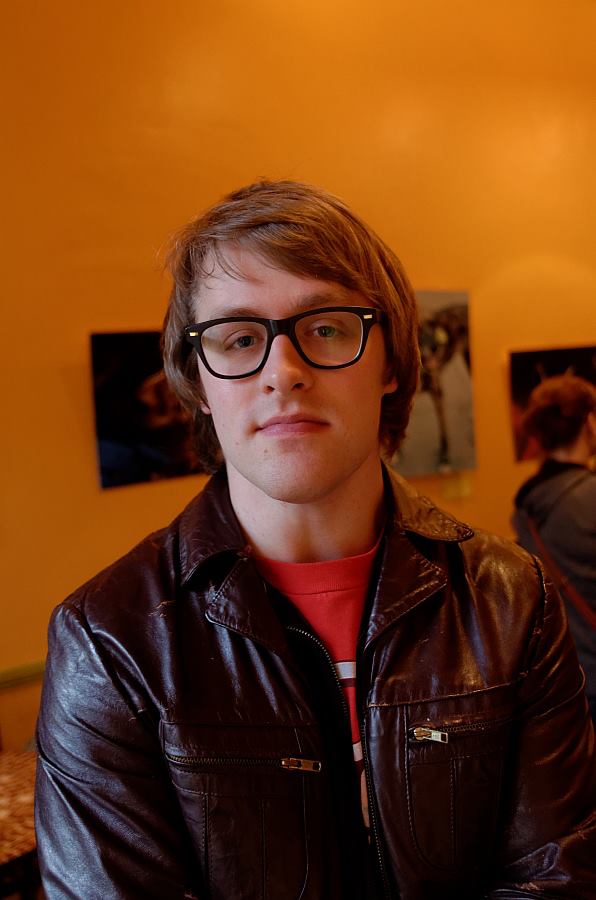 Favorite (or notable) Albums (no special order)
Interpol – El Pintor
As much as buffaBLOG did NOT like this record, I will stick up for it and say that it's a pleasant return to form for a band that I fell madly in love with in high school. I have a love-hate relationship with Interpol's last two records (especially their 2010 self-titled crapfest of an album). After spending a few years away from the spotlight, the NYC post-punk wunderkinds got back together, now as a trio after longtime bassist Carlos D left in 2010 after recording the fourth record, and made their strongest set of material since their 2004sophomore LP, Antics. Tracks like "All The Rage Back Home" and "Twice as Hard" prove that the band is still capable of writing dreary and dreamy melodies and hooks that pull you in and leave this emotional strain that lasts for quite some time.
Real Estate – Atlas
After the one-two punch of their first two records, I was unsure whether or not Real Estate would deliver another album worthy of 40 minutes of a road trip. From the opening guitar lines of "Had to Hear," the band has clearly made sure that their fans would not be disappointed, continuing their late '80s, early '90s callbacks to bands such as Galaxie 500, (I.R.S. era) R.E.M., and, most importantly, Mazzy Star. I was hoping to catch them in Ithaca back in September, but kick myself everyday for not doing that. Hopefully, they'll go much further the next time around.
Future Islands – Singles
I first heard of Future Islands when my friend Josh Netsky (pre-Maybird) played a show with them at the Bug Jar. I didn't seem to be interested in their rather off-beat new new-wave style for a while. Flash forward a few years later, after they triumphed big time on Letterman earlier this year performing "Seasons (Waiting on You)," they're the new darlings of the indie rock world. And the hype around them is absolutely justified. While Singles is an album fully rooted in mid-80s new wave stalwarts like Depeche Mode and New Order, the band shows that it's capable of experimenting with their sound, especially Sam Harrington's unique and expressive vocals ("Fall From Grace" shows off his inner metal head vocal style), while essentially staying true to their form that they established on their earlier records. Albums like this continue to show the trend of a diversifying music atmosphere, and soon, we'll probably be talking about the next Future Islands.
Mac Demarco – Salad Days
Mac Demarco played at the Bug Jar in Rochester in July 2013, and at the time, I had no idea how big he already was in the indie community. I wasn't necessarily impressed with his music at first, but upon hearing his latest LP, he has certainly found his groove that has been much more appealing. Like Real Estate, Demarco gleans a lot from our dream pop forefathers, from the title track to songs like "Let Her Go." If he comes back to our neck of the woods, I'll take a second chance.
Skaters – Manhattan
Even though I've fallen in and out with this record over the year, it's still worth talking about how Skaters were a band that could've been huge. I was fortunate enough to see them at the Town Ballroom in June 2013 when they opened for Portugal. The Man. after
being told constantly about how great they were from certain people (who of course knew the band personally). Though Manhattan tends to sound very commercial at times, channeling all the big early 2000s bands like The Strokes and The Libertines (which sells anyways), it's still quite distinct in how it presents itself. You can even hear some of the influence of the Replacements' mid-80's period on this record ("To Be Young in NYC"). Skaters probably got brushed aside as another wannabe act, but at least they're not to be terribly forgotten.
Favorite Rochester Bands of 2014
The Demos
Power pop kings of the Young Lion of the West. Always good buds that never fail to impress. Do pay attention to what they have in store for the new year.
Joywave
This was their year, period. I've known them all for a long time and I can't think of a band from this town that's gone on to have the success that they've had. Their show in August at the Bug Jar was one of the highlights from that venue this year. Can not wait for their debut album in 2015.
Joywave – Tongues ft. KOPPS (official music video) [NSFW] from DANIELS on Vimeo.
Maybird
Even though some of the members live in Brooklyn, they're still very active and
making unbelievable, lush music. "Call You Mine" live and their namesake track are forces to reckon with.
KOPPS
The sister-band of Joywave have clearly made their own strides aside from being
sampled on said Joywave's hit single. Recently, they headlined their own show on Black Friday at the Bug Jar to which not one person was standing around not dancing (even doing a nice shout out cover of "Tongues," too). Can't wait to see what's around the corner for them.
Hawker M. James (or Admirers, or whatever he calls himself tomorrow)
Mike James is truly a force to be reckoned with. From his days as the drummer of ROC/NYC's Longwave, to drumming for The Demos, Mike has proven to be a strong songwriter on his own, crafting neo-glam tunes that pay homage to his love of Lou Reed, Bowie and Marc Bolan. "Love Like A Hurricane" was even dedicated to Lou at a recent show. Hopefully more will be coming soon.
Harmonica Lewisnki
Every time I see Harmonica Lewinski (sic) live, its always a new, rather wild experience. True, they're very much rooted in surf rock, Cramps-esque punk, but I feel like there's always something fresh to take away from it, even some traces of Ariel Pink's adventures in lo-fi. Either way, HL put on some of the best live shows in Rochester.
Buffalo Sex Change
BSXC reminded me that you don't need to have a full piece band to pull off shoegaze. The band also cleverly mixes that style with dark, post-punk tendencies that gives them quite a distinct sound to brand them a two man powerhouse. Definitely looking forward to what they're doing next.
Routine Involvements
The one band we've featured twice on Genesee Live, it's taken them a while to find their footing, but now its safe to say that RI are, like BSXC, taking the popular two person band concept to another level. The obvious callbacks to 90's icons like Pavement, Dinosaur Jr, and Weezer are there, though somehow they're still firmly rooted with 2000's rock ala The Strokes, Modest Mouse, The Libertines, and so on. If you didn't get a chance to see their incredibly well done music video for their song, "UFO", please do so.
Routine Involvements "UFO" from Michael Schifino on Vimeo.
Final thoughts:
As with any other year, there's a lot to anticipate for 2015 as far as music in
WNY goes. While Rochester is blooming in it's music community, I'm also very excited to see what our neighbors in the Queen City have to offer. Bands like Sleepy Hahas, Brimstone Blondes and Made Violent show that Buffalo is emerging as a big music town as much as Rochester is, so hopefully that trend isn't bucked anytime soon. I'm really grateful that Buffablog has featured Genesee Live in posts and I hope that our friendship will continue to grow over the next year. Thank you all for supporting Rochester and I look forward to working with many more exciting bands for Genesee Live in 2015!
Photo Credit – Gerry Szymanski