Girl Talk's Buffalo appearance two years ago at the Outer Harbor was easily the best show of the summer, and he did it once again with his Canalside show on Friday, even mentioning the fun he had the last time he was in the 716.
Clearly our 412 neighbor is a fan of the Queen City, and we love him right back, feeding off the energy and the many interactions he had with the crowd. (To the person who caught the hoodie he tossed into the crowd shortly after taking the stage, I want/need it kthx!)
For those of you smart enough to get a ticket, I hope you're still finding bits of confetti in your hair and ringing in your ears from the fresh mixes he brought to the packed venue. Half the fun of a GT show is trying to identify the samples he throws at you, and there were a LOT.
Whether it was a two second clip of Kendrick Lamar's "Backstreet Freestyle" or the twerktastic flow of Sage the Gemini's "Gas Pedal," there were tons of fresh beats to shake it to. Yeezus, arguably (in that I will debate you endlessly on the greatness of it) the best album of last summer, had a few tracks that were "Bound 2" make appearances, and GT did not disappoint.
Because there is no set playlist for his shows (he is mixing the tracks live on stage like a g.d. boss), it's a challenge to remember what was played and when, but some standout crowd favorites were when he paired M.I.A.'s "Paper Planes" with Lorde's "Royals" and mashed up Radiohead's "Idioteque" with Quad City DJ's "Train." (Side note: if you were lucky enough to be in the subway car that got ejected after having a 15 minute sing-a-long that was just too much for the good people at NFTA, y'all are amazing. Ride the train, indeed).
Before GT took the stage, local act the Get Money Squad warmed up the crowd with a slightly disjointed set. Their stage presence was lackluster, but their EP has been well-received locally, so give that a listen if this show was your only exposure to the group.
Canalside is quickly becoming the go-to spot for outdoor shows, with this one boasting a VIP area that included unlimited wine, burritos by Lloyd, and a designated blocked off area close to the stage.  For the rest of us, dancing it out in the packed crowd was one of those bizarro bonding experiences where it didn't matter that your feet got trampled repeatedly and some drunk girl spilled her beer all over your already sticky sweaty body because OMGirltalk, this was the best show at Canalside all year.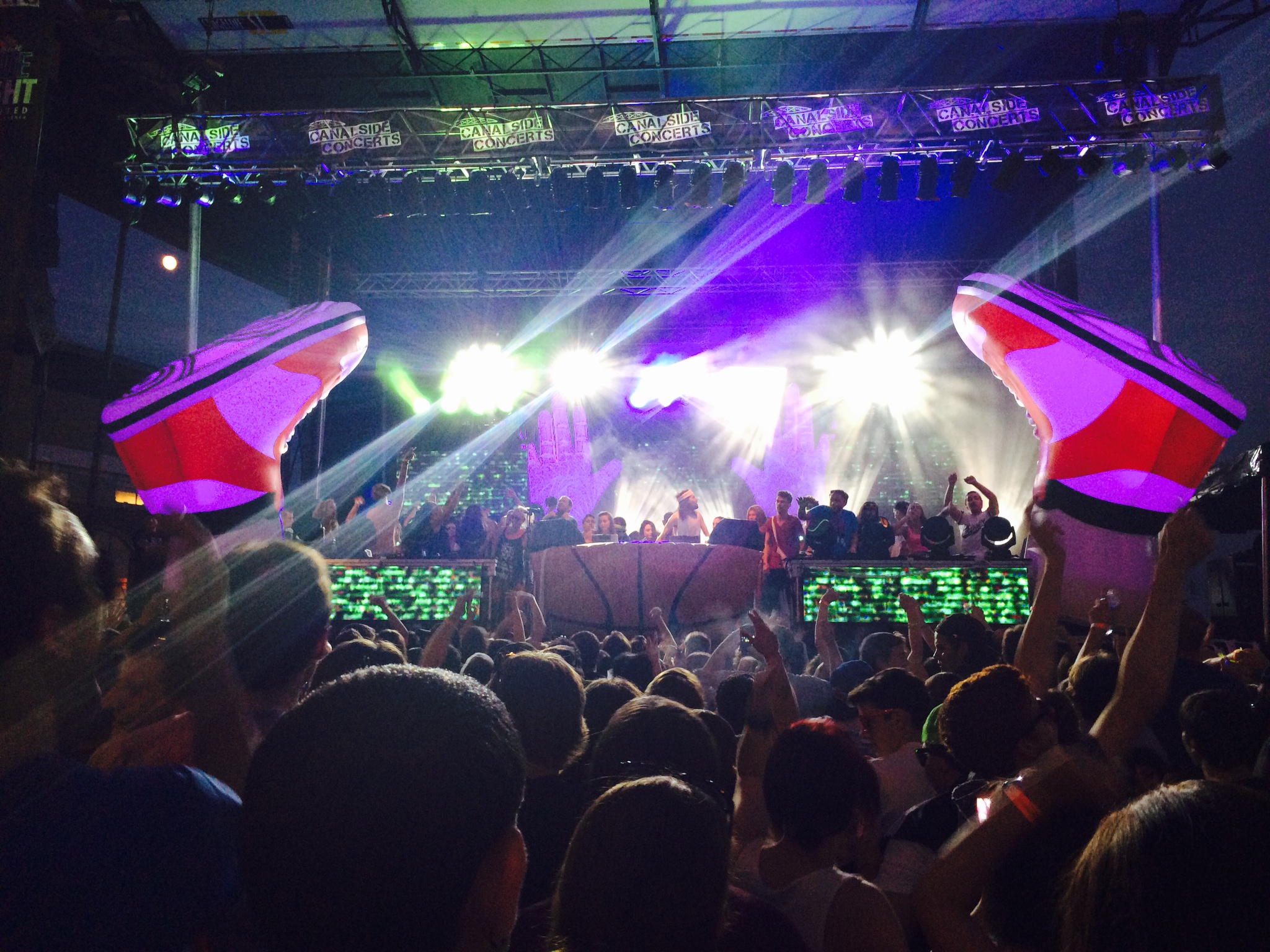 Photo credit –  William DeFreis