Whoever is setting up the dates for the Outer Harbor concerts deserves a round of applause, or at the very least a well-excecuted high five. We really couldn't have asked for a better day/night combo for Sunday's Edgefest 2014, presented by 103.3 The Edge.  Well, it probably could have been a bit cooler during the day, but temperatures dropped as the night's "supermoon" replaced the unforgiving sun, serving as a perfect backdrop to Sunday's festivities. (Anyone remember last month's City and Colour show? Think "Supermoon Strikes Back.") The lineup could easily be considered one of the year's best, featuring headliners Weezer and Brand New with support from The Sheila Divine, Pentimento, and Dirty Smile. Edgefest was undeniably the best deal of the summer, especially for those of you lucky enough to snag the $25 early bird tickets before they sold out.
I'm just going to go ahead and say it—Weezer's older stuff is better than Weezer's newer stuff. Argue if you must (there is a comment section below this post), but I'm sure many-a-Weezer-fan will agree. Going into the show, my worst fear was that of a Hurley / Raditude-riddled setlist, but that fear was quickly stomped in the dust by the thousands of attendees and I dancing our asses off to Weezer's nearly perfect setlist that night. They played every classic in their arsenal, including a bunch of the newer crowd-pleasers. Highlights included the falsetto three-part harmony in anthem "Surf Wax America," the epic sing-along at the end of "Perfect Situation," and the band's encore consisting of what are arguably their two best-known songs—"Undone (The Sweater Song)" and "Buddy Holly." I was disappointed by the glaring omission of "Only In Dreams"—the 8 minute epic that closes out their 1994 debut album (you know, the blue one), but the alt-surf kings played just about everything else I wanted to hear.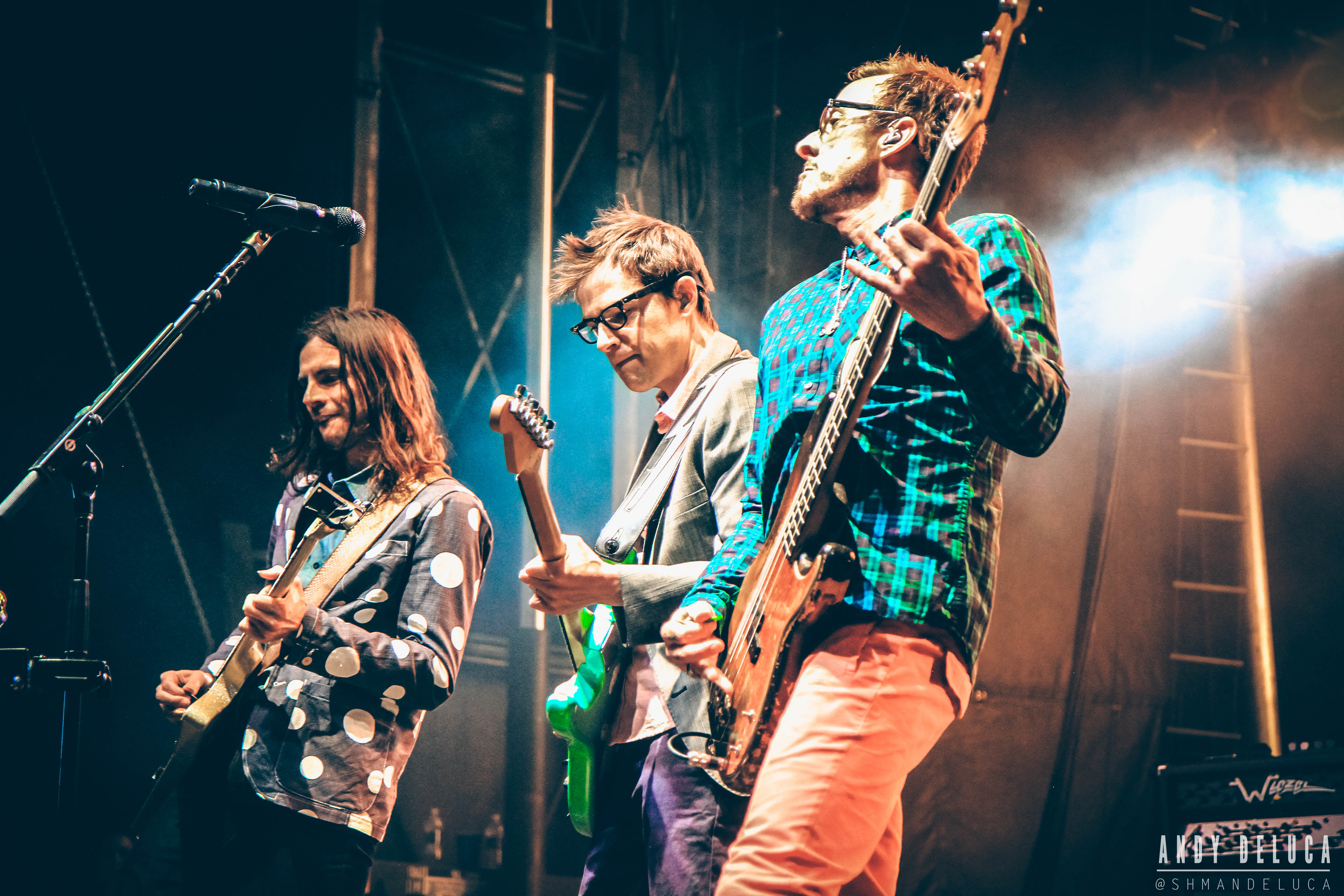 Seeing Weezer play all of their best songs was undeniably a treat-and-a-half, but the fun didn't stop there. After frontman Rivers Cuomo and drummer Patrick Wilson (a Buffalo native!) switched instruments and slammed through Green Album's "Photograph," Wilson led the boys into a tight cover of Blur's "Song 2" that had the whole crowd hopping like kangaroos on Red Bull. The cherry atop their set was the band's final drum solo when each member picked up a pair of drumsticks and wailed together on a single kit for a good 2 or 3 minutes before taking their final bows on stage. Anyone who saw that set should need no convincing that Weezer knows how to party.
Weezer wasn't the only band that the crowd showed an undying love for. The genre-hopping lads in Brand New played an eleven-song set that had the crowd going nuts. The set's intensity swelled from the beginning, building from mild performances of earlier songs such as "Okay I Believe You, But My Tommy Gun Don't," and "Sic Transit Gloria (Glory Fades)" to the gut-wrenching power of "You Stole" and "You Won't Know" towards the end. The latter was particularly powerful, especially during the extended outro when the Long Island natives gave it everything they had for their final few minutes on stage. The raw display of emotion was nothing short of impressive and had me wishing Brand New had been given a much longer set. The band certainly deserves more than an eleven-song slot as far as I'm concerned.
I set out to seek a shaded area for much of The Sheila Divine's set, but I enjoyed most of what I heard. The Boston-based band seemed to have a great sense of dynamicity, their material ranging in style and composition. They kept things interesting. Local support came from the female-fronted hard rockers Dirty Smile and hardcore heroes Pentimento, both bands adding heat to the already hot crowd. The guys in Pentimento have done well for themselves over the past few years, touring relentlessly and working hard to amass the sizeable fanbase that they have now.  Their heartfelt authenticity bleeds right through their music, and those die-hard Pentimento fans love every minute of it. There wasn't a song in the band's ten-song set during which vocalist Jeramiah Pauly didn't have the crowd screaming the lyrics right back in his face. Good stuff.
Sure, it may be sad to see the summer season dwindling down to its final days, but a proper sendoff like Sunday's Edgefest ought to resonate for a good while. Let the snow fly!
Setlist:
"My Name Is Jonas"
"Hash Pipe"
"Perfect Situation"
"Troublemaker"
"Island In The Sun"
"Beverly Hills"
"Dope Nose"
"Say It Ain't So"
"Back To The Shack"
"Surf Wax America"
"(If You're Wondering If I Want You To) I Want You To"
"Keep Fishin'"
"El Scorcho"
"Pork and Beans"
"Photograph"
"Song 2"
Encore:
"Undone (The Sweater Song)"
"Buddy Holly"
Photo Credit – Andy Deluca (@shmandeluca)