When the news came of the death of Amy Winehouse on July 23rd, 2012, it should have come as a shock, but sadly, it felt expected. The young soul singer's life had long been the subject for tabloid headlines, her well-known addictions and downward spiral a punchline for late-night comedians. So for any film to try and tell the real story of one of the most iconic artists of this generation is a delicate proposition.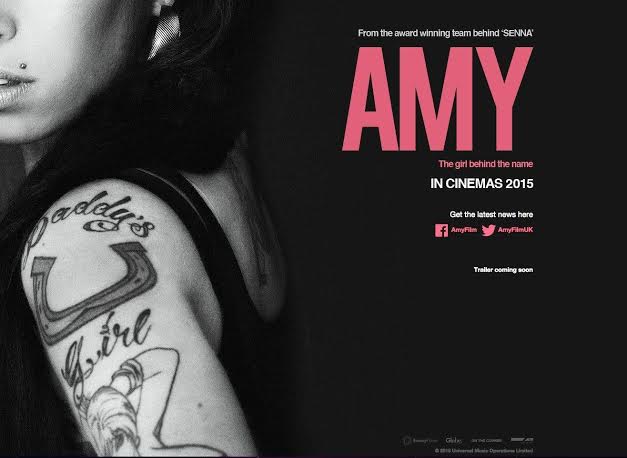 Thankfully the story of Amy Winehouse is in the hands of London-born filmmaker Asif Kapadia, the man responsible for the acclaimed bio-doc, Senna. One of the startling things about Amy is the sheer amount of home video footage, with contributions from friends and family, almost every period of Winehouse's life is documented. What this allows is a more intimate look at who the late musician actually was as a person. Early footage of Amy and her friends driving from auditions, and open mics shows a side we rarely got to see, one of a warm-hearted, excitable, young girl with a razor-sharp wit. This footage, however, makes the later parts of the film even more devastating. As success, addictions, and a destructive relationship take hold of Winehouse's life, the Amy we saw earlier in the film is replaced by a walking ghost. The film becomes a portrait of the disintegration of a human being, one we all spent watching die right in front of us.
Kapadia isn't interested though in just documenting tragedy. By thoroughly examining the music of Amy Winehouse, Kapadia shows just how much Amy had been telling us about herself all along. Her voice had long been celebrated, but by letting her lyrics play out on screen with footage to provide context, it becomes clear just how personal her music had been all along. Names, places, events that might have just seemed like fiction in her lyrics become living characters and moments from her diary. In actually studying the music of Amy Winehouse, Kapadia has given us a documentary that actually shows us what an artist's work might have meant to the artist and not just to their admirers'.
In Amy, Asif Kapadia has given us a film that in a lot of ways reflects the artist we lost. Raw, honest, beautiful, and unspeakably powerful, Amy brings the work of its artist to life.
Amy is currently showing in area theaters.