Tomorrow at the Amherst Theatre, will be the grand cinematic debut of one of Buffalo's most exciting new voices, Rick Masi. His first feature-length film, On the Level, is a thrilling neo-noir about a teenage boy investigating the death of his brother and those he meets on the quest for answers. Masi's  independently-funded feature debut was conceived as a love letter to the city he calls home and is chalk full of local talent. The film also rather excitingly features a whole soundtrack produced by some of Buffalo's most talented up-and-coming artists. Earlier this week, I sat down with the film maker and some of the film's featured artists to talk about the project.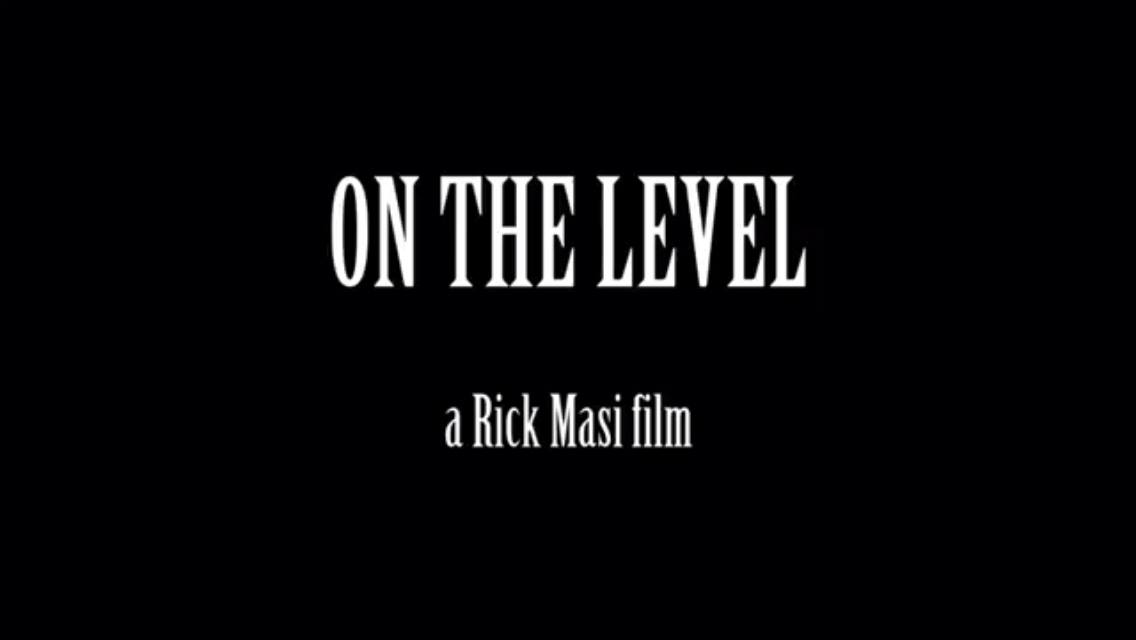 buffaBLOG: So tell me about On the Level?
Rick Masi: Well, its a neo-noir drama about a teenager named CJ and his journey to find his brother's killer. As he starts pealing away the layers, he realizes that everyone involved isn't as innocent as they seem. We really tried to explore the question "Is apathy the only way to survive?" The exciting thing is that this is entirely a Buffalo based project with all Buffalo actors, all Buffalo bands. I really wanted to right a love note to the city because its such a huge part of all of our being"
bB: Who would you say were some of your cinematic influences while making the film?
RM: I can say this, I probably wouldn't have had the guts to put myself out there and follow through if it wasn't for director Kevin Smith – and I'm not talking his films, or influence on structure – but the man himself. I came across this very motivational video of Kevin Smith speaking to "what it means to be an artist" at a time in my life where I was very depressed and looking for some clarity, and the message hit me at exactly where I was at that moment in my life. What he said in a nutshell was, "In a world where we could all die screaming, there's no reason to not try and accomplish every dream that you have…live a "why not" life." But as far as style and structure… I pretty much memorized every trick David Fincher has ever used right down to his color schemes. There is something that is so intense in his style. And I really studied very hard with films like Se7en,  Brick, and Orson Welles' The Lady From Shanghai.
bB: While all the contributions featured from local artists are great, there's always that one perfect moment where music and film gel perfectly. Tell me about a scene you're particularly proud of?
RM: Supergoner has this song called "A Lot of Nothing" that I used as an intense buildup to the introduction of a key character, where I sat back and watched it a billion times,  and was like "this character doesn't even need to speak" because that song just defined how badass he is. And that's just one example of the many talented bands/artists that trusted me with their music.
bB: Name some of your favorite music moments in films?
RM: Oh man, what a loaded question. First thing that came to mind was that Gary Jules  cover of "Mad World" at the end of Donnie Darko, because it hits you right in the gut, you're so emotionally invested and then boom. Or "Cry Little Sister" from The Lost Boys is another that stands out, its so cryptic. But I have to laugh, while I was piecing together the score all I kept thinking about was Forgetting Sarah Marshall: "Ohhh you want dark and ominous."
bB: How would do you feel music informs your creative process?
RM: My first love was music; I wanted to play the solo to "November Rain" in the middle of a random desert in front of a random church. I had been in bands growing up, and as I got older, I started exploring different types of music and sounds. Its all expression and emotion. Film is the same way; the two work hand in hand.
Local indie rockers, Supergoner who have been featured here on buffaBLOGa few times before, also contributed some of their music to On the Level. I spoke with bassist Lisa Yamagishi about the project.
bB: So how did you get involved with the project?
Lisa Yamagishi: The guys in Supergoner went to high school with Rick, and have kept in touch via social media. We're all supportive of each other's art. Rick seemed to know what he wanted for On the Level when he asked for our song.
bB: Who would you describe as your influences? 
LY: We've been compared to Cloud Nothings, or even the Pixies. We take that as a huge compliment; we really dig music from the late 80's, early 90's. We love Guided by Voices, Built to Spill, and Pavement.
bB: If you could have any one of your songs used in a film, which song and film would you like to see it in?
LY: That's a tough question. Personally, I love the whole feel of Lost in Translation. Something about the atmosphere shoegaze made combined with a technologically advanced country that was almost alien to the characters in it. It was surreal. I think our song, "Glass Cannon" would have suited a jumpy dance scene in there.
bB: Name one of your favorite music moments in a film?
LY: The climactic scene in Wes Anderson's Life Aquatic, when Steve Zissou's team finally finds the Jaguar Shark. Sigur Ros' "Staralfur" played, which was a complete surprise since the whole movie only consisted of Seu Jorge playing Portuguese acoustic covers of old David Bowie songs. Zissou finally finds his Moby Dick, and it was beautiful. The music made the scene perfect.
In addition to contributing music to the film, Peter Vullo of local garage rock band, I Was the Scarecrow, also prominently stars as part of the film's cast. I spoke with Peter about the experience.
bB: So how did you get involved with the project?
Peter Vullo: I showed up wearing a jean jacket and carrying cigarettes to an alley behind a movie theater. Laura Palmer was on my jacket. There was a dumpster nearby. I remembered my lines. It was September.
bB: How do you feel your music relates with what Mr. Masi is trying to do with the film?
PV: I think my music and On The Level are related by blood. They're first cousins perhaps. They probably played outside together as children and pretended the ground was lava. It seems my music and On The Level are also related by lava.
NM: If you could have any one of your songs used in a film, which song and film would you like to see it in?
PV: I'd like to hear my song "It's My Money (And I Need It Now)" used in Alejandro Jodorowsky's film adaptation of One Hundred Years of Solitude. I would play myself in the film. But the version of me from the book would be better and I'd be forced to accept that.
Long-time friend of Rick Masi, and lead-singer of Kevin Sampson and The Jealous Unknowns, Kevin Sampson, features heavily on the film's soundtrack with three contributions. I asked Kevin Sampson to tell me about his feelings on the project.
bB: So how did you get involved with the project?
Kevin Sampson: I've known Rick Masi since he was a sophomore in high school. We started our first band together when we were 15 or 16 years old called Rock Masi and we really learned how to write songs and be creative during that time. Rick really taught me a lot about movies because he was such a film buff, so when he announced he was making a movie of his own, I messaged him immediately and begged him to let me be a part of it. He asked if I could contribute any music the film and I believe he is using three of my songs in On The Level He also gave me a small part in the film.
bB: Give us a brief history of your band?
KS: Well, my name is Kevin Sampson and I started The Jealous Unknowns here in Buffalo about two years ago. Over that time, there have been a few line up changes, but the band as it currently is structured has been playing together for six months. We recorded our first EP, Nothing To Lose, in 2014. We have many influences. This project draws some of its influence from classic rockers like Bruce Springsteen and Tom Petty, but mostly from the '90s bands we grew up listening to like Weezer or Green Day.
NM:Name one of your favorite music moments in a film?
KS: I like the Elton John's "Tiny Dancer" scene in Almost Famous,but I think one of the most effective uses of music in cinema is in Goodfellas when Scorsese is revealing the horrible fates of some of the characters and he chose to use the end of "Layla" by Derek and the Dominoes. Perfection! I know that Rick Masi is built in the same mold as the other directors like Scorsese, Crowe, Tarantino, who know how great a role music can play in film.
On the Level premieres tomorrow night at the Dipson Amherst Theatre by UB South.
Tickets are $10 and the film starts at 7pm.