While he's not the household name he is in the UK, those who have spent any significant time with British indie rock are sure to have at least have heard of Frank Sidebottom. The comedian and singer/songwriter Chris Sievey spent the vast majority of his 30 year career donned with a giant paper-mache head assuming the identity of Frank Sidebottom, a cheery optimistic singer from Manchester. The artist's unusual and offbeat original covers of pop music standards with his band, the Oh Blimey Big Band, won him television fame in the early 90s and a home in the emerging Madchester scene.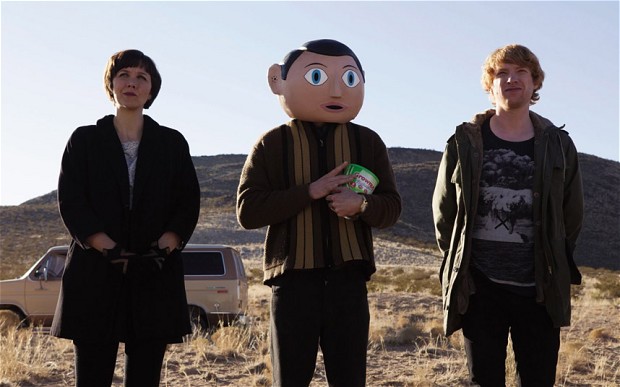 Sievey rarely did interviews out-of-character and was notoriously secretive, which makes the new film, Frank, so incredible compelling. The film, co-written by former band member Jon Ronson, loosely follows his experiences playing in the Oh Blimey Big Band and gives a certain insight into the mindset and creative process of Sievey. There's been a lot of films made about the creation of pop music over the past decade, but few feel as honest as this one. The nervous competitive tension between band members and the effect of months spent in isolation during the record process clue into a part of the creative process rarely seen in film.
Frank strays more from the life of Frank Sidebottom as it reach it's finale, instead taking inspiration from other avant-garde artists like Daniel Johnston and Captain Beefheart's stories. It's still a natural fit. The film clues into the sort of bizarre lifestyles and writing techniques that inform experimental pop music. Sometimes in this unusual genre of music, it'd be easy to mock the approach and methods of these artists, but director Lenny Abrahamson always avoids the ease to do so. Rather, the Abrahamson seems largely reverent of the artists that inspire his story and never questions the honesty and passion that goes into their creations. While Frank is consistently amusing and hilarious, the jokes are less targeted at their subjects, but rather society's uneasy relationship and difficulty in understanding them.
The songs in the film, while influenced by those of Frank Sidebottom, are all original works and actually performed quite admirably by the cast of the film. The songs convey the kind of goofy humor and childlike warm-hearted sentiment that backed the best of Oh Blimey Big Band's best work.
Frank is an absolute must-see, even for those unaware of Frank Sidebottom and his place in British pop-culture. The film provides a rare look into the creative process of pop music with an insight rarely seen on screen. Abrahamson at once shows the familial environment of being in a band that creates such harmonious work while capturing the the internal pressures that push musicians to be better. Frank is a fascinating look at the world of avant-garde music and one well worth checking out.