Editor's Note: Guest interviewer, Ian Wardynski, recently caught up with Melody Seymour and Joshua Smith, co-founders and co-conspirators of COLD BLOOD MMXV, the first annual punk and hardcore fest set to take place January 17th at the Polish Library in sunny Buffalo, NY. Wardynski discusses with the two how and why they went about booking the festival, vegan hot dogs, and how the pair originally met.
Ian Wardynski: So, you two, why go to all the trouble of booking a fest?
Melody Seymour: I think that Buffalo's a great place, and bands need to come into the city and experience that. I also feel that Buffalo needs to experience more hardcore from outside of this area. That's kinda the biggest thing. It's hard to get out of your own ass, ya know?
Joshua Smith: We do get a lot of really great touring bands coming through, but I think it's a lot of gig-doers and show-promoters goal to make Buffalo more of a destination. Mel and I went to West Side Punks Connect a few months back and were all like 'why not Buffalo?'
IW: So you see Buffalo as a very insular, 'Buffalo-centric' scene?
MS: Yeah, I'd say so. It isn't a bad thing because there are a lot of great bands coming out of Buffalo, but we should all expand our horizons a little bit.
IW: So tell me a little about your backgrounds—how you got into punk, what brings you to your current state as a renowned concert promoter.
MS: I got into punk because I hated the shit my dad listened to when I was a kid. He listened to jazz-fusion. It didn't sit right…., so I found whatever I could find that sounded like the exact opposite, which ended up being punk. I'm from Buffalo, moved away to Rochester for a few years, which has a lot of great bands, but I missed my home town, and I had a place here in the scene that I didn't find in Rochester.
JS: I'm from Syracuse originally and always traveled through Buffalo for gigs, first as an attendee and then on tour. Always thought the city had a big leg up on some of the other upstate and Western NY cities, so I'm glad I ended up here. Tons of venues to play, a bunch of local labels pumping out releases of varying qualities, one and now two great punk-centered records stores. I got into punk because my sister was dating a boy from Booneville, NY, whose band covered the Ramones. Now I'm a pro-level punker, and I love it.
IW: Aside from the aforementioned West Side Punks Connect Fest, what other punk and hardcore fests have you experienced? What did you like about them, and what aspects did you want to improve upon?
MS: Yeah, we were very motivated by the West Side Punks Connect Fest. And it was very inspiring, the parts that I remember at least…. Other than WSP, I've been to Horrible Fest and a bunch of Vaggie Fests that my friend Britt organizes in Buffalo. I don't know if I'd change anything, really. They're really well organized. With Vaggie Fest, I would bring more bands in from out of town and do it one day instead of three. All the bands hang out, it's just one day—a cluster-fuck—and then we all go home.
JS: Yeah, bigger fests like that are just kind of exhausting. No matter how much you love hardcore, watching some band at 3am on a bridge in Austin only sounds good on paper.   Big shout to my man Doug for bringing some candy to pep us all up at West Side Punks for at least one of the days. I can't do it anymore! Three days of music on three hours sleep . . . fuck. Jam-packing the day with nearly twenty bands will be a task, but it's almost a chore to attend a multi-day fest like some of the bigger operations out there—Not Dead Yet in Toronto, Damaged City in DC, etc., etc.
MS: Yeah, my attention span is like a fish, so if it's more than one day, I'd rather be drunk or high or sleeping.
IW: Why the Polish Library?
JS: I enjoy the Polish Library for a few different reasons. Logistically, it works out because we can utilize the two stages, upstairs and downstairs. I always have a really good time there. The Decency Rally was a lot of fun. The one year Vaggie Fest was there was a lot of fun.
MS: This is like the perfect location of pure desolation here in Buffalo since it's out in the east side.
JS: It's nice to venture out to the east side, since you never have much of a reason to go there. I was also really surprised with the Polish population being so huge upon moving to Buffalo—going to a corner store on Dingus Day and everyone's speaking Polish. So it's an experience.
MS: I think it's important to focus on pushing education, libraries, and reading.
JS: I don't know if I've ever seen a book there.
MS: They have a lot of Polish nudie magazines.
JS: Do they really have Polish titty mags there? That's awesome! I like the big, cheap beers—Zywiec!
MS: And they've got Krupnik, the honey vodka. That really puts a smile on my face.
IW: Tell me about the bands you're more excited to see on this year's Cold Blood MMXV.
MS: Which band am I not excited about? (Everyone giggles.) I would say I'm excited to see GAS CHAMBER and CHUD, my homies from Bloomington. MORON . . . they're heavy as hell. WET BRAIN, duh. Best band ever. That LP rips! I don't really wanna see CHOKER, so, hopefully, they don't play.
JS: I can't think of any stinkers. I'm most excited about BLOOD PRESSURE. They blew me away in Cleveland. I'm also excited to have BORN WRONG and GAY MAYOR back.  Those were the two best bands that came though and played the store [BLACK DOTS] this year, and I don't think a lot of people got to see them.
MS: GAY MAYOR ripped when they played at the shop, and they were just a really fun band to see play.
JS: ROTTEN UK and GAS CHAMBER, to me, are the headliners because they're two of the bigger names in Buffalo. I like that we're having so much Canadian representation, too. WILD SIDE is right across the border. It's cool to see them getting some recognition, playing NDY '14 with my favorite band, TURNSTILE, and my second favorite band, COLD WORLD, ha ha.
MS: Why didn't we get them on the show like they did at Not Dead Yet?
JS: I really want to get TURNSTILE to come back to Buffalo. They played here when I first moved to Buffalo, and I missed it. Now, I'm their biggest fan!
IW: The event will be catered by GG's Franks. What's that all about?
MS: It's a local hot dog cart we're opening up this spring. It focuses on sustainable, local, vegan, and gluten-free options. It's Buffalo, so we will have meat dogs as well. All the toppings are vegan (shhh!) and gluten-free. Our toppings change with what is fresh and with what I am in the mood to make, but our staple toppings include homemade catsup, caraway mustard, dilly bean and garlic relish, vegan nacho cheese and chili. Luckily, the Polish Library has a usable kitchen where we will be serving GG's Franks and homemade sides. This is to guarantee that NO PUNK goes hungry. I am ecstatic to be catering this event and to have friends from everywhere try the food that I am proud to make.
IW: So how did you two meet?
MS: Josh, you might have to explain this one, seeing that I don't really remember (chuckles).
JS: Yeah, you don't remember, Mel. Our bands, UTAH JAZZ and SHOPPERS, played together in Rochester, but I had met Brandon from BROWN SUGAR (and playing in TAPEHEAD) through Biff in Syracuse before that. Then, I booked a MAYDAY! show in Syracuse, and we played in Utica together that same weekend. Since then, we have just been friends, until Mel moved back to Buffalo when the real shit went down and now we're official besties.
MS: Yeah, we went to Cleveland together, and, since then, I haven't gone a day without talking to my little Precious Orange (squeals). Yeah, Cleveland really inspired us to get some shit done because if those meatheads can do it, so can we, if you catch my jive.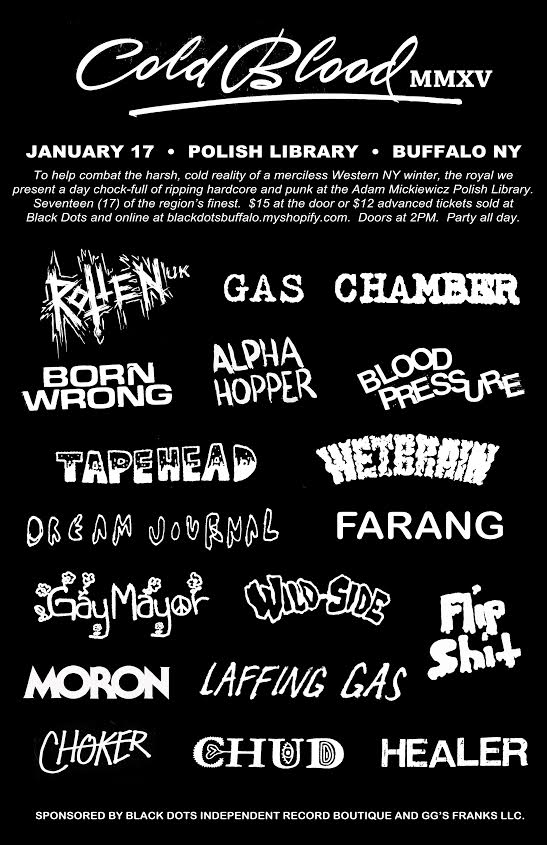 COLD BLOOD MMXV take place on January 17th at the Adam Mickiewicz Library and Dramatic Circle at 612 Fillmore Avenue in Buffalo.  More information can be found here.
In addition to COLD BLOOD and GG's Franks, Melody stays busy in local acts CHOKER, MAYDAY and UTAH JAZZ. Joshua owns the Black Dots Independent Record Boutique on Grant and Lafayette.  Both play in the new hardcore band, JUNK DRAWER.
Photo Credit – Candace Camuglia