Since it's inception in 2005, Tigers Jaw has become a mainstay in the punk/indie scene. After an armful of full-lengths, EPs, and splits, the band is still powering right through. This rings true to this day, despite the unexpected departure of three of the five band members in 2013. After an event that would normally crumble the foundation of any band, Tigers Jaw (now a duo feat. Ben Walsh and Brianna Collins) has adapted and proved to be one of the most resilient bands in the industry. A full US spring tour, featuring the buzzing melodic punk act Somos and Buffalo indie royalty Lemuria, is set to roll through the Studio at Waiting Room on April 6th.
buffaBLOG caught up with Ben Walsh, founding member and now half of the momentous Tigers Jaw, for an in-depth Q&A covering a handful of topics, including: adaptability, future plans for the band, touring essentials, and remaining true to your craft.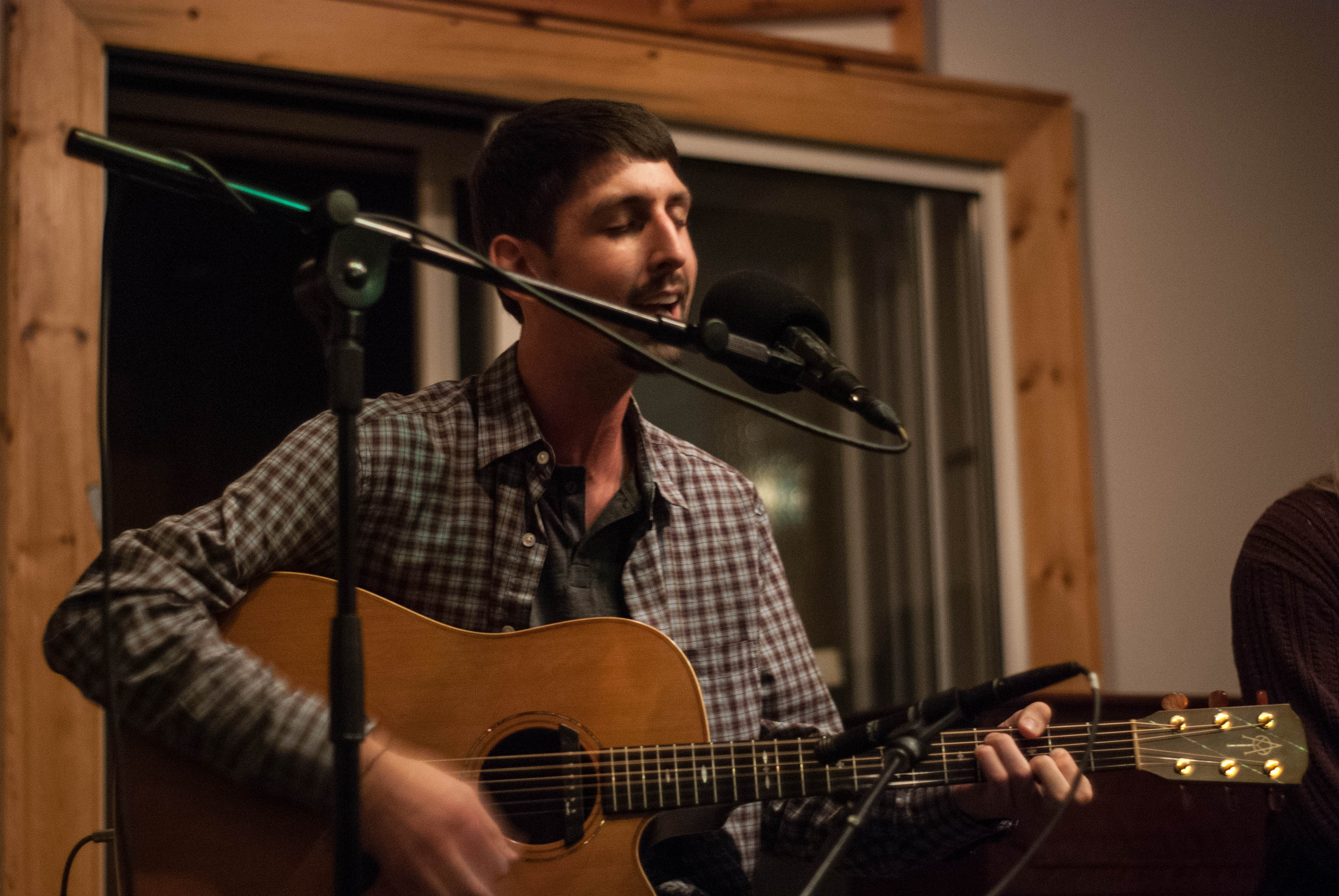 buffaBLOG: Your latest album Charmer, as a whole, has a great sense of cohesion– which is ironic considering the serious lineup changes the band went through last year. Did that affect the recording process? How so?
Ben Walsh: First of all thank you! The lineup change was a huge shift for us, of course, but we had all been playing music together for so long that the writing/recording process felt largely unaffected by the impending changes. We knew that regardless of everyone's individual future regarding the band, we had all worked really hard on the songs and we wanted the record to happen as we intended. We had slowly been integrating Brianna into the forefront of more songs, so although it was already happening organically, it was a great opportunity to give her a larger vocal presence on the record. She really stepped up and did an awesome job, and she and I look forward to sharing vocal duties on whatever comes next.
bB: What kept you and Brianna dedicated to the continuation of Tigers Jaw as opposed to starting new projects?
BW: A lot of things were definitely up in the air when the previous members decided not to continue with the band. Their decision came at a time when we had lots of tour dates already booked. Brianna and I knew that the last thing we wanted to do was cancel everything; this was the most consecutive touring we had ever been able to schedule.
In the past, school commitments had always kept us from extensive touring, so we did everything we could to try to make it happen. That tour showed us what great friends we had, and how much the band really means to us and to other people. We got friends to fill out the lineup, and we did the tours. The outpouring of support for our band was overwhelming, and we made a decision that as long as it still felt right and we were still having fun and feeling creatively fulfilled, why stop such a good thing? We all put so much creative effort and legwork into this band, and after some long talks/the blessing of Adam Mcilwee (who I started the band with in 2005), we had our answer.
bB: In what ways has the songwriting process changed? For better? For worse? 
BW: My own songwriting process has always been pretty singular. I work on an idea until I basically have the whole thing where I want it, then I present it to the band. Not a whole lot changes in terms of the songwriting, apart from the personal stylistic touches that are added by other musicians in how they play the parts. That method of writing came from the very early days of the band when Adam and I were the only consistent members. Of course, some songs end up being more collaborative than others, but for the most part, my songwriting habits haven't changed much over the years.
After the recording of Charmer and the departure of Adam, Pat, and Dennis, we (Brianna and I) fine-tuned an idea that I had for the song "Carry You Over," from Will Yip's Studio 4 Compilation, and we had a great time collaborating on that. I think moving forward, she and I will work much more closely, especially with her writing and singing more vocal parts.
bB: You toured with members of Basement filling in last year, are you continuing that trend this year for your spring tour?
BW: It is true that James and Andrew of Basement played with us on our 2013 UK tour, but last year we had some other musicians playing with us. It's been very rejuvenating and exciting getting to play Tigers Jaw songs with different musicians, a really fun and interesting challenge/privilege. We have been so lucky to have made such great friendships with such talented people through playing music.
bB: Any plans for reassembling a full-band Tigers Jaw in the future?
BW: Like anything with this band, we will do what feels right. We didn't rush to find permanent members, but we were also balancing touring with grad school/professional obligations. Now that we plan to pursue music on a more full time basis, we will see what happens organically. I will say that there will be some familiar faces playing with us again this year.
bB: If so, where does one try out? [jokes]
BW: The Scranton/Wilkes Barre Craigslist.
bB: Speaking of the future, you guys have some seriously exciting stuff coming up. I saw you just announced a date in Brazil. Are you pumped?
BW: Before playing in this band, I had never even been on an airplane, never left the country, or did really any traveling outside of the northeast. I can't tell you how amazing and exciting it is to tour new places. I love playing music and I love to travel, so getting to do both is a dream scenario. I am so grateful for the opportunities this band has given me. Never in a million years would I have ever guessed that we would be able to play a show in Brazil, so I am definitely pumped. We have more international announcements to come, so I have a lot to look forward to.
bB: What are you most excited for in that regard?
BW: I am always excited to see new places. I grew up in a city that I love dearly, but didn't quite provide a culturally dense environment for me growing up. I love to travel and see new places and get out of my comfort zone. Also, Will Yip was telling me about an incredible drink called Caipirinha which apparently is the official drink of Brazil.
bB: Not to mention, 2015 will see some new Tigers Jaw material in the form of a split with the fantastic Kevin Devine! Tell us a bit about that—how did it come about?
BW: Well, Kevin approached us with the idea, and we were honored that he considered us. He told us that the arrangement was pretty loose, could be original/covers of each other/covers of another band/etc. and he was really great about working with an idea that Brianna had. I just tracked all of my parts last week with Will Yip, and I am very excited for how our side is coming out. It's also such an honor to be a part of a series that includes Matthew Caws and Meredith Graves.
bB: Aside from the split, any other plans for new music in the near future?
BW: Nothing concrete yet. I have a bunch of voice memos on my phone of little fragments and parts. I find that when I try to actively write music, I hit a wall creatively, so I am taking it at my own pace. I'm sure we will have a plan soon for whatever the next release will be.
bB: You've been covering "Cut Your Hair" by Pavement. Any particular reason why?
BW: That started as sort of a van joke by Luke Schwartz. Luke has been playing bass with us, and last summer we listened to a lot of Pavement in the van. Luke was going to record an acoustic video session for his band Loose Planes with a videographer named Chris Avis, and we joked about doing that cover together for the session, only Luke sang it an octave lower with an accentuation on his natural southern drawl. The song is the same chord progression over and over, so we started soundchecking with it full band. By the time the day came when Luke was going to do the session, we had been playing it a lot, so we recorded it full band. It was just a fun song to play, so we added it to the set. We even did instrument swaps a few times.
bB: What are some items that you never leave for tour without?
BW: I've had the same 80gb iPod since 2007. It has a large and interesting accumulation of music from over the years, including very rare early recordings of Scranton bands as well as classic long-drive-morale-heightening radio hits. Touring involves a lot of driving, so it's been great to have access to a huge variety of music. I would get in the habit of raiding the iTunes library of people we would stay with. I would be very bummed if I didn't have that with me on tour. Other than that, a book, a baseball glove, and a sleeping bag, and I'm good to go.
bB: How do you prepare for tour? Any pre-tour or pre-show rituals?
BW: Lately we've been preparing for tours with a few days of rehearsals and hanging out. We've been trying to get better at developing more cohesive sets with transitions and interludes, so everything has a nice flow to it. I get pretty paranoid about losing my voice, so I have a pre-/during-show ritual of using biotene dry mouth spray. I'll never be quite sure if it actually works or if it's just the placebo effect, but now it's definitely a crutch for me, and I get anxious if I don't have it with me.
bB: Tell us a bit about the music scene in Scranton. In what ways has it affected Tigers Jaw?
BW: When I was first getting into music, the Scranton scene had an enormous impact on me. There were a few different scenes, including a blossoming and historic ska-punk scene, an alternative/bar-rock scene (aka bands following the lead of Breaking Benjamin), and an indie-rock scene. I have met some of my closest friends through my early interactions with all three of these scenes. The ska-punk scene included musicians who would later form Tigers Jaw, the Menzingers, Captain We're Sinking, and Three Man Cannon, among others.
I first encountered Adam (who I started Tigers Jaw with) while he was playing with a ska-punk band called Kosmos. We also both had an immense appreciation for the indie rock scene, which was essentially dominated by a local label called Prison Jazz Records. Adam and I started Tigers Jaw with a common goal of getting "signed" to Prison Jazz. We particularly loved the bands Okay Paddy and the Sw!ms who worked with the label. So the band Tigers Jaw came from more punk roots with aspirations to be like these quirky indie rock bands, and we ended up falling somewhere in the middle.
Eventually, that indie scene started tapering off, and we did our best to take up the helm. We booked our own shows in basements and art galleries. We would hand out flyers around town and post all over myspace about the shows. We were 17 and 18 years old doing shows in a storefront art gallery, and drawing over 100 kids. It was very surreal and awesome. The Scranton scene has somewhat dwindled based on difficulty with sustaining all ages venues, but every year we do a holiday show with all Scranton bands, and it gets bigger and bigger each year, and I think it inspires the young kids to do what we did when we were that young.
bB: So what do you know about Buffalo?
BW: I know that it is the home of one of my favorite foods, and that it often gets slammed with absurd amounts of snowfall. I also know that our Spring tourmates, Lemuria, come from that area. It's definitely an area I haven't spent much time in, so I'm very excited to play the Waiting Room.
bB: To conclude, what is your version of the Tigers Jaw mission statement?
BW: I'm not really sure how to answer this one to be honest, but in regards to music, I guess I just believe that although bands tend to have to operate as a business in some ways, make sure that despite that, it is grounded in reasons that you can stand behind. Create, write, play, tour because it is fun and fulfilling.